 (Reuters) - McDonald's popular $1 McDouble cheeseburger, which has lured customers to the Golden Arches since 2008, is getting hard to sustain as rising beef prices threaten the company's profit margin.
The world's biggest restaurant chain launched a competing $1 Grilled Onion Cheddar Burger in December. It also made the new sandwich - with one beef patty rather than the McDouble's two - a star of current television commercials, a status it shares with the McDouble.
The dilemma for McDonald's Corp (MCD.N: Quote, Profile, Research, Stock Buzz) restaurant operators is that the McDouble has the highest ingredient costs on the Dollar Menu, making it a bad financial proposition unless customers add high-margin sides such as french fries or soda.
"If the McDouble is all the customer buys, you lose money," said Richard Adams, a former franchisee who now advises the chain's restaurant operators. "Depending on what happens to beef prices, McDonald's management should be open to taking the McDouble off the Dollar Menu."
The decision would be a significant one. McDonald's gets 10 to 15 percent of its sales from the Dollar Menu and experts say the McDouble is one of the most popular items on it.
Many franchisees, who pay royalties to the parent company based on overall sales, have exercised their option to move the McDouble off the Dollar Menu by raising its price over $1.
Reuters' checks of McDonald's restaurants in more than a dozen U.S. cities found that franchisees sell the McDouble for $1.09 in San Francisco, $1.19 in Los Angeles, $1.80 in Kodiak, Alaska and $1.89 in New York City.
The McDouble was not even offered on menus at restaurants Reuters visited in Chicago and Boston, but was available on request for $1.29 and $1.49, respectively. It remains on the Dollar Menu in cities such as Phoenix, Fresno, Denver, Seattle, St. Louis and Washington, DC.
McDonald's is "committed to the Dollar Menu and the McDouble, and both are strongly supported by the majority of our franchisees," spokeswoman Danya Proud said in a statement. "To comment on future national changes would be inaccurate and speculative."
The Dollar Menu food and marketing changes are part of McDonald's plan to stop two consecutive years of margin declines at its 14,000 U.S. restaurants. They come as new McDonald's Chief Executive Don Thompson sharpens the company's focus on its famed Dollar Menu to lure cash-crunched diners and fend off resurgent rivals such as Yum Brands Inc's (YUM.N: Quote, Profile, Research, Stock Buzz) Taco Bell chain and Burger King Worldwide Inc.
They also hint at strategies that U.S. restaurants could use to contain the damage from higher beef costs. McDonald's has a history of shaking up the Dollar Menu lineup in response to food cost spikes.
In December 2008, the company raised the price of its flagship Double Cheeseburger to $1.19 from $1 and handed its Dollar Menu slot to the McDouble, which is essentially a Double Cheeseburger minus one slice of cheese.
That coincided with U.S. wholesale food price increases of 7.6 percent in 2007 and 7.7 percent in 2008.
McDonald's moved again in March 2012 after wholesale food prices spiked, replacing the Dollar Menu's small drinks and small french fries with fresh baked cookies and ice cream cones. At the same time, it debuted a new "Extra Value Menu" category for items priced between $1 and $2.
Competing hamburger chains stole a page from McDonald's and shuffled their value menu lineups. Burger King quickly followed McDonald's with similar moves and Wendy's Co (WEN.O: Quote, Profile, Research, Stock Buzz) plans to replace its 99-cent menu with a 99-cent to $1.99 "Right Price Right Size Menu."
Beef prices are expected to rise above recent highs and to stay high for at least the next two years as the effects of last summer's historic U.S. drought ripple through the food system, said Jim Robb, an economist at the Livestock Marketing Information Center.
Ground beef prices already are up 6 percent to 8 percent so far this year, said John Davie, CEO of Consolidated Concepts, a firm that helps restaurants negotiate purchases.
To be sure, McDonald's is known for using its massive size to squeeze better prices out of suppliers. The company forecast commodity inflation of just 1.5 percent to 2.5 percent this year for its U.S. business, far less than the National Restaurant Association's expectation for 2013 wholesale food price inflation in the low 4 percent range.
But analysts are skeptical that McDonald's can control rising prices as well as it thinks, meaning there could be even more pressure on the McDouble's bottom line.
"It's possible that they hit it, but I would say the odds are low that they hit it," Hedgeye Risk Management analyst Howard Penney said of McDonald's and its commodity cost forecast.
He expected the company to raise that view at some point this year.
(Additional reporting by Michael Hirtzer and Theopolis Waters in Chicago, Ross Kerber in Boston, Phil Wahba in New York, Keith Coffman in Denver, Corrie MacLaggan in Austin, Stephen Keleher in Fresno, Lisa Dembiczak in Seattle, Ayesha Rascoe in Washington, Edwin Chan in San Francisco, Yereth Rosen in Anchorage, David Schwartz in Phoenix.; Editing by Andre Grenon)
Before You Go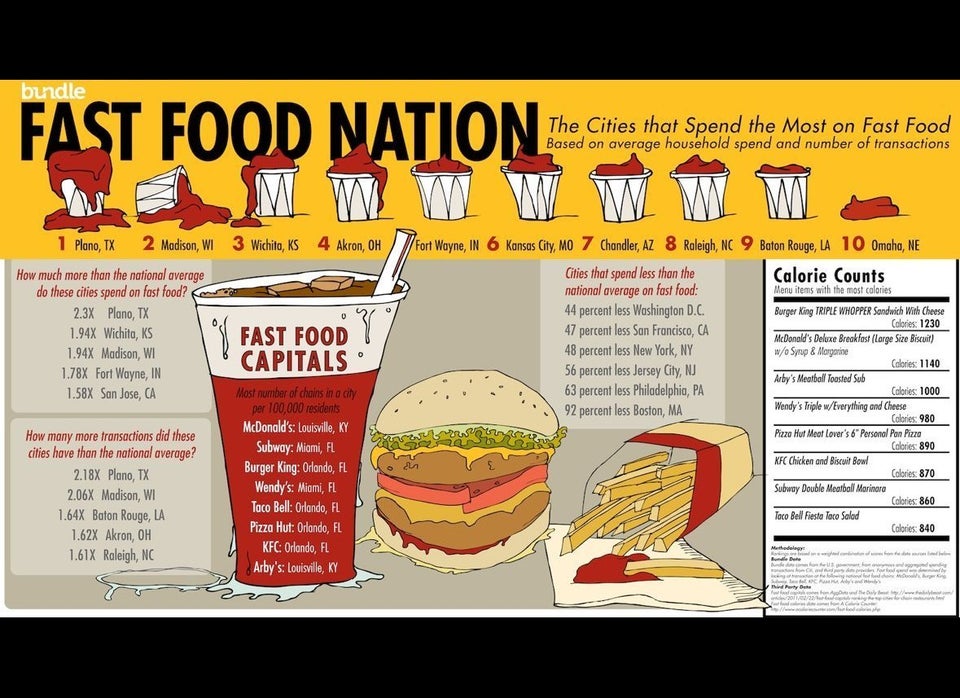 10 Cities That Spend the Most On Fast Food(CLONED)
Popular in the Community