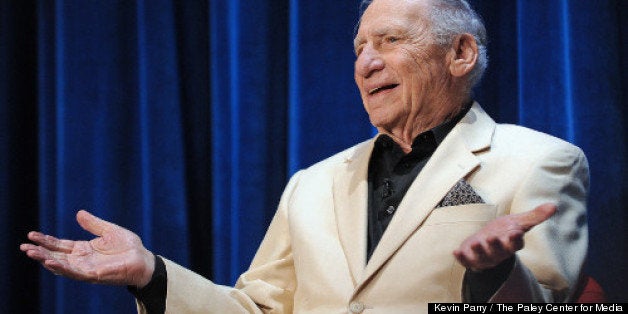 On Thursday night, the 9th of May, 2013, as a rainbow descended into Hollywood and a cotton-candy sunset filled the firmament of Beverly Hills, the Paley Center for Media L.A. celebrated a humor deity: the one and only Mel Brooks. The occasion: a preview screening of Mel Brooks: Make a Noise, the smashing new documentary about Mr. Brooks, helmed by Robert Trachtenberg, under the auspices of WNET THIRTEEN American Masters creator and executive producer, Susan Lacy.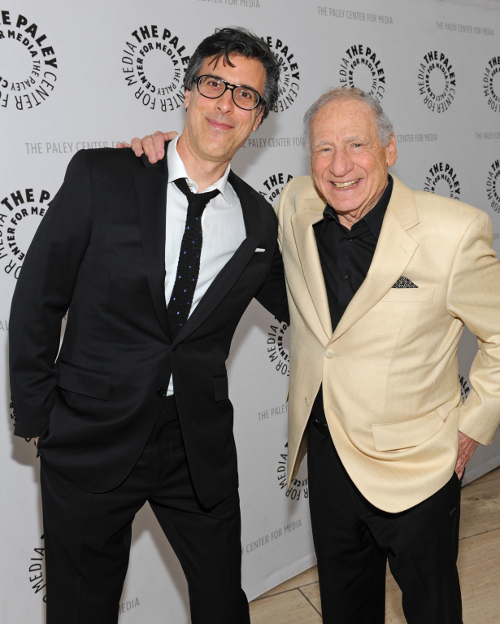 Robert Trachtenberg, Mel Brooks
Make a Noise -- the first fully-authorized and career-spanning documentary about Mel Brooks (Blazing Saddles, High Anxiety, Life Stinks, plenty more) -- features comic luminaries Cloris Leachman, Tracey Ullman, Matthew Broderick and Nathan Lane talking about Brooks, as well as Mr. Brooks talking about himself -- which is widely known to be a jovial experience for all. (For any neophytes: Mel Brooks is Entertainment.) The doc premieres nationally May 20th on PBS because there is still PBS because Romney didn't win.
Guests of the Paley delighted in the early screening, plus a lively and oft-hilarious Q&A with Mr. Brooks, with director Trachtenberg by his side, plus a special round of repartee via Brooks' long-term friend and co-comedic genius Carl Reiner (who tweets a bit; got my attention!) -- all warmly and wonderfully moderated by Richard Benjamin.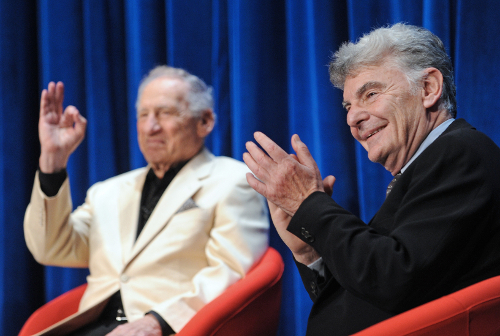 Mel Brooks, Richard Benjamin
Special guests included actor Richard Lewis, actress Amy Yasbeck, and the producing-screenwriting team of Scott Alexander and Larry Karaszewski, whose works include Tim Burton's classic Ed Wood, and who are presently teaming up with Burton again for the feature film Big Eyes, their tale of estranged kitsch artists Margaret and Walter Keane, under the Weinstein banner and making its official launch in Cannes. And notably, Ms. Yasbeck has appeared in two of the "colon"-era films by Mr. Brooks (Robin Hood: Men in Tights; and Dracula: Dead and Loving It -- oh please, they're funny!), as well as the Problem Child movies penned by Messrs. Alexander and Karaszewski in their dewy years. Small world.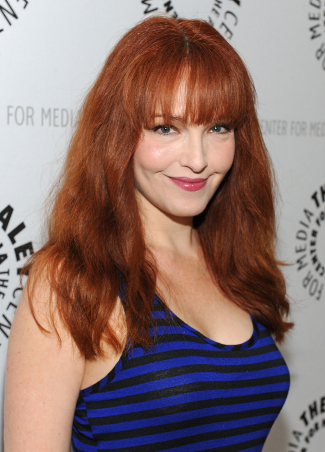 Amy Yasbeck
A few highlights from the Q&A:
Referring to his earlier work with American Masters, Cary Grant: A Class Apart, director Trachtenberg reflected, "From the get-go, for example, this Cary Grant story--"
"Did you say 'get-go' or 'gecko'?" Mr. Brooks abruptly and quite reasonably inquired. (They then discussed filmy things. You get it.)
Mr. Brooks also commended Mr. Benjamin and his lovely wife Paula Prentiss for being married 51 years (and counting). He then seamlessly segued into saluting Michael Gruskoff: "the producer of two incredible Mel Brooks movies!" (Young Frankenstein; and My Favorite Year: the latter directed by Mr. Benjamin.)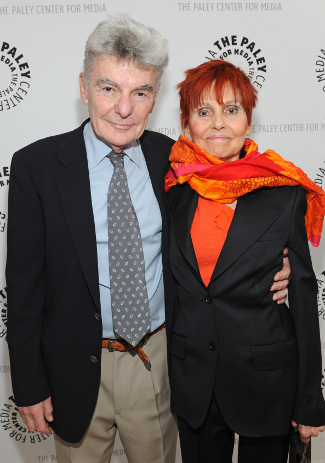 Richard Benjamin, Paula Prentiss (Congratulations!)
Perhaps most stirringly, Messrs. Brooks and Reiner somehow delivered an apparently spontaneous and certainly unprecedented running gag about Armand Assante. This seems worth mentioning.
"A good actor, but not a funny man!" declared Mr. Brooks of Mr. Assante, who was, as far as we knew, not present to defend himself. This keen appraisal was borne of a discussion of Mr. Brooks' casting choices (high marks for Madeline Kahn, and Gene Wilder: "who's a genius").
Of the late Ms. Kahn (my candidate for Funniest Woman Ever), Mr. Brooks congenially revealed: "She saved me. I never directed Madeline Kahn. I just -- she knew! She knew just how far to go with the stuff. I would paint out the lush green valleys of set-up, and then the explosion of the comedy. She knew! All I had to do was give her the script: 'Read it.' And I never really had to direct her."
Mr. Benjamin reflected on the advice of the esteemed Mr. Reiner (The Dick Van Dyke Show; the immortal The Jerk) for casting My Favorite Year: "Is it a comedy?" "Yes." "Get funny people."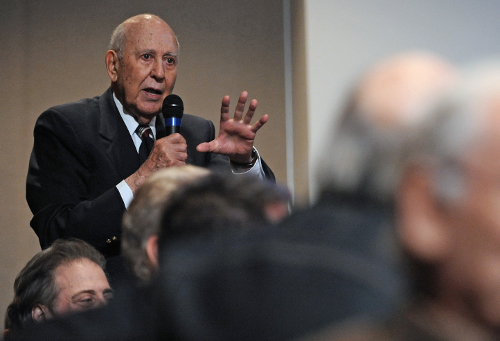 Carl Reiner
Thus was summoned from the audience the greatest plant ever: Mr. Reiner himself (looking sporty in a tie pilfered from the big "J.C.": Johnny Carson). Twenty years ago he made the daring choice of casting the preternaturally grim and brooding Armand "Odysseus" Assante as the lead in Fatal Instinct, Mr. Reiner's welcome spoof of lurid Michael Douglas thrillers.
This train runs well off the track, but keep reading. Quoth the cinematically-comprehensive Mr. Reiner:
"Mr. Trachtenberg, you will have to go back, with what you've done here, and add something. Because Mel wrote the best music and lyrics to a musical comedy of any of these: (Young) Frankenstein! Did anybody here see Frankenstein? I said this to him: 'In his 85th year, I've never seen a man develop into a great songwriter!' The lyrics in that particular piece are better than any lyrics he's ever written before, or anybody's ever -- maybe Cole Porter, but I don't know...
"But by the way," continued the lively Mr. Reiner, "there's another thing I wanted to tell you. We talked about Johnny Carson -- Mel Brooks did something one day, maybe he can do it right now. But he's an enologist: Mel really knows about wine. And on Johnny Carson once, I fell off the chair! When he was doing a wine-tasting, Johnny asked him, 'Can you really tell about good wine? Blindfolded?' 'Yes.' He put a blindfold on him. Poured some wine, and he tasted it, and Mel said, 'It's a 1961 Chateau Pompadour, whatever, Pommard.' Johnny said, 'Nope, taste it again.' Mel said, 'It's not a red wine?' 'No.' 'It's a white wine, it's a white wine, yes!' And he went on to describe a fruity wine. 'No, it's not a white wine.'
"Mel said, 'Is it a beer?'"
(This brought much rejoicing.)
"All right, you laugh! And then came the kicker which nobody in the world would say but him: Johnny said, 'No, it's not a beer.' Mel said, 'Is it Chiclets?' Now when you think about it--"
"I said, 'Is it 1964 Chiclets?'" firmly amended Mr. Brooks.
"He's a wine-taster!" clarified Mr. Reiner. "He can't tell the difference between liquid and solid!"
Came Mr. Brooks' rejoinder:
"WHAT ABOUT ARMAND ASSANTE?!"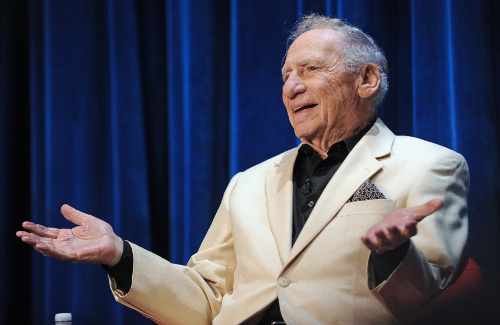 Mel Brooks
These days Messrs. Brooks and Reiner are technological hipsters: Together they catch up on Breaking Bad via DVD box sets. But oh the legends these Your Show of Shows alums and creators of the 2,000-Year-Old Man evoke: Sid Caesar, Jack Benny, Bob Hope, Steve Allen, George Burns, even Edward G. Robinson.
Asked if he retains any lifelong aspirations, Mr. Brooks responded: "I've had some bouts of inspiration: One of them is maybe making Blazing Saddles into a Broadway show!" (This met with considerable applause.) "I've done everything, literally, that I've wanted to do. I would've been a trapeze artist, but it's gettin' a little late for that. But seriously, Richard, I've done almost everything I've ever wanted to do, and I've done it as fully as I've wanted to do it."
"And if I may say," poignantly concluded Mr. Benjamin to Mr. Brooks, "what you do is the kind joke, is the loving joke -- which is a harder joke. And what isn't good is the mean joke -- and you never ever do that. And I think love is infused in all of your work, which is why, I think, people love you; and why, I think, if they're not laughing -- in between the jokes -- they're happy."
Mr. Brooks was visibly moved, and thanked all at the Paley (especially for laughing at the right parts).
Oh, and this news just released today: The significantly less funny Martin Scorsese will present Mel Brooks with the 41st AFI Life Achievement Award on the 6th of June, in Los Angeles.
Of Make a Noise -- which, again, premieres tonight on PBS, and bows Tuesday on DVD from Shout! Factory -- Mr. Brooks declared: "What a thrilling project! To see this with a hundred people really enjoying it is the best thing that anyone could ever get. I gotta tell you that."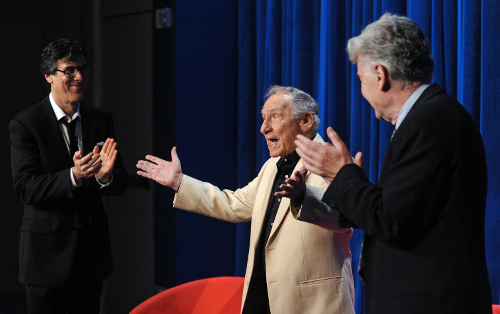 Robert, Mel, Richard
Mel Brooks closed the evening in signature style: "Anyway, thank you. And go home!"
Photos © Kevin Parry / The Paley Center for Media
Calling all HuffPost superfans!
Sign up for membership to become a founding member and help shape HuffPost's next chapter