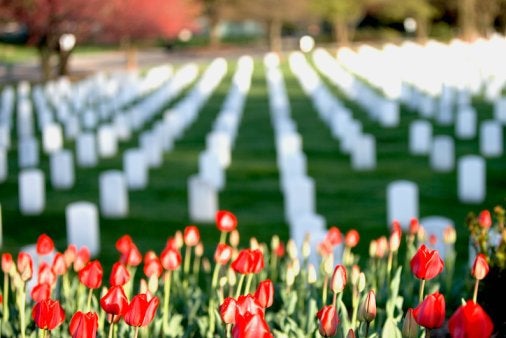 James Lenihan fought in Europe during World War II as a sergeant in the 104th Infantry Division. His son remembered him as a "tough customer" who didn't seem haunted by the war. So he was surprised when, sorting through his father's basement, he found a poem about his father's struggle to cope with killing a German soldier. He'd never known him to write any others.
The Defense Centers of Excellence, which helps veterans and their families recover from psychological health/traumatic brain injuries, published the poem, hoping it would help veterans and their families in their healing process.

Murder--So Foul

I shot a man yesterday
And much to my surprise,
The strangest thing happened to me
I began to cry.

He was so young, so very young
And Fear was in his eyes,
He had left his home in Germany
And came to Holland to die.

And what about his Family
were they not praying for him?
Thank God they couldn't see their son
And the man that had murdered him.

I knelt beside him
And held his hand--
I begged his forgiveness
Did he understand?

It was the War
And he was the enemy
If I hadn't shot him
He would have shot me.

I saw he was dying
And I called him "Brother"
But he gasped out one word
And that word was "Mother."

I shot a man yesterday
And much to surprise
A part of me died with Him
When Death came to close
His eyes.
We can only hope that the poem gave James Lenihan some peace, and that his family's decision to publish the poem has given other veterans some peace as well. Along those lines, and in honor of Memorial Day, I've collected a few examples of poets struggling to come to terms with the grief and loss caused by war. They show how poetry can help us -- if only a little -- to understand the ultimate sacrifice made by veterans and their families.
One recent and powerful example is Brian Turner's "Ashbah," from his acclaimed 2005 book Here, Bullet. The book recounts Turner's experiences fighting in -- and coping with--the Iraq War. "Ashbah" meditates on both the American and the Iraqi dead.
The ghosts of
American soldiers

wander the streets of
Balad by night,

unsure of their way
home, exhausted,

the desert wind
blowing trash

down the narrow
alleys as a voice

sounds from the
minaret, a soulful call

reminding them how
alone they are,

how lost. And the Iraqi
dead,

they watch in silence
from rooftops

as date palms line the
shore in silhouette,

leaning toward Mecca
when the dawn wind
blows.
The poet Walt McDonald, a veteran himself, lost his father in World War II. His poem "My Father on His Shield" captures his struggles to come to terms with that death, played out in the symbol of a sled his father built for him.
Shiny as wax, the cracked veneer Scotch-taped
and brittle. I can't bring my father back.
Legs crossed, he sits there brash

with a private's stripe, a world away
from the war they would ship him to
within days. Cannons flank his face

and banners above him like the flag
my mother kept on the mantel, folded tight,
white stars sharp-pointed on a field of blue.

I remember his fists, the iron he pounded,
five-pound hammer ringing steel,
the frame he made for a sled that winter

before the war. I remember the rope in his fist
around my chest, his other fist
shoving the snow, and downhill we dived,

his boots by my boots on the tongue,
pines whishing by, ice in my eyes, blinking
and squealing. I remember the troop train,

steam billowing like a smoke screen.
I remember wrecking the sled weeks later
and pounding to beat the iron flat,

but it stayed there bent
and stacked in the barn by the anvil,
and I can't bring him back.

Finally, here's the powerful poem "Facing It" by Yusef Komunyakaa, a veteran of the Vietnam War.
My black face fades,
hiding inside the black granite.
I said I wouldn't,
dammit: No tears.
I'm stone. I'm flesh.
My clouded reflection eyes me
like a bird of prey, the profile of night
slanted against morning. I turn
this way--the stone lets me go.
I turn that way--I'm inside
the Vietnam Veterans Memorial
again, depending on the light
to make a difference.
I go down the 58,022 names,
half-expecting to find
my own in letters like smoke.
I touch the name Andrew Johnson;
I see the booby trap's white flash.
Names shimmer on a woman's blouse
but when she walks away
the names stay on the wall.
Brushstrokes flash, a red bird's
wings cutting across my stare.
The sky. A plane in the sky.
A white vet's image floats
closer to me, then his pale eyes
look through mine. I'm a window.
He's lost his right arm
inside the stone. In the black mirror
a woman's trying to erase names:
No, she's brushing a boy's hair.

Have a blessed weekend. And feel free to add your own poems celebrating Memorial Day in the comments section below.