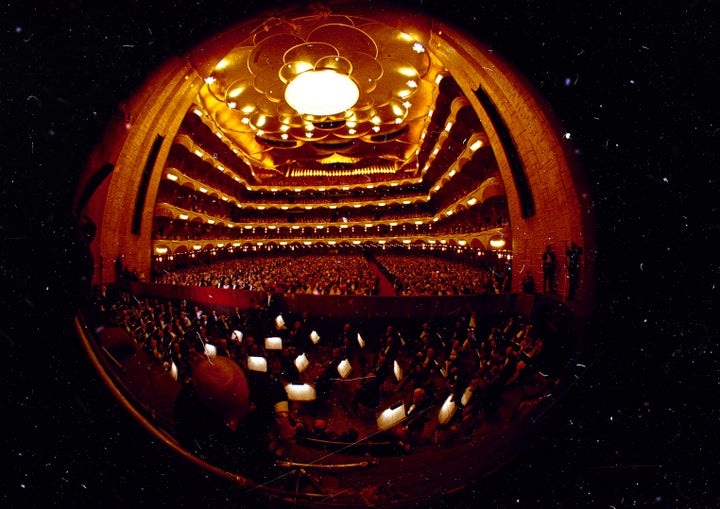 Of all history's epic battles, few are more storied than the siege of Troy. And of all epic operas, Berlioz's monumental Les Troyens now stands in the first rank, thanks in large part to James Levine's championing of it at the Metropolitan Opera.
The Met returned Francesca Zambello's grand 2003 production to the stage last night with a cast that for the most part was up to the opera's demands. There will be six more chances to see this massive and exciting work this season, including a Live in HD performance on Jan. 5 that will be shown in 1,900 theaters in 64 countries.
The score in Les Troyens ranges from the majestic to the sublime. There are introspective solos, stirring ensembles, a passionate love duet, rousing choruses, and intricate orchestral passages. This revival is carried by splendid performances by Susan Graham as Dido and Deborah Voigt as Cassandra, along with the always excellent Met chorus and orchestra under the exacting and fast-paced conducting of Fabio Luisi.
Graham is exquisite as Dido. Regal and majestic in bearing and gowned all in white and purple, she is full of longing and desire one moment and fierce in her rage at abandonment later on. Graham's voice is like crystal, luxuriant in coloring and texture, and always thrilling to hear. As Cassandra, Voigt is no less in top form, her voice rich and powerful, full of foreboding, yet resigned to her fate as well as that of Troy.
This Met revival, the first in nearly 10 years, comes almost 150 years after half the opera had its premiere in Paris and vindicates the indifference with which Berlioz's last major work was originally greeted. Written in five acts, the opera was rejected for years before the Theatre Lyrique agreed to stage it, but only if the composer would divide it into two parts. Only the second part was performed in Berlioz's lifetime.
Levine brought the complete Les Troyens to the forefront of opera repertory by opening the Met's centennial season in 1983 with a new production that cast Placido Domingo as Aeneas, Jessye Norman as Cassandra, and Tatiana Troyanos as Dido, and it has returned at roughly 10-year intervals ever since.
Berlioz, a student of the classics from childhood, wrote his own libretto for Les Troyens straight from the pages of Virgil's Aeneid, though he expanded the part of Cassandra. The opera begins with the Trojans waking one morning to find that the Greeks had all decamped, leaving their famous wooden horse behind.
The general jubilation of the Trojans is muted by Cassandra, Priam's daughter, who keeps telling anyone who will listen that the horse spells doom, and they should all flee. As anyone with a smattering of the classics knows, Cassandra's warnings are ignored and the rape and pillage that follow wipe Troy from the map. Only Aeneas, advised by Hector's ghost to leave and establish a new Troy in Italy, escapes.
In Part 2, Aeneas and his followers have washed up on the shore of Carthage, where they are welcomed by Queen Dido and her court. Aeneas and Dido fall in love and it is only after a return visit by Hector's ghost that Aeneas sails on to found Rome, leaving Dido in a suicidal rage and prophesying eventual revenge on Italy by Hannibal.
The disappointment in this revival is Marcello Giordani as Aeneas. One never senses either the passion he feels for Dido or the call of duty to reach Italy, and his singing is tentative and often badly strained.
One pleasant surprise in the cast is a lovely delivery of the beautiful final act aria "Vallone sonore" by Paul Appleby, and one can hope Met audiences will have the chance to hear more of him. The Met chorus shines throughout in an opera that spotlights choral music, and the entire production is stunning to watch, from the giant Trojan horse rolling across the stage to the final tableau of smoke from Dido's funeral pyre rising to the great hole in the roof of the Pantheon in Rome.
Calling all HuffPost superfans!
Sign up for membership to become a founding member and help shape HuffPost's next chapter