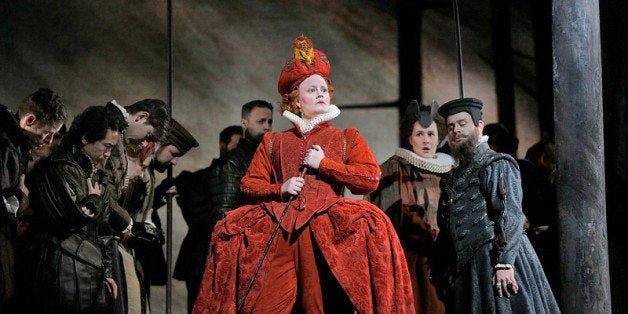 Whichever side one may take in the final Tudor family feud, for Donizetti, whose Maria Stuarda returned to the Met Opera stage Friday night, it was a slam-dunk for Mary, Queen of Scots, over Queen Elizabeth I, and with Sondra Radvanovsky delivering such an exquisitely bravura performance in the title role it is hard to disagree.

Radvanovsky, who is singing all three lead roles in Donizetti's Tudor trilogy - she performed Anna Bolena in the Fall and will portray Elizabeth I in Roberto Devereux in the spring - this season at the Met, has assumed the mantle of our leading bel canto soprano, and her mastery of that demanding style is on display in Maria Stuarda.
Apart from the rich, silvery tone of Radvanovsky's voice, her breath control is, in a word, breathtaking. and she can carry the most delicate pianissimo passages to the far corner of the Met house. Her phrasing and portamento evoke the full range of emotion, from joy to fear, from anger to remorse. Her opening aria "O nube" makes one's heart leap in delight, and her final act confessional "Quando di luce rosea" is heart-rending.
Mary's nemesis in this confrontation is Queen Elizabeth I, and the tension between the two is enhanced by a vocally excellent performance by the South African soprano Elza van den Heever, who also sang the role in the Met premiere of the opera in a production by Sir David McVicar on New Year's Eve 2012.
If there was any doubt with whom Donizetti's sympathies lay, McVicar's direction makes it, and his own, clear. The one jarring edge to the production is the physical portrayal of Elizabeth as a crude bumpkin. Whether it is the director's choice or the soprano's, from her first entrance Elizabeth clomps about the stage like a country wench who just got off a horse, stiff-legged as a milkmaid who has risen from hours sitting on a stool. It is a distraction at best, and laughable in an opera that pits two queens dueling for the crown of England.
Donizetti wrote the opera based on Friedrich Schiller's play Mary Stuart. If Schiller indulged in some theatrical license, Donizetti took it even further. A crucial scene, for example, in both play and opera - a meeting between the two women - never took place. In fact, they never met. But Donizetti added a love triangle in which Robert Dudley, Earl of Leicester, one of Elizabeth's favorites, has a secret passion for Mary, turning the political power struggle into a jealous vendetta.
Mary's claim to the English throne was based on the fact that she, too, was a Tudor and had more right to the crown than Elizabeth, whose mother Anne Boleyn had been beheaded by King Henry VIII as an adulteress. Mary was, in fact, a distant cousin of Elizabeth's (Elizabeth's aunt had married Mary's grandfather). But Mary had been married three times, had sat briefly on the thrones of France and Scotland, but had to abdicate the latter and flee to England when husband No. 2 was murdered and husband No. 3 was the prime suspect.
But the real issue at the heart of the debate over the fate of Mary was religion. Mary had been brought up Catholic in France and remained devout, while Elizabeth was fiercely establishing the Protestant Church of England. Pope Gregory XIII had decreed that it would not be a sin to assassinate Queen Elizabeth and Mary was suspected of conspiring with closet Catholics in England to do just that.
But Maria Stuarda is opera, not history, and its joys are in the lyrical beauty of its music, not the accuracy of its narrative. There are magnificent orchestral passages, from the galloping overture to the rousing finale, all wonderfully played by the Met Orchestra under Riccardo Frizza's astute baton. And the ensembles - duets, trios, choruses - are some of the most exciting in opera.
That invented confrontation between Mary and Elizabeth, outside Mary's place of confinement (and ultimate beheading) at Fotheringhay Castle, quickly turns into a cat fight, with each woman spewing invective and insult. But it ends in a marvelous sextet and chorus, full of fury and passion.
The Met revival has a strong supporting cast. The Spanish tenor Celso Albelo makes his Met debut as the Duke of Leicester. He has a strong, solid voice that carries through the house and can reach the upper register with ease, though he often seems more a diplomat than a lover.
Kwangchul Youn is powerful as Talbot, Mary's advocate at court, and his confessional duet with her at the end is a moving highlight. And Patrick Carfizzi as Cecil is fervent in advocating Mary's execution to protect Elizabeth's rule.
REAL LIFE. REAL NEWS. REAL VOICES.
Help us tell more of the stories that matter from voices that too often remain unheard.