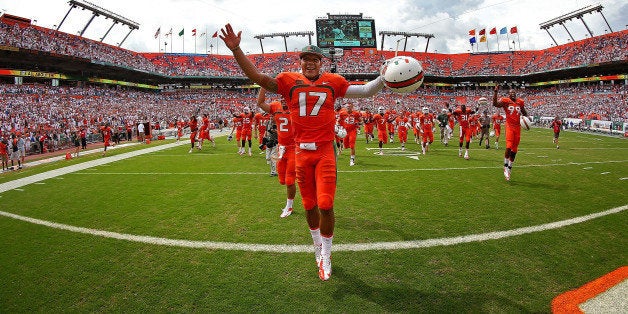 CORAL GABLES, Fla. - Early in the week, Miami coach Al Golden stressed -- again -- the importance of focus.
At the time, he was discussing how critical it was that his Hurricanes not look past a surging Wake Forest to next week's matchup against Florida State.
But Wednesday, when Miami finally heard from the NCAA's Committee on Infractions and learned that the Hurricanes were docked nine scholarships over three years but would avoid any further post-season bans, it seems Golden's Monday message took on a different kind of meaning.
For the first time in over two years, the Hurricanes will take the field without the uncertainty of an NCAA investigation hanging over them.
Now, instead of wondering if they'll be held out of another ACC Championship Game or a third straight bowl, they can focus on the present.
That means setting all their attention on the Demon Deacons (4-3, 2-2), an ACC rival that has been playing well of late with back-to-back wins against N.C. State and Maryland.
So while fans may be celebrating the possibilities that lie ahead for the Hurricanes or reveling in Miami's newfound status as a BCS top-10 team, Golden says that's something his players can't afford to do.
"It's a challenge. There's cheese all around them. Don't take the cheese, don't take the trap," Golden said Monday.
"A guy here or there, all of a sudden, they're seduced by it. They hear about it. They want to talk about it and it has nothing to do with the outcome. Do your job. Prepare. Ask questions. Be engaged, understand your role ... doing those little things, that's what we need to focus on. That's what we need leadership for."
If the 7th-ranked Hurricanes (6-0, 2-0) don't heed Golden's warnings, they need only look back to their last game to be reminded of what could happen if they're not in the moment.
Last week, Miami went to Chapel Hill and struggled against a one-win North Carolina team that took the Hurricanes to the brink.
In the end, Dallas Crawford capped a 13-play, 90-yard drive with a 3-yard touchdown run to put Miami ahead for good with 16 seconds left.
The Hurricanes escaped with a 27-23 win, something Wake Forest coach Jim Grobe said will likely spark Miami through the second half of its season.
"I think once in a while you get a wake-up call and I think theirs was last week at Carolina," Grobe said.
"Carolina had a great chance to win and Miami got the win and got out of there and so I thought that (was) going to be their wake-up call. I wish it would have come a week later, but I think we're going to get their best shot. I think after last week, we'll get a team that's focused on playing one at a time."
One key for Miami will be containing Wake Forest receiver Michael Campanaro, who last week became Wake Forest's all-time leader in receptions with 217 catches. Last week, North Carolina tight end Eric Ebron torched Miami for 199 receiving yards.
Another key will be the health of both quarterback Stephen Morris and running back Duke Johnson. Morris has been battling a nagging ankle injury while Johnson left the North Carolina game early with an apparent head injury.
Both are expected to play, although Miami will be without receiver Phillip Dorsett who will be out 4-6 weeks with a knee injury.
(c)2013 Sun Sentinel (Fort Lauderdale, Fla.)
Distributed by MCT Information Services
REAL LIFE. REAL NEWS. REAL VOICES.
Help us tell more of the stories that matter from voices that too often remain unheard.