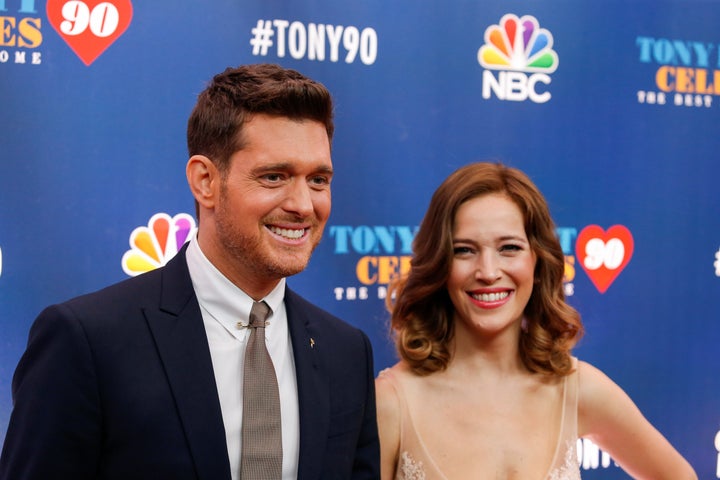 Michael Bublé is a happily married father of two, but if his wife hadn't realized that her first impression of him was wrong, it might have been a much different story. 
In a new interview with PrideSource, the singer recalled how Argentine model-actress Luisana Lopilato thought he was gay when they first met in 2008. As it turns out, Lopilato attended one of Bublé's concerts accompanied by a male friend and, speaking little English, misinterpreted her future husband's inquiries about her pal's relationship status.  
"She walked in this room with a man, and the man was so good lookin' that he made Brad Pitt look dumpy, so I assumed they were together. I naturally assumed that this was her boyfriend or her husband, so I refused to hit on her," Bublé, 41, said. As the night wore on, however, the star summoned up his nerve to "find out what the situation was" between Lopilato and her friend. "I finally said, 'You guys are such a beautiful couple,' and he said, 'We're not together.' He said, 'She came because she likes you.' And at the same time, she was on the phone texting her mom saying, 'Oh my God, Michael Bublé is all over my friend. He's so gay.'" Bublé, of course, cleared up the confusion, and he and Lopilato married in 2011. 
Bublé said he sees those small acts of charity as his way as giving back to a community that has brought him "much joy" throughout his career. Fatherhood, he added, has made his interest in LGBTQ issues "much bigger," too.  
"Having two boys of my own who I love more than I'll ever love myself, I can't tell you how crushing it would be if they couldn't feel that they could tell their father that they were gay ― or different in any way," he said. As for those who oppose marriage equality and other LGBTQ rights, he added, "There are a lot of people, and time does this, who are going to be severely embarrassed for their bias and intolerance. And they're going to have to live with that; that's going to be their legacy. I refuse to have that as part of my legacy."
Read the full PrideSource interview with Michael Bublé here. 
Calling all HuffPost superfans!
Sign up for membership to become a founding member and help shape HuffPost's next chapter
BEFORE YOU GO
PHOTO GALLERY
Celebrities Who've Faced Gay Rumors