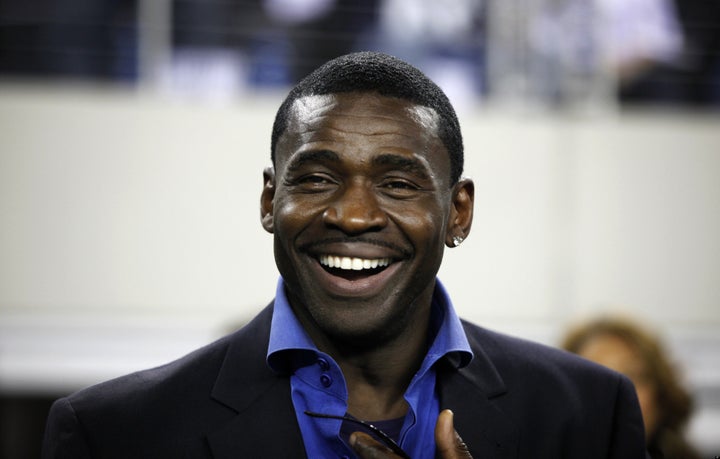 Michael Irvin has been accused of rape, according to an article at the Miami Herald. A woman has sued the Hall of Fame receiver for an alleged July 2007 sexual assault.
According to the lawsuit, Irvin got the woman drunk before he and an accomplice demanded that she perform sexual acts. The Herald adds:
That's when the unidentified man held her down and covered her mouth, according to the suit, then Irvin raped her, she said. When Irvin was done, the other man forced her to perform oral sex.
No criminal charges have been filed. In late 1996 and early 1997, a woman accused Irvin and a teammate of raping her during a cocaine-fueled assault. The allegation was later determined to be fabricated. In 2005 Irvin was arrested for possession of drug paraphernalia.
MIAMI -- A woman claims in a lawsuit filed only days before the Super Bowl that former Dallas Cowboys star Michael Irvin sexually assaulted her at a South Florida hotel, an allegation labeled a false attempt at "civil extortion" Friday by Irvin's attorney.

The woman, identified only as "Jane Doe," filed the lawsuit Thursday in Broward County Circuit Court seeking unspecified damages for the assault that allegedly occurred July 4 or 5, 2007, at the Seminole Hard Rock Hotel & Casino in Hollywood.

The incident was reported to Seminole tribal police on July 20, 2007, but the woman later signed a waiver of prosecution, Seminole tribe spokesman Gary Bitner said.

"I think she just wanted to put this behind her," Bitner said. The case was referred to state prosecutors.

Ron Ishoy, a spokesman for the Broward State Attorney's office, said the matter remains under investigation but no charges have been filed. Because the woman waited more than two weeks to report the incident, there was no physical evidence or hotel surveillance video, Bitner said.

Irvin, 43, is a member of the pro football Hall of Fame who starred at wide receiver for the Cowboys from 1988 to 1999. The Fort Lauderdale native was also a star in college for the University of Miami, playing on the Hurricanes' 1987 national championship team.

Irvin is now an analyst for the NFL Network. His attorney, Larry Friedman of Dallas, said he was approached by the woman's attorney shortly before Irvin was to appear on last season's "Dancing With The Stars" competition.

The offer, according to Friedman: Irvin must pay the woman $1 million or a lawsuit would be filed to coincide with the Super Bowl, which is being played Sunday in Miami.

"I call it civil extortion: pay us or we'll ruin your life," Friedman said. "Nothing happened. There was no encounter between this Jane Doe and Michael Irvin. The entire story is false, it's bogus, it's made up."

The woman's Florida attorney did not immediately respond Friday to a phone call and e-mail seeking comment.

NFL Commissioner Roger Goodell, speaking at a Super Bowl news conference Friday, said he was not aware of the assault allegation. The NFL Network is a part of the football league.

"We'll obviously take it seriously, make sure we understand the facts and then take the appropriate steps," Goodell said.

According to the lawsuit, the woman claims Irvin got her drunk and took her to his hotel room where he and another, unidentified man insisted on sexual favors. The woman claims Irvin raped her and the other man forced her to perform oral sex.

Irvin has had previous brushes with the law, including a no-contest plea to a cocaine possession charge in 1996. Later that year, Irvin and another Cowboys player were accused of sexual assault by a woman, but an investigation found the story was false and the woman recanted.

___

AP Sports Writer Tim Reynolds in Fort Lauderdale, Fla., contributed to this report.
Calling all HuffPost superfans!
Sign up for membership to become a founding member and help shape HuffPost's next chapter