 A New York City substitute teacher is accused of running a scam through a tutoring service that between 2005 and 2012 billed the government for millions of dollars, hundreds of thousands of which the U.S. attorney claims are fraudulent.
Logan was a manager for now-shuttered TestQuest, whose services were intended to assist disadvantaged students in the city. Funding for tutoring programs is based on the volume of students tutored, and is provided by the federal Supplemental Education Services program through the city's Education Department.
But instead of hiring more tutors to help students academically, Logan reportedly prodded employees to assist him in defrauding the government program. Newsday reports that Logan allegedly told his employees to "make them sign or you won't get paid" and "I already got paid, this is how you get paid." At times, students who had not received any tutoring services were also allegedly pushed to sign attendance sheets for as much as a months' worth of classes in one sitting.
During the 2008-09 school year, TestQuest collected over $190,000 in federal funding for at least four tutors who, according to court documents, did not provide any educational services. The company was paid between $30 and $50 per hour per student, depending on the reported number of students per session.
Logan is charged with conspiracy to commit mail and wire fraud and conspiracy to defraud the United States and the U.S. Department of Education. If convicted, he faces up to 25 years in prison. He is currently prohibited from teaching, pending decision on the charges, according to Newsday.
Federal prosecutors have also signed on to a previously filed private whistleblower suit against TestQuest, claiming its leaders "knew about, deliberately ignored or recklessly disregarded the fraud," according to the Post.
The allegations against Logan and TestQuest come less than a month after federal prosecutors settled a civil fraud lawsuit against leading test-prep company The Princeton Review on similar allegations. The U.S. Department of Education's Office of Inspector General and New York State had accused the company of fraudulently claiming "millions of dollars" in funding from the federal Supplemental Education Services program for tutoring services it allegedly never provided to hundreds of New York City students. The Princeton Review paid as much as $10 million to settle with the Justice Department.
Princeton Review was also accused of having employees forge signatures, falsify sign-in sheets and create fake certifications to "deceitfully profit from a well-meaning program," the U.S. attorney Preet Bharara said in a statement at the time. The federal suit also claimed that tutors who committed fraud were incentivized with thousands of dollars in bonuses.
In a statement Tuesday, Bharara pointed to the case against Princeton Review, noting that officials are holding the company accountable for fraudulent billings at the cost of student success.
"But today we go even further -- charging a second company and one of its principals for allegedly feeding at the trough of government largesse by targeting the same Supplemental Education Services program and manufacturing student beneficiaries of those services out of whole cloth," he said.
Before You Go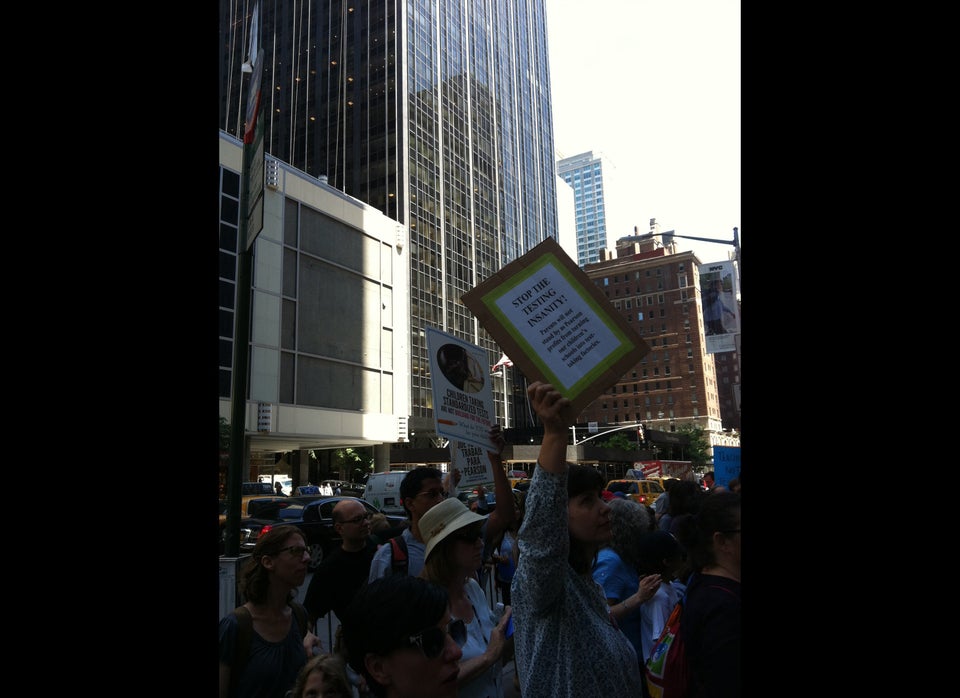 New York Standardized Testing Protest
Popular in the Community