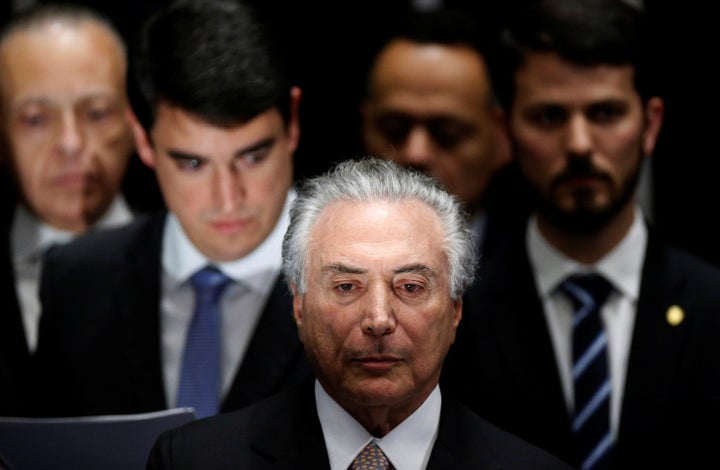 Brazil has a new president after the country's Senate voted to oust Dilma Rousseff from office on Wednesday, bringing an end to a monthslong impeachment process. The contentious move allowed Rousseff's ally-turned-rival Vice President Michel Temer to assume power as the country's leader.
Temer, of the conservative PMDB political party, was Brazil's interim leader for 111 days, but now officially holds the state's highest office. He takes over at a time when the country is in the midst of a disastrous economic and political crisis, and has seen support for his government dwindle since he became interim president. Temer was booed when he appeared during the Rio Olympics last month, and in June was forced to deny allegations he accepted a $300,000 bribe in relation to nuclear energy company contracts.
But despite Temer's unpopularity ― an opinion poll in April showed that 58 percent of Brazilians wanted him impeached ― he has managed to rise from the shadows of the country's politics and seize its top job. He is set to serve out the remainder of Rousseff's term, which lasts until Brazil's 2018 elections.
Temer Has A Long History In Brazil's Politics
Temer began his political career in 1984, when he was appointed public security secretary of São Paulo. In 1986, he became part of the National Constituent Assembly, which wrote the country's constitution. He later wrote books on constitutional law, as well as poetry.
Temer was elected six times as a congressman, and three times as speaker of the lower house of Congress.
Through his many roles in Brazil's government, Temer became known for his skills as a negotiator. Until recently, however, he largely kept out of the public spotlight and operated more as a power broker building coalitions within the government.
Temer was a former ally of Rousseff's, until he came out in favor of impeachment shortly before Congress approved her trial. His support within Brazil's Senate helped him in this week's move to oust Rousseff, which ended in a 61-20 vote in favor of her removal.
"Michel Temer was chosen to be my vice president because we assumed that he was a member of this democratic center, a progressive, someone who was transformative. We believed that he represented the best in PMDB," Rousseff said on the Senate floor Monday during her impeachment defense. "I don't know when this began to change, but the fact is that it began to change."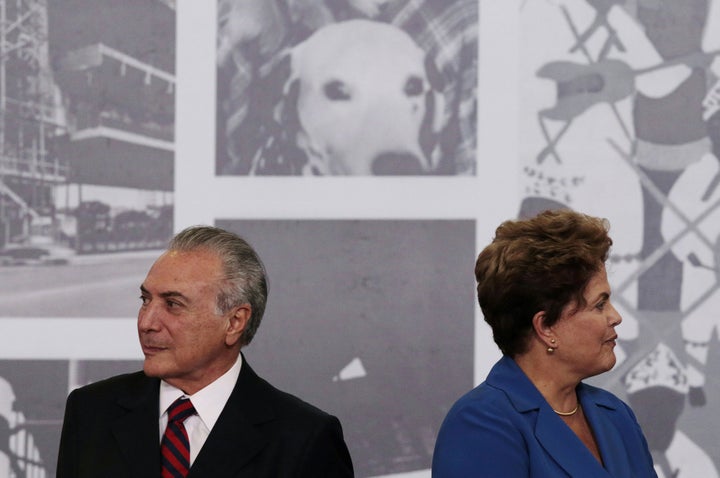 Temer As President
Since he took over as interim president, Temer has put forth a number of austerity measures to try and turn around Brazil's disastrous economy. Unemployment currently stands at 11.6 percent and the country this year has a budget deficit that's more than 10 percent its GDP. 
In the first months of the interim government, Temer announced a series of controversial measures, such as reforms in social security and labor legislation. In the same period, he sent Congress a proposal to impose a ceiling on public spending. Along with the possibility of increased taxes and further privatization, he has cut the number of ministries and announced changes in social programs that were known as hallmarks of Rousseff's Worker's Party.
These measures are likely to be deeply unpopular with a populace that is already hurting from the country's worst economic downturn in a generation, and that is extremely distrustful of a political class it sees as corrupt. 
Temer has already faced criticism for many of his actions as interim president, including appointing an all-male, mostly white cabinet. Several of these ministers have already resigned amid scandals, including the anti-corruption minister.
Despite emerging victorious from Brazil's political crisis, Temer has a difficult road ahead of him as the country's president, with little support from its people. Experts predict there will be a strong backlash if Temer pursues strict austerity policies, and the PMDB is still plagued with scandal. 
This article has been adapted from HuffPost Brazil.
Calling all HuffPost superfans!
Sign up for membership to become a founding member and help shape HuffPost's next chapter