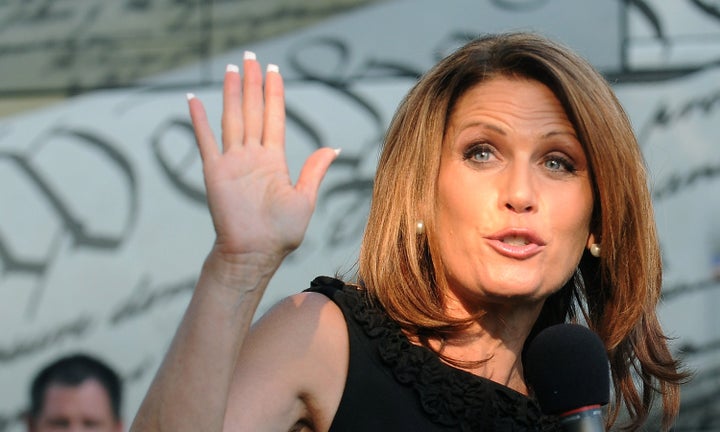 GOP candidate Michele Bachmann spent her Labor Day out on the trail, voicing opinions on hot-button issues.
While the Minnesota Congresswoman took to the microphone, major moves involving her 2012 presidential campaign appear to have been in the works.
Politico is reporting that campaign manager Ed Rollins is retreating from the day-to-day rigors of Bachmann's 2012 run. Mediaite adds that Rollins is reducing his role thanks mostly to health reasons.
Bachmann's campaign seemed poised for a strong run after the GOP's lone female candidate captured a huge victory at the Ames Straw Poll. The Rollins news comes a day after he told the Washington Post that the lead GOP story was Mitt Romney vs. Rick Perry, "with us the third candidate."
Hours after that news first came to fruition, Politico unveiled part two of the September shakeup. Deputy campaign manager David Polyansky is reportedly exiting over strategic differences. Polyansky was credited as a major force behind Mike Huckabee's 2008 Iowa Caucus victory.
UPDATE (10:25 p.m.) -- Bachmann's team has released a statement, detailing parts of a 'planned restructuring strategy'. Current campaign strategist Keith Nahigian will move up to the role of interim campaign manager. Rollins will stay on as senior advisor.
Washington, D.C. – Fresh off her Iowa Straw Poll win, Republican presidential candidate Michele Bachmann announced today the Team Bachmann campaign is executing a planned restructuring strategy and expanding its focus on winning the Iowa Caucuses and early primary states. Due to health reasons, Ed Rollins will move from his demanding role as Campaign Manager to Senior Advisor.

"In less than 50 days and with fewer resources than other campaigns, Ed was the architect that led our campaign to a historic victory in Iowa," Bachmann said. "I am grateful for his guidance and leadership, and fortunate to retain his valuable advice even though his health no longer permits him to oversee the day-to-day operations of the campaign."

As part of the restructuring strategy, current campaign strategist Keith Nahigian will assume the role of interim Campaign Manager.

"Keith has played a vital role in the success we have had to date and I'm confident he can lead us to a strong finish in Iowa, New Hampshire, South Carolina and across the country," Bachmann said.
CORRECTION: A previous version of this article misstated the name of Ed Rollins as Jim Rollins.
Calling all HuffPost superfans!
Sign up for membership to become a founding member and help shape HuffPost's next chapter