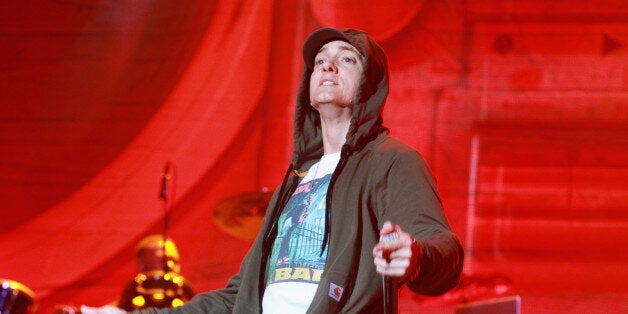 Middlebrow is a recap of the week in entertainment, celebrity and television news that provides a comprehensive look at the state of pop culture. From the rock bottom to highfalutin, Middlebrow is your accessible guidebook to the world of entertainment. Sign up to receive it in your inbox here.

Will the real Slim Shady please sit down? In a new cypher, Eminem raps that he would like to "punch Lana Del Ray right in the face twice like Ray Rice." The line has been met with a surprising level of outrage. Not in the sense that it's unjustified -- this is inarguably woman-hating terribleness -- but it's nothing new for the rapper. Women-hating terribleness has been Eminem's modus operandi since middle schoolers were dyeing their hair bleach blond after watching "8 Mile." Yes, calling out Lana Del Rey in connection to Ray Rice specifically makes this particular bout of offensiveness easier to condemn, but why have we idly accepted this brand of hatred from Eminem since the early '00s?
A misogynistic narrative was even more common to rap and hip-hop culture a decade and a half ago. See: Shaggy's "It Wasn't Me," Outkast's "Roses" or R. Kelly's "Ignition" remix, for a few examples. (Not that surprisingly / because everything is terrible, misogyny is still super visible in the music industry today.) Arguably, participating in this didn't just fuel Eminem's rise to fame, it was a reciprocal relationship. His empire was built on a foundation of normalizing hatred toward women. (Oh, and bigotry, of course.) A list of misogynistic Eminem song examples exceeds the assigned word count for this article.
The hateful crap has always been tied up in what he's explained as a "persona," an alter ego he identifies as Slim Shady. The angry delinquent attitude that made him a mega star is part of a character, he says, and so somehow that should justify him saying the "f" word or discussing the murder of various females before or after slut-shaming them. But what someone idolizes when they look up to Eminem is inseparable from the "character." When you're threatening to "fuck [a woman] with an umbrella then open it up while the shit's inside," that's a violent idea that exists and, worse, is being put out into the world. Whether Slim Shady or Eminem or an anthropomorphic M&M is reciting it doesn't really matter. Marshall Mathers has always perpetuated this disregard in and outside of his alter ego. And that reality never altered our acceptance of him either way.
It's too easy to say we can't justify that "persona" with the fact that Eminem is a 42-year-old man (and father of baby Hallie, who just graduated from high school -- yes, really). He can still sell tickets and albums. He was 41 when he released "Marshall Mathers LP 2" and rapped about wanting to literally kill a woman with a machine gun -- a line that did not incite any outrage via Twitter: "I got 99 problems and the bitch ain't one / She's all 99 of them I need a machine gun / I take 'em all out I hope you hear this song." The only thing that's itching people about this line is the pop culture reference. Hitting unspecified women though? Apparently, totally fine! Or at least commonplace enough that no one finds it offensive enough to condemn.
That we accept these kind of lyrics from Eminem in any form is a reflection of the way we accept misogyny in general. It's not refreshing to finally hear some uproar over his use of violence against women as a refrain. This has less to do with being sick of that and more to do with our raging obsession with celebrity culture. (It's different, but there was just as much hash-tagged vocalization over Taylor Swift possibly allegedly using her song to throw shade at Katy Perry.) If he Eminem had rapped that he wanted to punch Britney Spears back in 2000 (instead of slut-shaming her), would we have noticed that this guy is really hateful and nasty before buying 43 million copies of his work? Maybe? But it was just unspecified women he rapped about wanting to beat up / murder back then, though. No big deal.