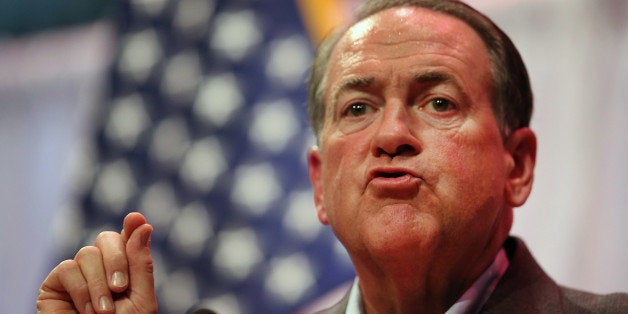 WASHINGTON -- When former Arkansas Gov. Mike Huckabee (R) announced his second presidential bid on Tuesday, he played up his blue-collar, working-class background in an attempt to distinguish himself from some of his rivals.
"I don't have a global foundation or a taxpayer-funded paycheck to live off of. I don't come from a family dynasty, but a working family. I grew up blue collar, not blue blood," Huckabee said in his announcement, which he delivered in his hometown of Hope, Arkansas.
Huckabee's statement took aim at several of his potential competitors in the 2016 election. Democratic presidential candidate Hillary Clinton and her husband run the Clinton Global Foundation. Former Florida Gov. Jeb Bush (R) -- a likely 2016 contender and the son and brother of former presidents -- certainly didn't grow up working-class. And Sens. Ted Cruz (R-Texas), Rand Paul (R-Ky.) and Marco Rubio (R-Fla.), who have all announced their White House bids, draw a government paycheck from their jobs.
But it's not entirely accurate for Huckabee to insinuate that he doesn't benefit from taxpayer funds.
In the financial disclosure form that Huckabee filed in May 2007 for his first presidential run, he reported approximately $14,000 in a pension from the state of Arkansas between Jan. 1, 2006, and the date of filing.
Huckabee served as Arkansas' lieutenant governor from November 1993 to July 1996, and as governor from July 1996 to January 2007. Along with other state workers, he is part of the Arkansas Public Employees Retirement System. From 1978 through mid-2005, employees joining APERS did not have to contribute any funds toward their retirement.
In other words, any pension Huckabee receives from the state is also taxpayer-funded.
"That was a common feature in public plans at the time. APERS was one of the first [in the nation] to revert to a contributory plan in 2005," said APERS Executive Director Gail Stone.
It's unclear what Huckabee is currently receiving from APERS because the records are not public and not subject to open records requests, though pensioners generally continue to receive benefits. Huckabee's campaign did not respond to repeated requests for comment.
If Huckabee is still receiving a pension, it certainly hasn't been the biggest chunk of his income in recent years. To run for president, Huckabee gave up his show on Fox News, for which he was pulling a $500,000 salary as of 2011.
HuffPost Pollster, which tracks all publicly available opinion polls, showed Huckabee trailing Bush, Rubio, Cruz and Paul as of May 4.
Want more updates from Amanda? Sign up for her newsletter, Piping Hot Truth.
Calling all HuffPost superfans!
Sign up for membership to become a founding member and help shape HuffPost's next chapter
BEFORE YOU GO
PHOTO GALLERY
Potential 2016 Presidential Contenders