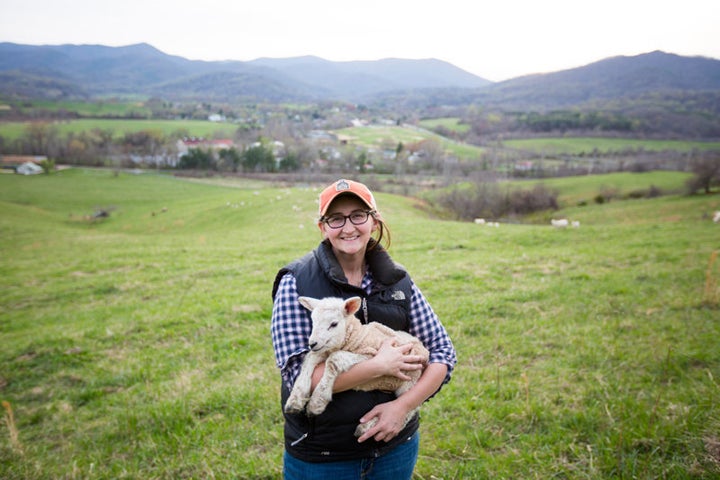 American agriculture has a big problem to deal with. And there's no easy fix on the table.
According to the most recent data from the Department of Agriculture, the average age of an American farmer is 58 years old, and that number has been continually increasing for some three decades.
The trend is cause for concern because, as that number continues to climb, the question of who takes over their farms once they retire or, yes, die, looms. Left unanswered, our nation's food supply is in jeopardy.
Luckily, there is another statistic on U.S. farmers that offers some hope. Though the number of farmers has been falling for many years, the number of young farmers, defined as farmers under the age of 35, is actually moving, slightly, in the opposite direction. The number of young farmers in the U.S. increased 1.5 percent, according to the latest Agriculture Census in 2014. In some parts of the country, the increase is even more dramatic -- the number of younger farmers is up 40 percent in Maine.
Of course, such a relatively small increase in so-called millennial farmers isn't enough to make up for the thousands who are aging out of agriculture -- but it's a start.
About 90 minutes outside of Washington, D.C., two thirty-something high school sweethearts, Mike and Molly Peterson, are doing their part.
The Petersons own and operate Heritage Hollow Farms, a grass-fed and grass-finished beef and lamb, and pastured pork farm, in Sperryville, Virginia. They initially turned to agriculture because Mike, a professional chef, was interested in becoming better at his job by getting more familiar with the ingredients he depended on.
"He was getting kind of tired of cooking and wanted to take a break to maybe learn how to raise food then go back to it," Molly explained to The Huffington Post. "He never went back to it."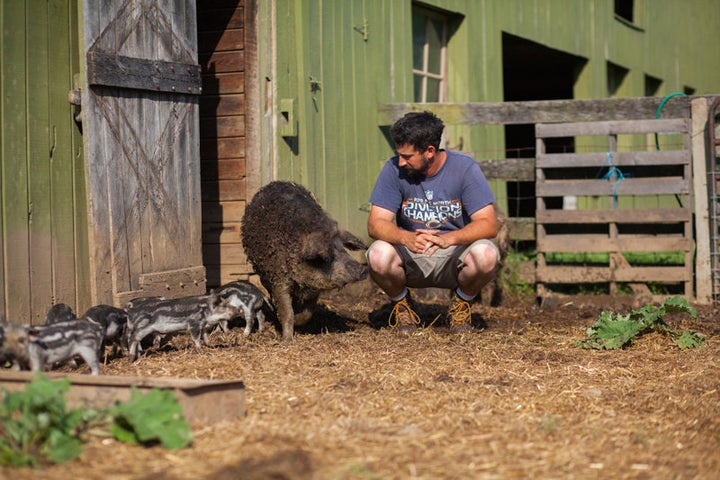 Molly, who worked as a professional photographer, was also sold on the farming life soon thereafter and, in 2013, they founded Heritage Hollow, entering into a long-term lease of two farms totaling some 600 acres.
Some days on the farm can be tough and irregular cash flow can be stressful. Though demand for the Petersons' products is high, and they received a USDA loan last year, most of their money is tied up in the business and it can be difficult to access credit.
"We don't have a day job," Molly said. "Our savings account is within this farm. And that's scary because banks think we're risky. They'll say, 'What's your take-home income?' I say, 'What's a take-home income?' And that's not normal."
Other young farmers support their agricultural leanings with multiple side jobs, a daily grind that might make your head spin. Since last August, 29-year-old Lauren Manning has been working as a cattle and sheep rancher at Ozark Pasture Beef in Fayetteville, Arkansas.
In addition to her commitments on the farm, Manning is also pursuing an LL.M. law degree with an agriculture and food law focus at the University of Arkansas and working as an adjunct professor, freelance journalist and an intern with the National Young Farmers Coalition, a nonprofit advocacy group.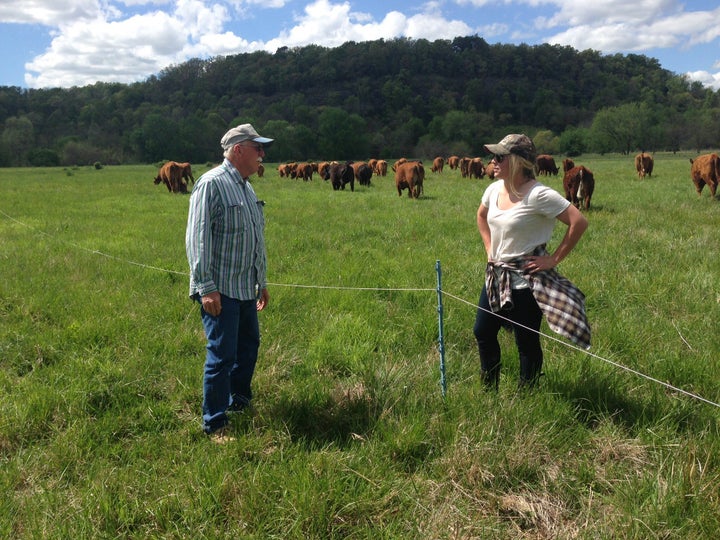 Manning's schedule requires next-level time management. She told HuffPost she works between 80 and 100 hours a week. While grueling, she said the decision between this and a cushier gig at a law office was clear.
"I have never felt more compelled about something," Manning said. "There's a freedom and autonomy to ranching that I appreciate. You are constantly engaging with the land and the animals, manipulating the environment, constantly recalibrating, problem solving and planning. When you succeed, it's fantastically rewarding -- and addicting."
That feeling is shared across many different types of agriculture, too.
Twenty-six-year-old Amanda Midkiff's medicinal herb business, Locust Light Farm, in New Hope, Pennsylvania, is smaller in scale than many farming operations, but the benefits Midkiff says she takes away from her work shares many parallels with even the most massive "conventional" farms.
Founded last year, Locust Light offers locally-grown herbs and herbal products both online and through a "community-supported wellness" program similar to a CSA. The operation leases a small portion of a 75-acre farm.
While Midkiff initially eyed law school when she was attending college, summers spent interning on an organic vegetable farm led her down a different path. She still works a part-time job on the side and money has been tight, but said she has no regrets.
"With farming, you're feeding people in your community every week and actually making a difference by offering people different consumption options and educating people about their choices," Midkiff explained. "It's a lot of on-the-ground, hands-on work."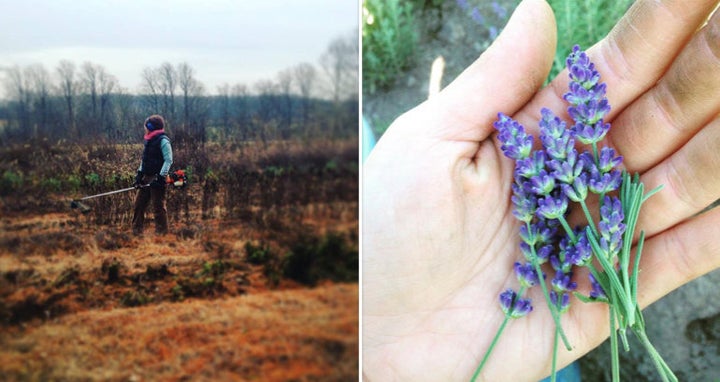 Lindsey Shute, the NYFC's executive director and co-founder, told HuffPost that kind of passion is a common reason why young people are taking to agriculture today — even if many of them don't come from farming or rural backgrounds.
"They're growing up in cities and suburbs and finding out about ag through the good food movement," Shute said. "They're seeing 'Food, Inc.', they're reading Michael Pollan or taking a food studies class in college or high school and getting exposed to the many problems that exist in the food system."
"They feel they're contributing positively to their world, but also having a lifestyle where they can be active and creative and a business person too."
Still, there are limits to that sort of motivation and many young farmers struggle.
According to a survey of more than 1,000 young farmers commissioned by the NYFC in 2011, lack of capital or lack of access to credit, as well as limited access to affordable land to buy or rent in long-term agreements were key obstacles to getting started in the industry. Many young farmers also carry student debt, which doesn't help.
""People respect farming because people have the conception that farming is work, but I want people to respect farming because it's an amazing thing farmers do.""
Another issue came up repeatedly in HuffPost's interviews: the misconceptions among the general public when it comes to the true costs associated with producing the foods they eat and the products they use. This is particularly the case with foods grown using sustainable and environmentally-friendly methods.
"The public really is our biggest Achille's heel," Peterson said. "They can be our strongest advocate, but if they come at this with an ignorance or an unaware mindset, they can really hurt us, even if that is not always their intention to do so."
Further, as Midkiff described, farming is still seen by many as solely a menial, physically-taxing way of life while ignoring the many other skills -- knowledge of math, science, marketing and public relations -- needed to excel in the field.
"People respect farming because people have the conception that farming is work, but I want people to respect farming because it's an amazing thing farmers do," Midkiff said.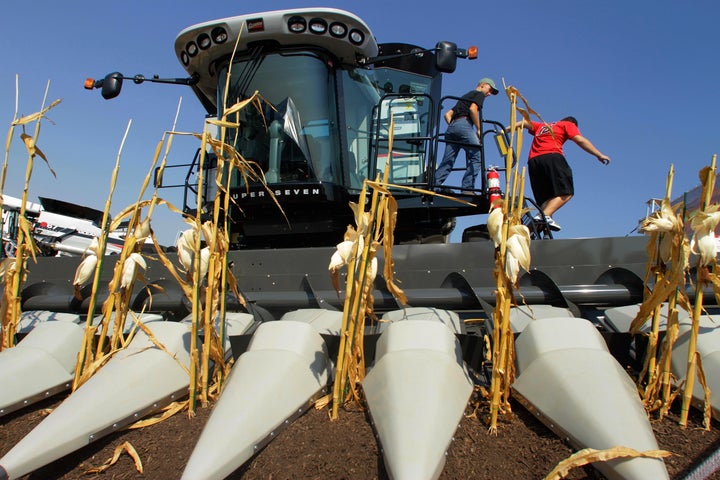 There is some progress to report.
And, according to Shute, farmers eyeing retirement -- of which the USDA estimates there will be some 500,000 within the next 20 years -- are increasingly comfortable connecting with young farmers who are not family members who are interested in taking over their businesses.
"This is something that to solve it is going to take many more times the resources currently being put into it," Shute told HuffPost. "There's so much more to be done."
Meanwhile, there are animals to feed and crops to be checked on, orders to fill and fences to mend. This just isn't the sort of work where one can sit back and ponder alternative scenarios.
"We know it's work and an uphill battle, but for some reason, we still want to do it," Peterson said.
Joseph Erbentraut covers promising innovations and challenges in the areas of food and water. In addition, Erbentraut explores the evolving ways Americans are identifying and defining themselves. Follow Erbentraut on Twitter at @robojojo. Tips? Email joseph.erbentraut@huffingtonpost.com.
Related