What's the difference between chicken and million-dollar chicken? Ask Anna Ginsberg.
A decade ago, this stay-at-home mom submitted a rather unusual chicken recipe to the Pillsbury Bake-Off and it led her to walk away with the $1 million prize. Naturally, people wanted to make and try the dish for themselves -- including Oprah Winfrey.
"I make chicken all the time, and it ain't million-dollar chicken," Oprah said back then. "There's only so many things you can do with a chicken. So I said, 'I want to know what the heck kind of recipe she had that got her $1 million for the chicken!" 
For the contest, Ginsberg was required to use two eligible products in the Pillsbury family. She chose a pack of frozen spinach and "dunkable" waffle sticks (since discontinued, but easy to substitute with regular waffles today).
"It came to me just kind of in a flash," Ginsberg told Oprah. "I literally went in my kitchen and just started chopping up stuff."
Ginsberg demonstrates the cooking process in the above clip, which prompts Oprah to exclaim, "Oh, this is easy!"
But is it million-dollar good? Upon tasting the dish, Oprah suggested adding a little salt and pepper, but ultimately declared the meal a winner. "I do like it," she says. "I think it's delicious."
Baked Chicken and Spinach Stuffing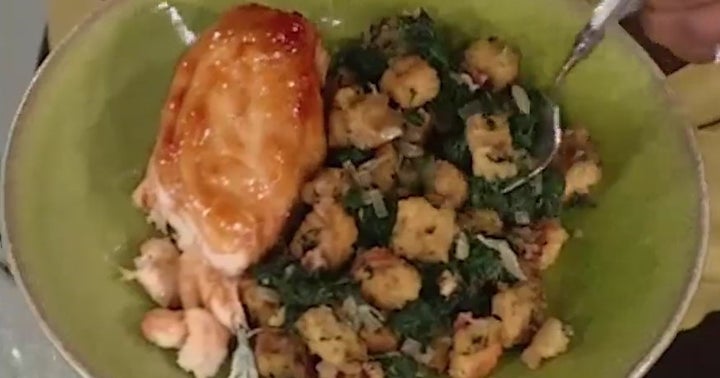 Ingredients
3 Tbsp. maple-flavored syrup
1/2 tsp. Worcestershire sauce
2 bone-in skin-on chicken breasts (1 lb.)
4 frozen plain or buttermilk waffles
1 Tbsp. butter or margarine
1/2 c. chopped onion (1 medium)
1/2 tsp. poultry seasoning
1/2 tsp. chopped fresh sage
1 box (9 oz.) frozen chopped spinach, thawed, drained (about 1 c.)
Directions
Heat oven to 350°F. Spray 9-inch glass pie plate or 8-inch square pan with cooking spray. In small bowl, mix syrup, preserves and Worcestershire sauce. Place chicken, skin side up, in pie plate; sprinkle with salt and pepper. Spoon syrup mixture over chicken.
Bake uncovered 40 to 45 minutes.
Meanwhile, toast waffles until golden brown. Cool slightly, about 2 minutes. Cut waffles into 3/4-inch cubes; set aside.
Spray 1-quart casserole with cooking spray (or use 9x5-inch nonstick loaf pan; do not spray). In 10-inch nonstick skillet, melt butter over medium heat. Add onion; cook and stir about 2 minutes or until tender. Stir in waffle pieces and broth, breaking up waffle pieces slightly to moisten. Sprinkle with poultry seasoning and sage. Remove from heat; cool about 5 minutes. Stir in egg white and spinach. Spoon stuffing into casserole. Sprinkle pecans over top.
Twenty minutes before chicken is done, place casserole in oven next to chicken in pie plate. Spoon syrup mixture in pie plate over chicken. Bake chicken and stuffing uncovered 20 to 25 minutes longer or until juice of chicken is clear when thickest part is cut to bone (170°F) and stuffing is thoroughly heated. Spoon remaining syrup mixture in pie plate over chicken. Serve chicken with stuffing.
Another easy chicken dinner to try:
REAL LIFE. REAL NEWS. REAL VOICES.
Help us tell more of the stories that matter from voices that too often remain unheard.
BEFORE YOU GO
PHOTO GALLERY
6 Ridiculously Delicious One-Pot Chicken Recipes