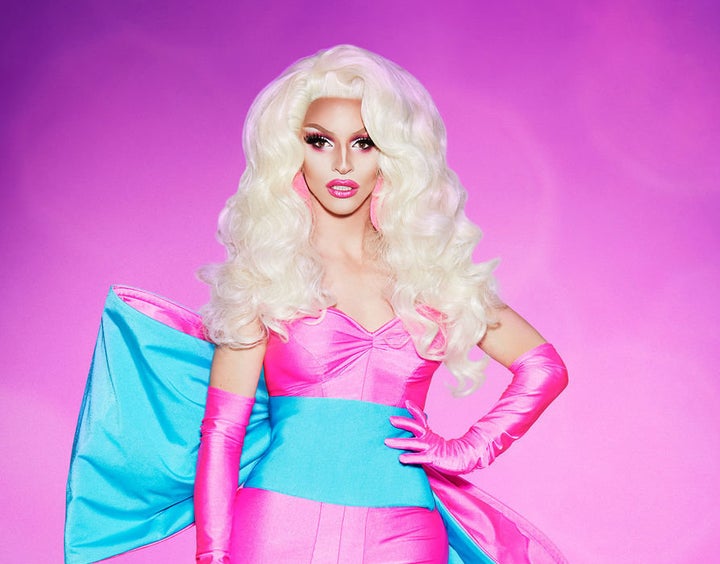 Inner saboteur, sashay away, because Miz Cracker isn't going anywhere.
The New York City-based drag queen, aka Maxwell Heller, bid adieu to "RuPaul's Drag Race" on Thursday night after an elimination so polarizing, even the unifying call of "Vanjie" couldn't put the fandom back together.
The drag daughter of Season 8 winner Bob The Drag Queen, Miz Cracker was a standout as soon as the cameras started rolling, delivering not-soon-to-be-forgotten moments throughout the competition. Seriously, when is another queen going to dress up as an actual pickle during a challenge and pull it off?
After winning last week's makeover episode, Cracker landed in the bottom for the first time, in a challenge that required the queens to channel their "inner saboteur" and walk the runway as both the good and evil versions of themselves. Self-proclaimed muscle queen Kameron Michaels ― who'd been in the bottom three previously, an almost-certain death knell for any contestant ― ended up facing off against Cracker. In a too-close-to-call lip-sync to "Nasty Girl" by Vanity 6, the two laid waste to the runway, death dropping and cartwheeling their hearts out.
In the end, RuPaul gave Michaels the green light, sending fan favorite Cracker home mere episodes before the finale.
We caught up with Cracker after the elimination to find out how she's (sorry for this) dilling with it, and she spilled on everything from being misunderstood by the judging panel to the chances of her winding up on "All Stars" Season 4.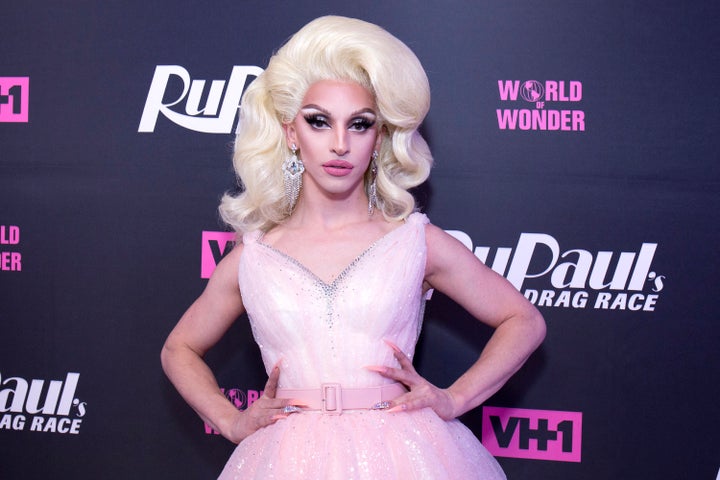 Even though you made it to the top five, you wrote after the episode aired that you "let America down" in a post on Instagram. Can you expand on that?
I let America down because I promised I would take the crown to prove that my style of drag, which is somewhere between the runway and the comedy stage, could triumph in America. All those queens that have that style that look up to me deserved my winning the crown, and they don't get to see that. However, that doesn't mean because I let America down last night that I'll let them down in the long run. I have a mission to use drag to make the world a better place and, goddamn it, I will do it.
We've seen you beat yourself up throughout the season about your performance, even when you were slaying the competition. Do you think you're being too hard on yourself, given all you've accomplished so far?
I think it's important that if you are going to enjoy the good parts of life that you have to be very clear about the bad parts. Do not soften hard times with crap about silver linings. Just say this is hard and I'm sad, so when things are happy you can feel the contrast.
I imagine one of those cut-and-dry sad moments occurred after the elimination. What was going through your head when Ru pronounced Kameron the winner of the lip-sync?
In the moment, I felt proud, because I was myself and I nailed it. Kameron was herself and she nailed it, too. We both did an excellent job. She gave sexy and I gave comedy, and that's not what the judges wanted. Why be mad at Kam when she was doing her job? I can only be angry that I didn't win. I can be angry at the loss, but Kam wasn't on the judges' panel. She didn't send me home [laughs]. She doesn't have the balls to.
The "Drag Race" fandom can be notoriously brutal after an unpopular elimination. On social media, I see you trying to encourage a positive discourse around Kameron's win.
Not positive. Just realistic. I never want to be confused with being positive.
Looking back at the final challenge, the show seemed invested in framing your demise as a victory of your inner saboteur. Do you subscribe to that narrative, and if so, what prohibited you from fully tapping into that darkness the judges wanted on the runway?
I don't buy that, looking at the episode. I feel like I fully showed who I was and that my evil twin monologue was terribly cruel to me. The judges didn't agree, and it was a close competition and that's that.
I don't think my inner saboteur got to me, goddamn it. I think I chose the wrong dress, and they didn't like the dress.
I'm still processing everything, because I thought that Marie Antoinette-inspired look was so major.
I thought so, too. That dress was made by Yuhua Hamasaki, by the way. New York queens, girl, we support each other ... when we're not trying to crush each other's throats.
One of the consistent critiques you got throughout the season was that you were producing yourself. Did you feel like that was an accurate evaluation of your experience on the show?
I am very careful with how I present myself, to a fault. I always have that Annette Bening voice in my head: "I will sell this house today." Breaking out of that will be a challenge of a lifetime. Not just the challenge of the episode.
Some of those moments that drew criticism ...
Hold on, I'm listening to my inner producer ... OK, you can continue.
[Laughs.] Those moments that drew criticism, like always having a comeback or quip up your sleeve, were some of the standouts for you on the show, but the judges seemed to interpret that as you not being as vulnerable as the other queens.
Sometimes people don't understand that I'm a comedian and comedians process pain and humiliation through comedy. So when I'm making jokes, you're watching me deal with some of the hardest things in life. Sharing my comedy with you is me sharing my soul with you. Don't be confused that just because I'm laughing that doesn't mean I'm not sharing with you.
In the show and on your YouTube channel, you proudly show off how you documented everything that went down on the season. What was behind that choice? A distrust of the editing process or a way to hold others accountable?
I'm a Jew! We're writers. We're thinkers. We're analyzers. I was writing the Rashi for Season 10, if that makes sense. There's no way for a Jew to have an experience without analyzing, documenting and reading the subtext. That's a proud part of my heritage that I brought to the situation. That's why I called my show "Review with a Jew," damn it. There's a Jewish sensibility to looking at the world, which is to carefully think and go over and ask what things mean.
Is there anything you took down in your notes that didn't make it into the episode?
People missed that when I was struggling with the sewing machine, that I was literally screaming like an animal. They cut that out to be nice to me because I was like: [unintelligible screaming]. I was yelling and throwing stuff around in almost a comical way.
So they were trying to do you some favors?
They were like, don't let America see this. [Starts singing "Let It Go" from "Frozen."] Don't let them see. Don't let them know.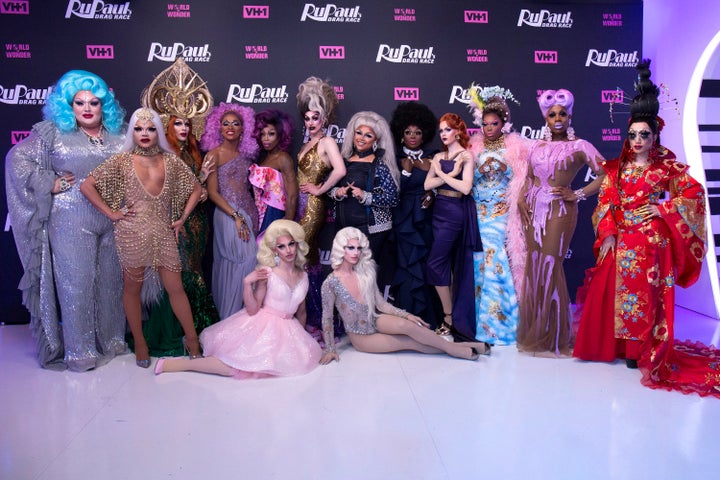 Do you feel a certain kinship now with other contestants the fans have deemed to have been "robbed"? Some of those queens have gone on to become the most successful, or at least been given the momentum to return for an "All Stars" season.
Girl, I'm a Seattle drag queen. My new name is Robbed Turner, girl. There's no such thing as robbed. I submitted myself to the judgment of the judges, and they made a decision based on what they felt was best. However, it is nice to see someone like Trixie Mattel say "Girl, you're a loser. Welcome to the club." I feel like I'm in good company. Trixie tweeted me this morning and I was like, "Mooooom! Alcoholic mom!"
Your name has already popped up on fan wish lists for the "All Stars" Season 4 cast. Would you be open to that experience so quickly after wrapping up Season 10? How do you think it would differ?
I don't know what would happen if I joined "All Stars" Season 4, but I know that we live in a terrible world where Donald Trump is president, and my priority is to do something real in the world of reality, and not in the world of reality TV.
This interview has been edited and condensed for clarity.
Before You Go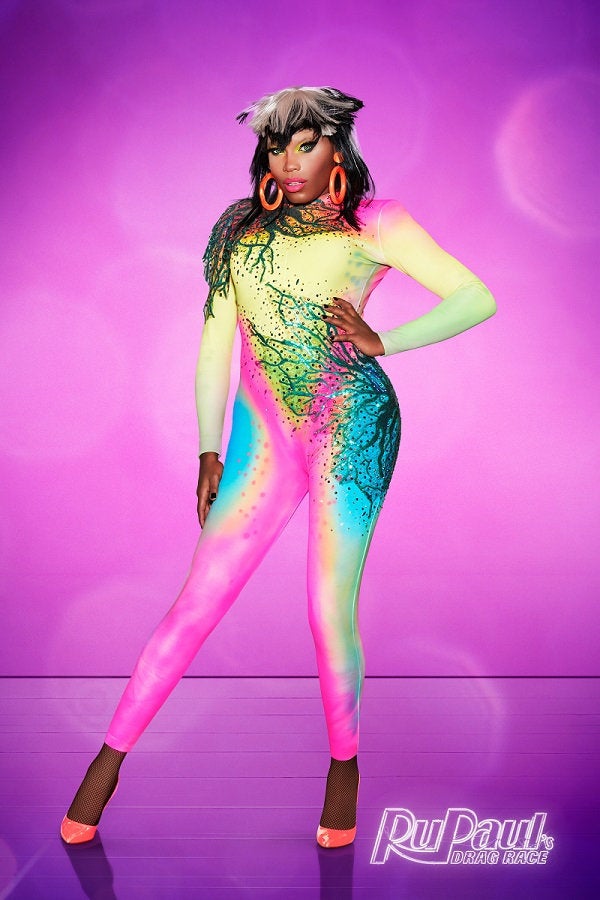 "RuPaul's Drag Race," Season 10