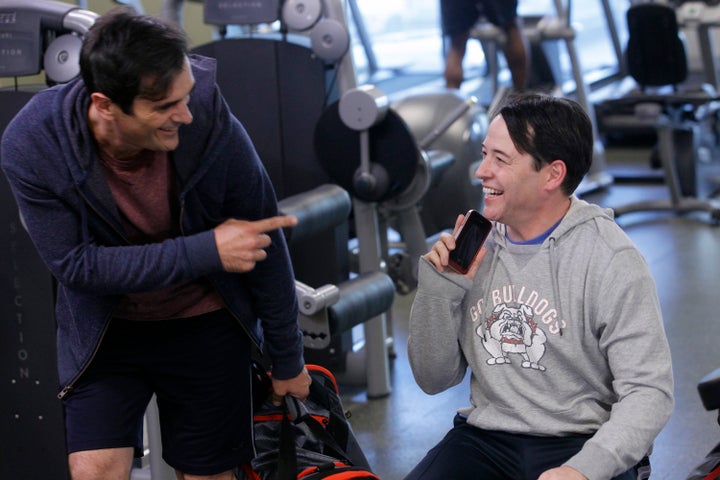 In this week's "Modern Family," titled "Mistery Date" (Wed., Nov. 14, 9 p.m. ET on ABC), comically clueless dad Phil (Ty Burrell) makes a new friend and, of course, there are instantly mixed signals.
I was on set for Burrell's scenes with guest star Matthew Broderick, who's playing a fellow alum of Phil's alma mater who isn't quite sure if Phil wants to be football-watching buddies or ... more. Yes, you know it's November Sweeps time when shows recruit the big-name guest stars. "Yeah ... I hope that works out for them," Broderick said in what can only be described as signature Ferris Bueller-style self-deprecating deadpan.
Keep reading for more with Broderick and Burrell on this unlikely duo, Phil meeting his socially awkward match, Broderick's own TV personal tastes and more ...
"I'm a big fan of the show. I'm amazed that I'm here -- last night I was on Broadway, then I got on a plane and now I'm here. And I know two-thirds of my lines," Broderick said with mock pride when asked about squeezing in this quick gig on his one day off from "Nice Work If You Can Get It" on Broadway. "It's a very nicely written little piece."
"Matthew Broderick was kind enough to come on our show," Burrell said. "I'm such a huge, huge fan of his. He's really superb. I was so excited. I mean, I've been excited about lots of folks who've come on the show, but this one ... I was really nervous and excited to work with him. In addition to being sort of an icon, I just really, truly admire what he does. I never dreamed that I'd be performing with people like that [on this show], so it's really fun."
"Ty's so great, so to suddenly be on screen with him is a real pleasure," Broderick echoed.
So how do these two meet?
"We meet at the gym ... so careful who you meet at the gym," Broderick explained. "We meet playing racquetball, and I have a hoodie on that shows I went to the same school as him, so we get all excited and decide to go to his house to watch a football game. His whole family is away, and I think it's a different type of date than he does. [Laughs.] So there's a lot of mixed messages and a lot of innuendos by accident."
"Claire has expressly asked me to do something, to have like a guy's night, because I never do that," Burrell added. "She's a good wife, right?"
"Chris [Lloyd, our showrunner], Jeff Richmond, who wrote this episode, and Steve [Levitan] all wrote on 'Frasier' for years, and there are farcical elements of this episode that remind me of the things that I loved about that show," Burrell said. "The missed signals that go on between the two of them are just written with such precision, and they're all kind of plausible too ... it's really fun to play stuff that's written like this."
And even though all of Broderick's scenes were with Burrell, star Jesse Tyler Ferguson came in on his day off just to say hi to his old pal.
"I did an independent movie with Jesse some years ago called 'Wonderful World' where we played friends, so we had all our scenes together, so I've known Jesse for some years," Broderick explained. "And he wasn't a big shot yet back then -- now I'm visiting him. [Laughs.] Oh, how the tables have turned!"
Any chance Broderick would return for more? Maybe something with Ferguson's Mitchell and his partner Cam (Eric Stonestreet)?
"Maybe if they need to clear something up, I could come out another Monday and say, 'Just so you all understand ...'" Broderick said with a laugh.
So Broderick -- whose wife Sarah Jessica Parker just had a stint on "Glee" -- would be open to returning to "Modern Family," but what about taking on a full-time TV gig?
"I love TV. I just haven't ever really ... it hasn't really happened. I get approached every now and again, but it just has never been the right fit, or I have something else coming up on the schedule. But it sort of suits family life, and it'd be nice just to have good writing, over and over again. But shows like this aren't that common."
What do he and Parker watch when they do get a break?
"The truth is, I'm out at 7 or a little earlier ... but if I get home and Sarah's awake, we seem to just watch people buying apartments in Rome [on 'House Hunters International']. [Laughs.] That's pretty much it! Moving to Stockholm, relocating to some Korean city ... they have three choices and they narrow it down to two, because they don't like one for some dumb reason. 'I really like this sofa,' sometimes they'll say. That's always amazing to me. 'You're buying a house! Don't worry about the sofa, you idiot!' 'But this couch is so comfortable.' [Laughs.] And they always like the open layout, stainless steel and granite. But it is fun to see how people live in other places."
As for Burrell, since Broderick seemed to be another check mark off his dream wish list of stars to work with, I had to know: Who would be the ultimate guest star?
"I would kill to do something with Steve Martin," Burrell said. "But that puts me in line with every single male or female that's ever been interested in comedy. Anyone would like to do a scene with Steve Martin, so that doesn't make me unusual. But he could come play himself ... somehow he's just open to give banjo lessons to Phil. Steve Martin is on Craigslist for banjo lessons. [Laughs.]"
Tell us: Are you excited to have Matthew Broderick on "Modern Family"?
"Modern Family" airs Wednesdays, 9 p.m. ET on ABC.
Read ABC's official description for this episode:
"Mistery Date" - When Claire takes Manny and Luke along to Alex's academic decathlon for the weekend, Phil attempts to throw together a boys' night at the house, inviting a fellow Bulldog alum (guest star Matthew Broderick) he just met -- but their wires are definitely crossed. Meanwhile, the pressure is on for Alex at the decathlon, Manny and Luke bar mitzvah hop at the hotel trying to find a cute girl, and Cam and Mitch arrange for quite the surprise baby gift for Jay and Gloria.
PHOTO GALLERY
'Modern Family'
Calling all HuffPost superfans!
Sign up for membership to become a founding member and help shape HuffPost's next chapter
BEFORE YOU GO