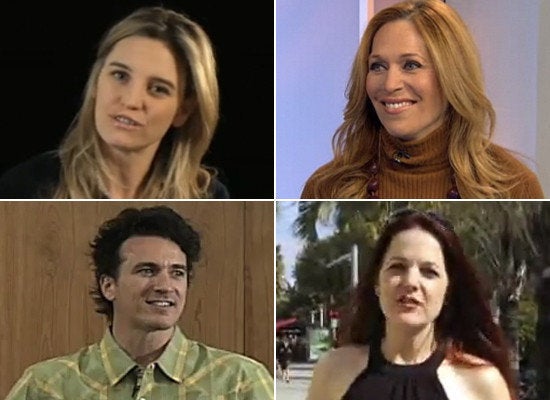 When we put out the initial call for responses (hashtag: #themomentiknew), the feedback was overwhelming. In 140 characters or less, readers vented about some of their most profoundly intimate moments, ranging from the blackly comic ("He crumbled baguettes all over the food and serving utensils knowing I have a severe wheat allergy") to the gut-wrenching ("I was having surgery and had to beg my husband to come visit me in the hospital") to the just plain peculiar ("When he said, 'Life isn't just about bacon and Warhammer 40K, you know'"). We compiled their responses into a slideshow, which continues to be one of the most popular--and most frequently referenced--features on our site.
So I'm excited to announce that, on the evening of Tuesday, April 5th, we'll be taking "The Moment I Knew" offline for the first time, with the help of meetup.com.
This Meetup is slightly different than most; like always, Huffington Post readers across the country--already used to engaging with each other on the site --are invited to get together to do so in person to kibitz about their divorces and relationships, and trade tips over coffee or drinks. Readers are also invited to share their short (3 to 4 minute) stories about that all-important realization: oh boy, it's over. We're counting on you to make this an experience that's just as funny, poignant, honest, and ultimately revealing as online feature. Wondering how to set one up? Read these simple step-by-step instructions here.
But for NY and LA Huffington Post readers, there's no need to plan anything, because we'll be your hosts: for the Moment I Knew Meetup in these cities, we're planning a fantastic lineup of special guests to share their "Moment I Knew" stories over cocktails at two terrific venues. See below for details on that, as well as our incredible lineup of authors, comedians, and HuffPost bloggers which includes a pair of exes performing on both coasts (Brooke Van Poppelen and Tony Sam)!
What's more, we're keeping one slot open at the New York and Los Angeles Meetups for one lucky reader to share his or her personal "Moment I Knew" story. If you'll be in either city on April 5th and would like to take part, please email your essay to divorce@huffingtonpost.com by Friday April 1st and we'll contact you to let you know if you've been chosen. Remember, your essay should be short (though not necessarily sweet)--please keep it to 3 or 4 minutes in length (about 600 words).
As always, we'd love you to document your Meetups as they happen in any way you see fit--blogging, video, Twitter--and afterwards, be sure to send photos and recaps for our follow-up story to submissions@huffingtonpost.com.
Can't wait to see you all there!
-Sara Wilson
Editor, Huffington Post Divorce
HuffPost 'Moment I Knew' Nationwide Meetup Details:
When: Tuesday April 5, 2011
Where: Various venues across the U.S. Check our Meetup Website for details on where and how to participate.
NEW YORK CITY 'Moment I Knew' Meetup
Hosted by Melissa Francis, CNBC anchor and "Divorce Wars" correspondent

Where: Macao Trading Co., 311 Church St. (between Walker St. & Lispenard St.), New York, 10013 (please note that we are in the private space downstairs. There is a separate entrance to this space, or you may enter from the main bar. The address is the same.)

When: April 5th, 7 to 10 p.m. (performers take the stage at 8 p.m.)

Cost: Free! Important: Please RSVP to divorce@huffingtonpost.com with the subject line "Moment I Knew Meetup RSVP NYC" (RSVP required for entry)

FREE food & drink for the first hour of the event! Cash bar afterward.

Mobile Libris will be on-site, selling books by all author-performers.

***PLEASE NOTE THAT BECAUSE WE ARE CURRENTLY AT CAPACITY, WE ARE NO LONGER ACCEPTING CONFIRMED RSVPS FOR THE NEW YORK EVENT; PLEASE EMAIL divorce@huffingtonpost.com AND YOU WILL BE WAIT-LISTED***
NYC SPECIAL GUESTS, WHO'LL BE SHARING THEIR 'MOMENT I KNEW' ESSAYS:
Jill Brooke, writer for FirstWivesWorld.com, divorce coach, and author of the upcoming book, Recipes to Heal When Your Ex Makes You Sick
Joel Dovev, comedian (joeldovev.com)
Ruth Andrew Ellenson, bestselling author of the National Jewish Book Award winning The Modern Jewish Girl's Guide to Guilt
Isabel Gillies, bestselling author of Happens Every Day: An All-Too-True Story and A Year and Six Seconds: A Love Story, and actress (Law and Order: Special Victims Unit, Metropolitan)
Joe Gressis, three-time Emmy nominated editor, writer and film producer
Stacy Morrison, author of Falling Apart In One Piece: One Optimist's Journey Through The Hell Of Divorce and former editor-in-chief of Redbook magazine
Rahna Reiko Rizzuto, author of National Book Critics Circle Award Finalist Hiroshima in the Morning
Brooke Van Poppelen, comedian seen on TLC's American Chopper and vh1, writer for Dumb as a Blog on truTV, Emerging Comic and two-time Best Female Stand-Up nominee for NYC's Excellence in Comedy Awards
Kamy Wicoff, founder of SheWrites.com and bestselling author of I Do But I Don't: Why The Way We Marry Matters
***JUST ADDED!!*** SheWrites.com 'Moment I Knew Meetup' contest winner Kelly Simmon, former journalist and advertising creative director who recently published her second novel, The Bird House (Simon & Schuster)
LOS ANGELES 'Moment I Knew' Meetup Hosted by comedian Carlos Kotkin

Where: Private Dining Room, main floor, Palihouse Holloway, 8465 Holloway Dr., West Hollywood, 90069

'When: April 5th, 7 to 10 p.m. (performers take the stage at 8 p.m.)

Cost: Free! Important: Please RSVP to divorce@huffingtonpost.com with the subject line "Moment I Knew Meetup RSVP LA" (RSVP required for entry)

Cash bar
LA SPECIAL GUESTS, WHO'LL BE SHARING THEIR 'MOMENT I KNEW' ESSAYS:
Dennis Danziger, author of the novel, A Short History of a Tall Jew
Jan Eliasberg, acclaimed director and screenwriter (Miami Vice, Blue Bloods, Parenthood, NCIS:L.A.)
Amy Friedman, author of two memoirs and innumerable stories for The New York Times and Salon, and author of the nationally syndicated column "Tell Me a Story"
Gordon Haber, Fulbright recipient whose fiction, criticism, and journalism has appeared in The Forward, Bookslut, and Killing the Buddha
Kieran Kennedy, author of the upcoming memoir Father Can You Hear Me?
Sandra Kobrin, contributor to The New York Times, Los Angeles Times Magazine, Playboy, and Women's Day. Her book Full Circle will be out April 2012
Sascha Rothchild, This American Life contributor and bestselling author of How To Get Divorced By 30
Antonio Sacre, award-winning solo performer, storyteller, and author who has performed internationally and is a frequent commentator on NPR's Latino USA
Tony Sam, winner of the Chicago Comedy Awards for Most Innovative Comedian, Editor-in-chief of humor news site HAHAJK.com, and guest star on G4's Attack of the Show
Amy Wallen, bestselling author of MoonPies & Movie Movie Stars and creator of NPR's DimeStories
***JUST ADDED!!***'Moment I Knew Meetup' contest winner Adam Paul, actor, writer, and producer (Hollywood Residential, The Informant, How I Met Your Mother)