When Kara Goldin started putting fruit in her water 10 years ago, she had no idea that she had stumbled upon a business idea that would eventually lead to the creation of a new category in the beverage industry, grow to a 40 million dollar company, and help her lose over 25 pounds in the process.
Goldin describes the beginning stages of her company, Hint Water, as an "accidental passion". She was trying to lose weight after baby number 3, was working out, eating "healthy", and nothing seemed to be working. She then began analyzing her diet and realized she was not as educated as she thought about the types of food she was putting into her body. She also realized that she was drinking 10-12 cans of Diet Coke a day. Goldin shares, "I was becoming uber - aware of food ingredients. I decided to start reading labels and started researching about food and reading about the hormones in chicken and milk. I also realized I never drink water. I decided to try and stop drinking Diet Coke, monitor my diet, and stop eating chicken with hormones in it. I didn't eliminate any foods besides Diet Coke but did watch the kind of foods that I ate. And it was amazing, in 3 weeks I lost 24 pounds".
I sat down with Kara to discuss this "aha moment", her tips for aspiring entrepreneurs, and how she manages to balance work and home as a mom of four and working along side her husband day to day.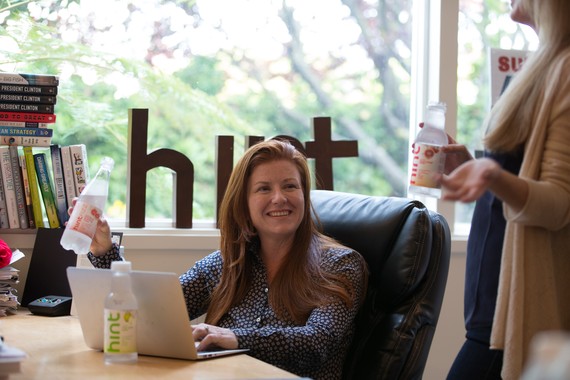 It sounds like your business started out of your passion for eating and drinking healthier and that your own personal "aha moment" led to your entrepreneurial "aha moment" and the launch of Hint Water?
It was an accidental passion. I had no idea. It started as my own interest to get off of Diet Coke. Than about 3 months into drinking water, I was so bored. It was relatively easy to transfer the food over to this new lifestyle but the drinks...I was so bored. I had removed juice completely from my kids diet and they were so bored with water as well. Than one day I took fruit and put it into water. I gave them water with fruit floating in it they found it visually appealing and all of us were more willing to drink it.
And then with friends, I would see them at the gym, and before heading to the gym I would grab a bottle and then throw fruit in it. They would all ask me where I would get this water. And that is when my friends began to educate me about all of these so-called flavored waters in the market.
Goldin explains she was a soda drinker so she was not aware of the flavored water category. After realizing there could be a market for her new beverage she began to explore more....
I went into my local San Francisco Whole Foods and inquired what would it take to get a drink on the shelf. The Whole Foods manager told me everything from the coding to the shelf life. I went home to my husband and I said I want to create this product, I'm going to take $50K out of our bank account and I'm going to get the bottles, caps, etc and launch this.
And then I found a bottling plant in Chicago that was female run and I told my husband I'm going to go out there next week. Oh, and by the way I was pregnant with my 4th child! My husband was like "you are not a beverage exec, I'm sure Coke and Pepsi have this product". And my response to him was if its out there, I don't care. Its not in SF and the guy at Whole Foods said he would carry it.
Goldin went on to write the business plan in 7 months and got the product on the shelf just before giving birth to her 4th child.

I had a planned c section so I knew the date I was delivering (and got the product on the shelf just before that date). And then I'm in the hospital about to deliver and I get a call from the guy in Whole Foods and he said they were out of product, we already went through 10 cases.
And still my naysaying husband, he is a New Yorker, said if you are really going to make it you have to go to New York and see what the response is in New York. So then I fly out to New York and with my baby in the Baby Bjorn I go to a Whole Foods in New York. I show the manager the data from the San Francisco Whole Foods and he says "yes we will throw it in and see what happens". And the same thing happens! So we are selling it on both coasts which is totally crazy"
You launched your business at the right time, when an awareness was building about food ingredients, child obesity, and people were starting to become "anti - soda", was it a perfect storm of events?
When I started the company 10 years ago it wasn't like that. People would ask me how did you lose the weight, I would say I stopped drinking Diet Coke and they wouldn't believe me. People would ask why I don't drink it (Diet Coke) and say things like " but, it is diet?". I believe the beverage industry mimics the cigarette industry and what happened to that industry. I'm super focused on running a beverage company but I'm almost more interested and passionate about helping people get clear ideas about what they are putting into their body.
You call all of your flavors "unsweet" and "all-natural". What is it that you put in your water to give it the fruit flavor?
Skins from fruit and oils - no sweeteners - just water.
What is your advice for aspiring entrepreneurs?
In 2015 for any person, male or female, to be working in a job that they don't want to be working in is foolish. There is so much opportunity out there to do it...more often than not if you say I hate what I'm doing it is more about understanding why that is...writing notes to yourself why don't you like it. Understanding what you don't like.
It is also about paying uber attention to what you like doing everyday. And paying attention to what is around you, what is interesting to you. What bugs you everyday. Pay attention to what bothers you, can you create change?
In every single job make sure that you are learning. In my early days when I was working in direct response at Time Inc, I had no idea how much that experience would help me now. We have a huge opportunity now in direct to consumer, I had no idea how valuable that past experience would be.
Goldin goes on to share some of the challenges of launching and running a business...
There is a lot of stress of being a CEO of a company. You have to be able to pay the bills and deal with issues...the buck stops here. A lot of people don't really want that. Just because you have a great idea, you have to be able to execute on it, you have to have the capital, you have to be able to build the house and make sure it stands. And that is the thing, it is a DNA. People ask me how I got courage and I don't know. If you have an idea, the courage thing is a whole piece of it...you either have it or you don't have it.
How do you balance the worlds of entrepreneurship and motherhood?
I was just talking to a friend about women working and I was saying that I am quite confident that my children are not going to be messed up by me working. Instead, I feel like I am a voice that they get to live with. A voice that is actually creating change and making people realize that in a very broken industry they have been hoodwinked
Two years ago, my 13 year old son woke up one morning and said "I just realized that women don't typically run companies". I am teaching him that is not always the case. He realizes that he is living in an environment where not only are we going up against the Cokes and Pepsis of the world but also that his mom is running the company and that his dad works for his mom (Goldin's husband is the COO of Hint Water). So many people have said to me "there is no way that your kids are not going to be entrepreneurs". They (her kids) understand everything about the business. We haven't forced it on them but they ask.
What is you Mompreneur Mantra? The one piece of advice or favorite quote that you would share with fellow mompreneurs and aspiring entrepreneurs?
Goldin selected a quote from Steve Jobs:
"How does somebody know what they want if they haven't even seen it?"
For more interviews and inspirational quotes from successful women business leaders, click here.
Anjali Varma is "The Modern Mompreneur", her site and YouTube channel provide entrepreneurship and lifestyle tips and she is launching her Marketing On A Shoestring Budget e-course this month. She is also the owner of Kidville Bethesda, an enrichment facility that offers classes, retail, haircuts, and birthday parties for newborns - 6 years old. You can find Anjali on Twitter and Instagram @anjvarma.
Calling all HuffPost superfans!
Sign up for membership to become a founding member and help shape HuffPost's next chapter