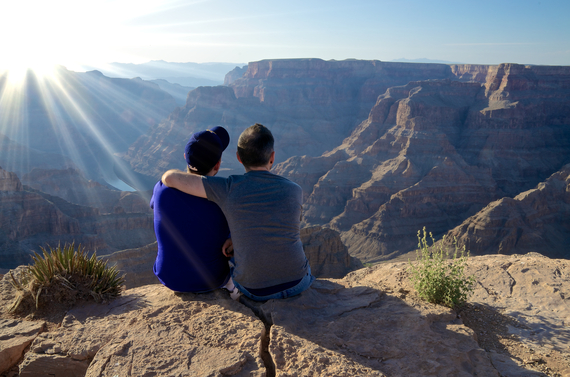 A new survey has found that 61 percent of LGBT people would not travel to a destination where homosexuality is illegal.
The survey of over 900 readers, carried out by my travel company OutOfOffice.com in conjunction with Attitude Magazine, did however find that 60 percent of travellers did not want to be restricted to LGBT friendly destinations only, rather wanting freedom to travel to any destination.
It really upsets me that in this day and age the LGBT community still feel unable to travel to any destination on earth. Clearly there is still some way to go in order to break down the barriers that exist and to ensure that the law is made equal everywhere.
But the survey results also show that there is still a lot of trepidation when it comes to choosing where to travel as an LGBT individual. Whilst there are parts of the world where it's dangerous to be LGBT, there are also parts of the world that outlaw homosexuality but that with the proper advice it is still safe to travel to such as India and the Maldives.
Homosexuality is illegal in over 70 countries worldwide and many countries still do not have equal employment, marriage or adoption rights.
But it's encouraging to see that 60 percent of LGBT travellers don't want to feel restricted by the law either, even if they do at the present moment.
Personally, I want to see the world and I would and have travelled to a number of places it's technically illegal to be gay. I'm a firm believer that knowledge is power and as long as you are aware of the law of a country that should not prohibit you from exploring and enjoying it.
The law is developing all the time and it's important that LGBT travellers seek expert advice before travelling to certain destinations. There are great resources on the internet such as Equaldex that provide the most up-to-date information anywhere online about the existing laws relating to LGBT rights in any country.
Other findings from the survey included:
- Majority of respondents (52 percent) travelled in a couple whilst 21 percent travelled solo.
- 64 percent of those surveyed said that they would take up to 2 holidays in Europe of a week or more in the next year whilst 56 percent said they would do the same worldwide.
- Paris was the most popular city people expected to visit in the next 12 months, with Barcelona and Amsterdam next on the list.
- Internationally, New York was the most visited destination with Los Angeles, Las Vegas, Miami and Thailand next.
- The majority of respondents (82 percent) opt for a beach holiday or one which involves culture, history and heritage (82 percent) with 58 percent saying they enjoy nightlife and clubbing.
- Most people (43 percent) book a holiday between three to six months in advance with 26 percent arranging their trip over six months ahead of travelling.
Calling all HuffPost superfans!
Sign up for membership to become a founding member and help shape HuffPost's next chapter