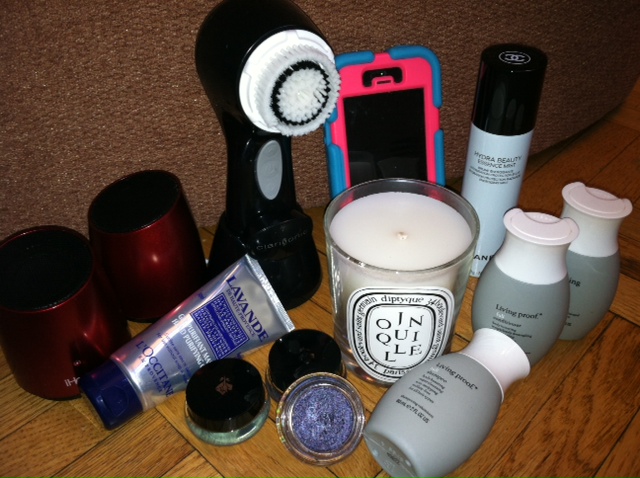 One of the best gifts a mother can give to her children is a love of travel and a sense of adventure. To return the favor, give the mom who has collected her share of frequent flyer miles a gift that makes her next trip that much more fun.
Since mom will no doubt have to share her iPhone with the kids, why not get her a Griffin Survivor Case. These cases meet U.S. Department of Defense Standards and protect your phone from extreme conditions, including dirt, sand, rain, shock, vibrations and small children. In addition, they can be customized in mom's favorite colors.
If your mom is one of those moms who is addicted to hand sanitizer, give her a major upgrade from the drugstore brands with L'Occitane's lavender organic hand purifying gel. It is the perfect size and smells amazing.
Most mothers love a chance to relax anywhere where they don't have to make the beds. Why not make her hotel room that much more fabulous with a set of rechargeable mini speakers from iHome? These can be used with a laptop, cell phone or iPod and will have mom dancing around in no time.
And to further transform her hotel room into a mini oasis, pack up a Diptyque candle. Their newest scent, Jonquille, is meant to smell like springtime. These candles are French, they smell great and last for hours -- enough said.
Keep mom's skin glowing while she hits the road with Clarisonic's Aria. This new travel-friendly cleansing system can be charged with a UBS cord and a laptop so there is no need to worry about an adapter.
And since mom usually does not have that much time to fuss with her makeup, give her a few pots of Lancôme Color Design Infinité 24 hour eye shadow. These eye shadows come in 15 super vibrant shades and look great all day.
To keep her hair in check, get her a "Full" travel kit from Living Proof. These products use science (and Jennifer Aniston) to create shampoos and conditioners that will leave mom's hair looking bouncy and beautiful five times longer than usual. They also smell super nice.
Lastly, to keep that après vacation glow going even in the stuffiest airplane, give mom a bottle of Chanel's Hydra Beauty Essence Mist. This travel sized spray is the perfect way to moisturize on the go.