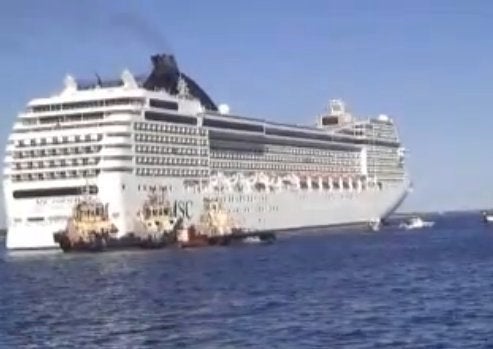 A 2,550-passenger cruise ship ran aground in shallow water in Freeport, the Bahamas Saturday morning.
The cruise was being held for electronica music fans and featured 20 DJs, including Steve Aoki and DJ Aero (with whom Tommy Lee was scheduled to appear, USA Today reports.)
The ship docked in some 14 feet of water in low tide, the Freeport News reports, and it took four tug boats to pull the heavy ship off the reef. Ships of that size are not meant to dock in less than 30 feet of water.
A photographer on board told Broward-Palm Beach New Times that the commotion started around 7 a.m. when the boat was scheduled to dock at Port Lucaya. "I was fast asleep. When it happened, it was like 'boom!' A huge bang. Grinding and rattling and everything started shaking. I had a half plate of food on my side table that flew off onto the floor. I heard the people in the room next to me freaking out and screaming, 'Oh my god, we're going down, where's the life vests? We're gonna die!'" The ordeal lasted the entire day, through 10 p.m. The photographer added: "The entire time the tugboats were pulling and the ship's engine was running in reverse, it was a constant rattling and shaking of the boat. Trying to eat dinner while your water glass is swaying side-to-side and the chandelier shaking is uncomfortable."
The visit to Grand Bahama was touted late last year by the area's tourism minister, who was looking forward to the ship's arrival in 2012. "The call of the MSC Poesia is one of many projects we are working on to strengthen Grand Bahama's tourism sector," Ian Rolle, president of The Grand Bahama Port Authority, Limited (GBPA), told The Bahamas Weekly last year. "We are excited about this visit. It is a trial call, but our hope is that it will evolve into much more, and thereby creating opportunities for many individuals and businesses alike."
Hadley Forbes, whose company was meant to transport guests around prior to the ship's arrival, told the Freeport News that it was an unfortunate mishap. "For this to happen is a big setback for the cruise industry right here in Freeport. All the ports I've ever been to in the world, whenever the ship enters into the waters of the country, a pilot of the country normally is on-board the ship to bring it into port. I don't know what happened with this one. Something drastically went wrong."
Related