Alan Au - Marketing Director & Vice President of Jimmy Au's for Men 5' 8" and under, Beverly Hills, California
Some of the greatest rock musicians of all time are 5'8" or shorter; for example Hall-of-Famers like Angus and Malcolm Young of AC/DC; in fact all of AC/DC except Cliff Williams. More names that measure 5'8" and under are Lars Ulrich and Kirk Hammet of Metallica, Bono of U2, Thom Yorke of Radiohead, Eddie Vedder of Pearl Jam, and Trent Reznor of Nine Inch Nails. What do these musicians have in common? They wear clothes that fit them. Whether purposefully or accidentally, their clothes fit and they don't look short. I'm sure the influence of punk rock and its embrace of all things skinny and tight have played a role over the decades, but maybe a more functional reality may exist, like being able to play their instruments better.
But what of award shows? Most guys are used to wearing fitted clothes when performing so why change when just sitting down?
While other award shows tend to be more about the elegance of the evening when it comes to fashion, I find the Grammy's to be more about expressing a soloist's or group's individuality. There seems to be a lot more leeway when it comes to musicians. After all, they've always made their own rules when it comes to what to wear. For many it's just an extension of their music. It's easy to spot executives and management types; they all dress like they're going to the Oscars or Golden Globes; in traditional black tuxes with black bowties, silver neckties and the formal like. You know, elegant in the way you would expect to see them.
But this is the Grammy's. Let's check out what worked and little of what didn't among the shorter icons.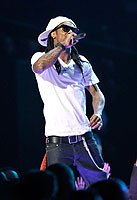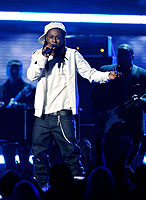 Generally speaking, high contrast tends to cut people in half, but Lil' Wayne did it right if he was intent on wearing a t-shirt with jeans. He chose a trim fitting white t-shirt that worked on his smaller frame with trimmer cut jeans. Wearing a lighter color on top brings attention up. He would have really looked ridiculous with a huge XL t-shirt and really baggy jeans. You would have thought he was shrinking on stage. Even the XS white hoody worked because the fit was trim enough.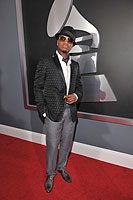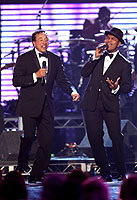 Of all the shorter guys, Ne-Yo was probably one of the best dressed. His evening coat was well tailored and his pants were a trim tapered cut. I'm guessing he's confident enough not to worry about his height. For the rest of us, I would recommend having the lighter color on top to bring eyes up to your face instead of to your feet. When he changed into his tux for the 4 Tops number, his tux had sleeves that were tailored to an appropriate length so that you could see some cuff.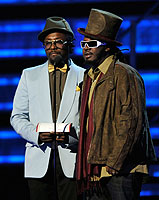 T-Pain came in his best hobo chic. Too big and bulky. His jacket sleeves were a little too long and his yellow shirt was way too long. It didn't help that he had to present next to a more sharply dressed Will I AM. His top hat certainly gave him some extra height, but I think a funkier dressy look would have been better.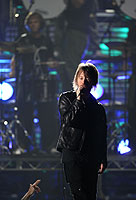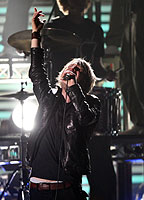 Thom York of Radiohead is dressed in standard hip rocker gear with a trim black t-shirt, trim biker jacket and black jeans. A look most shorter guys can pull off and look really cool any day of the week. To add to the angst, they played the one song at the very end of the Twilight movie that DIDN'T make the Twilight soundtrack. Extra coolness: being additionally backed up by the USC Trojan Marching Band (Fight On!).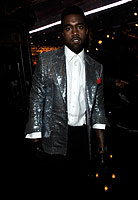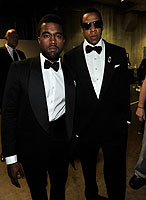 Kanye West is always a smart dresser. The silver jacket was a definite eye catcher which is good because it brings your eyes up. However, when he switched into his tux for "Swagger Like Us" something popped out at me... his head. The tux was impeccable but the bowtie was a little too narrow for his face. It made his face look fat. The most flattering width is the one that most closely matches the width of your face.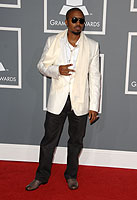 Nas knows how to do it right. If you must wear high contrast, lighter color on top. Although, he might have missed an opportunity to create another vertical line by wearing an off white scarf. A black, charcoal, purple or red scarf could have made a good statement and would have been height enhancing.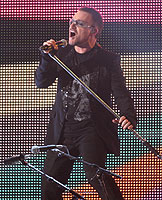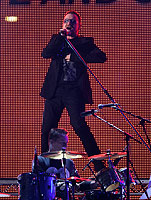 Bono looked very sharp with his trim black coat and black graphic t and skinny black jeans. Again, a safe rocker standard that everybody can agree on. Would you believe me if I said he was 5'6"? Again, trim cut coat and skinny jeans with boots or anything else clunky will work. If you're wondering if his sleeves are too long, he's ok. He's wearing black fingerless knit gloves. A clothing industry side note: More and more stretch fabrics are finding their way into menswear. Particularly in trimmer tailored clothing. Women's wear continue to embrace fabrics with 5% to 10% stretch, men's are starting to embrace 2% to 5% stretch in jackets and jeans.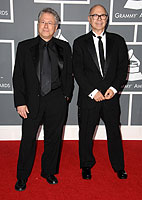 Alan Menken looked sharp in his black tone on tone ensemble. A staple of the musical theatre crowd.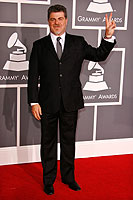 There is a well dressed man - Gustavo Santaolalla came to play. The sleeves of his shirt are peeking out just enough and the sleeves of his coat are just short enough they don't look too short. The waist suppression is just right, not too tight. The pants are clearly in a shorter rise and with a trim leg. The composer looks amazing. One of my best dressed for the night.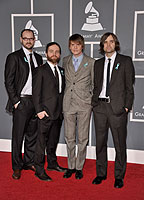 I believe the shortest of the four is Nicholas Harmer of Death Cab for Cutie. He's dressed sharp with a trim fit coat and trim pants. I can only recommend perhaps a shorter coat sleeve to show off a little shirt cuff and to shorten his pants a little.

As you can see, most in the music world get it. Certain styles musicians can lay claim to often flatter shorter men, like trim fitting clothes; from jeans to shirt to suits. Fit and function work together. Secondly, they always have something black in the closet. Lastly, great accessories from funky hats to gothic jewelry to diamond crusted anything. They know how to do it. Done in the right moderation, any shorter guy can carry an air of rocker chic and discover some groupies of their own.