The conversation went a little like this "So I tried out for the USA Bobsled team, don't worry I won't make the team but I am going to a bobsled camp for a week in September." I remember Mark (my CEO) looking at me confused and then returning to our discussion about other successful start-ups that he had researched. We were out to dinner debriefing after our management meeting. At that point in the process I had no concept of the commitment bobsled would require. On the off chance I made the team, I knew the Olympics was 4 years away, little did I know it was much more complicated than I could have ever imagined.
I attended a wedding the night before I left for the Olympic Training Center in Lake Placid with the intention of toasting the happy couple and going home early to pack and get ready for my 6AM flight like a responsible adult. HA! I love when things don't go to plan. I think the night ended after our fourth request of Taylor Swift's "Shake it Off" had played. I vividly remember being on the dance floor, shoes off, with a bottle of red wine in hand dancing hard with a group of my friends. I'm still not sure why, for some reason all of the guys had taken off their shirts.
When traveling to Lake Placid you have a few options, none of them are easy. The training Center is about 2 ½ hours from Albany New York which is where most people fly into; there is also a regional airport in Saranac Lake, a town about 20 minutes away. When booking my flight, since I had never heard of the place, I googled "closest airport". I took a flight from Denver to Boston then Boston to Saranac.   I should have known something was up when they weighted my carryon luggage and me before we boarded; lets just say the plane was tiny, it seated 11 passengers.
I guess my checked luggage was too heavy because it never made it on the plane. The next morning they gathered the group of us to review the itinerary for the week, there were 30 guys and 10 women. They split us up into groups for the week and the first activity slated for the women was to test two lifts; a 3-rep max back squat and a 1 rep max power clean. I was excited about the strength portion of the tryouts since I had been training with a strength coach. The other women were nice enough to let me borrow clothes and shoes for the day until my luggage arrived.   Once we completed our lifting session, we headed off to the push track  A push track is a strip of track with rails. The bobsled is on wheels and it allows athletes to work on improving push technique in the offseason.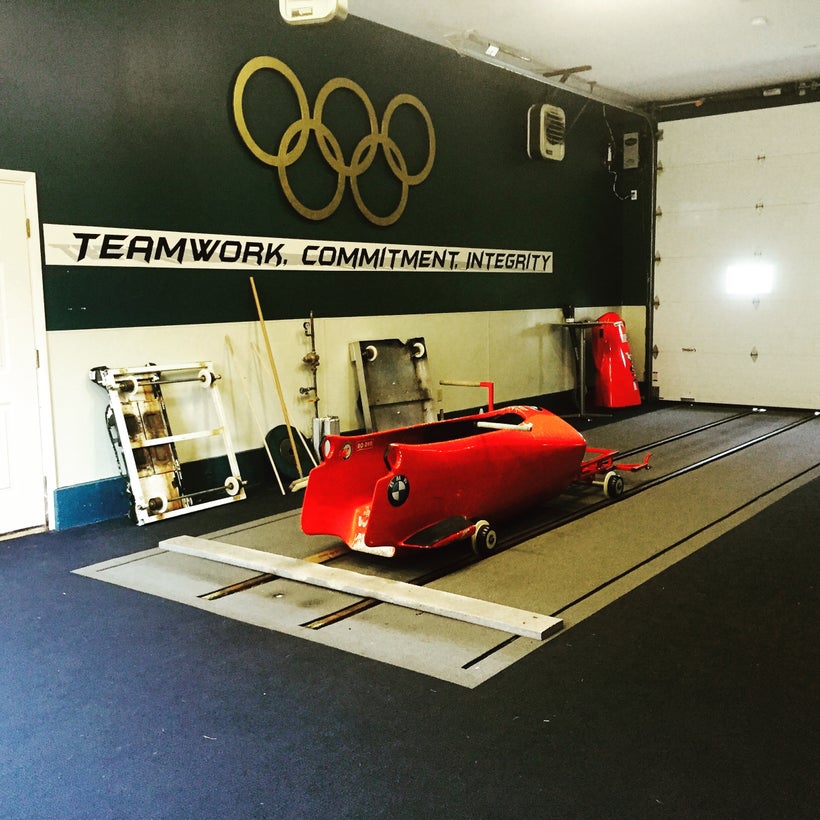 After doing well on the lifts I was excited to try pushing the sled for the first time. How hard could it be? HA, it was pretty hard, for me at least. Again most of the other athletes had run track and field in college so the transition to pushing a sled was more natural. My years of volleyball training were no help to me and my lack of coordination was starting to show. After three days of the coaches trying any way they could to explain to me what they were looking for, I remember one of my coaches saying, " Lauren, Lauren, Lauren, what are we going to do with you?" I was getting pretty frustrated. We only had two more days of practice before they were going to have all the rookies compete against each other, and even though I still had no confidence that I would make the team, like a true athlete, I hate to lose at anything. The week was scheduled to end with a rookie push competition and the results of that competition would determine if we made it to the next round of tryouts.
The next couple of days went like the first few days, the coaches saying things like, "lock your torso and let your knees fall into the sled", "Getting the sled going (the hit) is like doing a horizontal power clean". Does that make any sense to any of you? It made zero sense to me. However, the other ladies seemed like they were starting to get it, which only frustrated me further. No one wants to be the slow kid in class, but there I was.
The day before we were scheduled to compete they gave us the day off from pushing which was good because we were all pretty sore and a little beat up. The coaching staff took us on a tour of the bobsled track and the National Team Garage where all of the sleds were stored. They educated us on the costs of the sleds ($100K- $200k), the weight of the sleds (365lbs to 465lbs+) and the importance of proper maintenance. We walked the track from start to finish which was a real eye opener; the track was much more narrow than I had expected which made me wonder how a bobsled could successfully make it down. In some of the areas the "turns" looked more like big walls and while I understood the physics of how the sleds stayed up there, it looked pretty terrifying!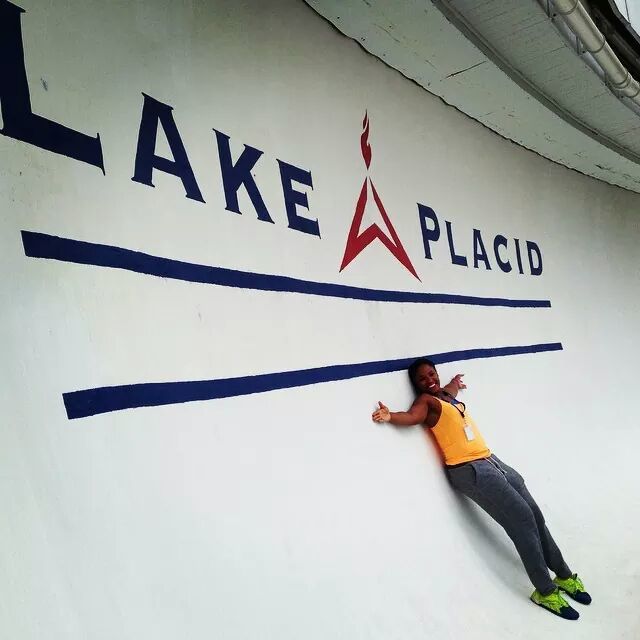 I didn't sleep much that night. Between thinking about the possibility of one day going down the track in an actual bobsled and the frustration of not being able to get my body to do what I wanted it to do, I tossed and turned.
Tired or not, my alarm went off and it was time to grab a quick breakfast and then start warming up. I decided that even if I could not get the technique down, it was time to be an athlete and just compete. I wanted to win badly. For the competition each of us got three pushes and they would count our two best times. Going into my first push I was pretty amped. My heart was racing as I was getting set up, I could feel my right leg beginning to shake. As I took off, my hand slipped, I thought I was going to fall flat on my face but luckily adrenaline kicked in and I pushed as hard as I could, as fast as I could.
Stay tuned to find out how I finished...
Keep an eye out for my next blog and follow me on Instagram: lagibbs84
Calling all HuffPost superfans!
Sign up for membership to become a founding member and help shape HuffPost's next chapter
This post was published on the now-closed HuffPost Contributor platform. Contributors control their own work and posted freely to our site. If you need to flag this entry as abusive,
send us an email
.