I was honored to be chosen along with my friend and colleague, photojournalist, Sadaf Syed, and journalists from around the world, to attend the DS Centre For Policy Studies' Spring Journalism Academy. DS Centre is a think tank extension of the Daily Sabah newspaper, an english language publication that is an off shoot of the turkish publication, Sabah.
The academy was a week-long whirlwind of city tours and learning sessions with academics, politicians, media and activists. We visited Istanbul where we delved into the politics and economics of Turkey, the looming refugee crisis, international law and the Turkish response. We also took the time to visit the old city including a Sufi, whirling dervish show; the Blue Mosque or Sultan Ahmet Camii; and, Topkapi Palace where I absolutely indulged in Ottoman history and relics from Prophet Muhammad (pbuh) himself. (I made the tour group late as they couldn't pull me away from staring through the glass at the staff of Prophet Moses (pbuh) that sits humbly on display there.)
We travelled to Ankara, Turkey's capital city, where we listened to counter-terrorism experts talk about the various factions in and around Turkey threatening law and order. It's not just ISIS (or Daesh) but PKK, the Kurdistan Workers' Party that the country is contending with. We toured the Parliament and the newish, multi-million dollar Presidential Palace. It was here that we met with President Erdogan's top advisors while enjoying tea and baklava followed by one of the most amazing dinners of my life.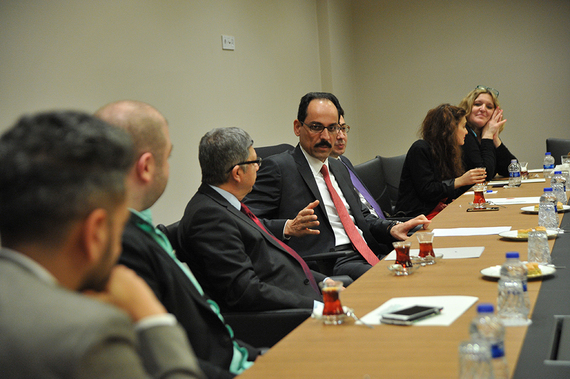 Photo Credit: DS Centre for Policy Studies
We flew to the southern border city of Gazientep, just 60 kilometers from Aleppo. It was here we were fortunate enough to experience the region's well known hospitality and renowned cuisine from the Mayor herself, Fatma Şahin. Never in my life have I been treated with such impeccable cordiality as in Gazientep.
I enjoyed shopping at merchant stalls where I bought tea, pistachios, handmade wooden items, Zam Zam water and turkish delight. I frequently looked over my shoulder in the bustling crowd- being fully aware of my american-ness, including my loud and distinctive Chicago accent. A journalist was killed in the city the day before- and it's no secret ISIS terrorist cells exist there. Concerned friends were messaging me terror alerts from the State Department which I was trying to take into consideration but at the same time- forget about. I actually donned hijab while out and about- which I don't normally wear, to feel safer. (Who would think a thin piece of cloth I bought at Old Navy back home - would make me feel like I was wearing a bullet proof vest. But it did.)
It was here that we visited the Nizip refugee container camp.
Visiting the refugee camp was something Sadaf and I looked forward to most on this trip. My own Croatian mother was born in an Austrian refugee camp in 1945- where she was raised for the first 8 years of her life. And as I held a baby at the camp in Nizip- I felt my life come full circle. God gave me this brief opportunity to stare my own antiquity in the face and maybe--- just maybe--- have the opportunity to offer a smidgen of empathy, compassion - a smile - to a Syrian refugee mom or child.
It was the Syrian refugees, however, that gave us much more than we gave to them- on that visit.
PHOTO GALLERY
The Children of Nizip Refugee Camp - Photo Documentary by Sadaf Syed
Children of Nizip Refugee Camp - Photo Documentary by Sadaf Syed
According to the UN Refugee Agency, UNHCR, women and children make up three-quarters of the refugee population. There are nearly 3 million Syrian refugees currently living in Turkey, nearly a quarter million of them living in government owned and run camps. Though the United States has provided 4 billion dollars in aid for the refugee crisis, we take in only a fraction of refugees - the prospect only worsened by the right wing rhetoric that has filled the U.S. presidential election campaign.
The care of refugees in Turkey comes under the Prime Ministry Disaster and Emergency Management Authority or AFAD whose standards are over and beyond international standards. Refugees are in the camps at will - and there is a waiting list to get in. Families are provided shelter in either a tent or a container- a small 3 room unit (kitchen, bathroom, living area.) I sat in a container shelter with a Syrian refugee mom who was quick to offer me tea and a smile. It reminded me of the pop-up camper I use with my family in summer campouts- only slightly larger. They are also provided with a monthly; per person food allowance on a debit card they can utilize at one of three camp grocery stores as well as healthcare, laundry room and salon services. There is a school and a mosque in the camp. College age refugees are given an allowance for college tuition that is actually higher than that given to Turkish citizens.
"It was important for me to show them that even though we are journalists, we are here first as humans-because we genuinely care and pray the best for them. That our hearts also cry with them." ~Sadaf Syed, Photojournalist
A simple greeting of "assalamu alaikum" (peace be with you) broke barriers instantly. In the faces and eyes of people there, we saw trauma, relief, hope, resilience. Sadaf, tears in her eyes, embraced a mother. They both pointed to the sky saying, "Allah will take care of things. Allah will take care of things."
They all wish for the same thing: to go home. Peace must come. The world must find a way to end the war as that is the only way displaced Syrian people will ever feel whole again.
Children surrounded us from all sides and followed us around during our entire visit. They handed us small, red flowers. A mother gave us homemade cookies to eat. An aunty gave prayer beads for Sadaf's mom who had sent her salams (well wishes) apologizing that she did not have 2 more for Sadaf and me. We prayed in the woman's prayer building where an aunty literally took off her own long skirt so that I could wear it to be properly covered when I prayed. Then she asked all of the women there to pray Ayat al Kursi (a significant Quranic verse) for us.
At every moment- they were trying so hard to give to us. Anything they could. Their generosity in words, hugs, salams, gifts and prayers will always be treasured and is a reminder of who Syrian people are- and what they are made of.
I will cherish my amazing tour of Turkey that we called a week of "islamophobia detox" that was filled with incredible food, culture, history, architecture and hospitality. It is like no other country on earth, a crossroads; half in Europe; half in Asia. The Turkish people are missing the tourists and want them to come. On their behalf, I urge you to go! And visit! May God bless and protect Turkey. An ancient gem all its own.
Check back on my blog for more pictures and special moments from Turkey. http://yasminareality.com And bookmark a new website under construction: http://www.sadafandyasmina.com Sadaf Syed and I are joining forces on a new project that will take you on a faith journey with humans you admire. Stay tuned!
Calling all HuffPost superfans!
Sign up for membership to become a founding member and help shape HuffPost's next chapter