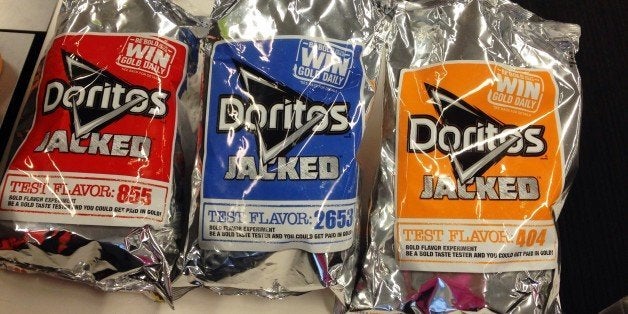 Beginning this week, you'll see three new flavors of Doritos on store shelves. But there's something missing: a label that states which flavor you're buying.
Dubbed "The Bold Flavor Experiment," consumers are expected to blindly try out all three flavors from this mysterious Doritos Jacked line, vote for their favorite at www.BoldFlavorExperiment.com, and wait for the names to be revealed later this summer. The winning flavor will ultimately be brought back to store shelves this fall.
But here's the catch: Who on earth wants to gamble on buying a flavor you might absolutely hate? To help you cope with this crippling uncertainty, we got our hands on the new flavors. After wrangling a group of editors to try them, we've made our best guesses as to what these flavors are. And let me tell you -- it wasn't easy.
So behold, our best guesses (and the ingredient lists that'll help YOU help us figure out this whole mess):
Test Flavor: 404 (Orange Bag)
Comments: These are intensely sweet, with a strong kick of lime and citrus. Some of our editors thought it was distinctly "shrimpy," or reminiscent of ceviche (probably because of the strong citrus kick).
Key Ingredients: Sugar, brown sugar, spices, molasses solids, onion powder, citric acid, garlic powder, lime juice solids, orange juice solids
Our guesses: BBQ Lime, Sweet & Sour, Thai Lime, Tropical Fruit, OR (most likely), because fellow PepsiCo brand Mountain Dew is releasing Baja Blast in bottle form next week, we'd guess it's Mountain Dew Baja Blast.
Test Flavor: 2653 (Blue Bag)
Comments: Let's just say most of our tasters were NOT a fan. There's an immediate hit of chocolate, with a kick of spice that sets in later.
Key Ingredients: Paprika, spices (including chipotle chili pepper), sugar, brown sugar, chocolate liquor, cocoa powder, butter, garlic powder, onion powder, citric acid, yeast extract, skim milk, natural bacon type flavor, natural smoke flavor
Our guesses: Mexican Hot Chocolate, Chocolate Chipotle, or ... Mole
Test Flavor: 855 (Red Bag)
Comments: This was the favorite, far and away. It's spicy, bright, and very "Dorito-y," according to tasters.
Key Ingredients: Paprika, spices, sour cream, cayenne pepper sauce, sugar, whey protein, onion powder, garlic powder, cheddar cheese, buttermilk, blue cheese
Our guess: Buffalo Wings ... right? (Honestly, these all tasted primarily like "Doritos flavor" to a lot of tasters, and none of the flavors are overtly obvious.)
By the way, this isn't the first time Doritos has released mystery flavors. You may remember 2007's "X-13D Flavor Experiment," which allowed the public to name a mystery chip. The winner? All Nighter Cheeseburger. And in 2008, they followed with a promotion called "Quest," in which consumers had to actually guess a mystery flavor (it was Mountain Dew, so ...).
When you give them a try, we want you to let us know what you think of the flavors. Leave us a comment below!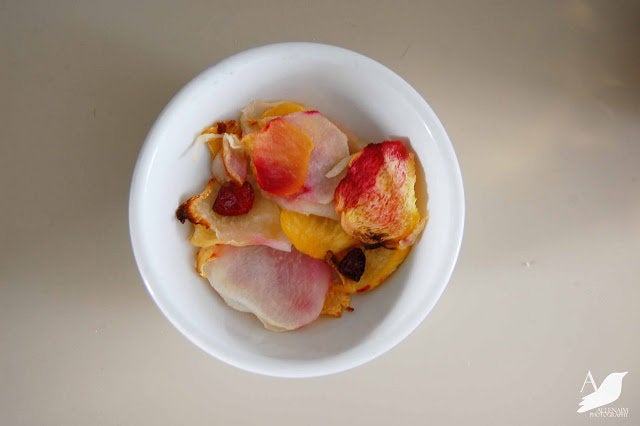 Crispy, Healthy Veggie Chips