A reflection on my time with founders Jeff Hoffman of Priceline and ColorJar, Michael Simmons and Sheena Lindahl of Empact100, Ketan Rahangdale of Eartop and JOOX, and Chip Paucek of Hooked on Phonics and 2U.
This past October, one hundred disruptive entrepreneurs met at the United Nations Headquarters in New York to present their businesses, share niche knowledge, network, and celebrate impactful entrepreneurship.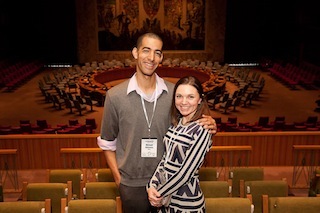 Sheena and Michael at Empact
I had the fortune of connecting with and speaking to these 100 innovators, alongside Jeff Hoffman of Priceline and ColorJar.
Jeff shared a meaningful story about the power of using business as a means to change -- the fundamental focus of the Empact100 event.
He discovered the importance of entrepreneurship after his first exit. Jeff had a lot of money, nice cars, but all of his friends were mad at him. He later realized it was not because of the cash, but the way he was using it.
One day while watching the news, a group of women appeared on the television, requesting money for their home. Jeff clicked off the TV, thinking, "They should do something about that."
The next day, he put up a sign in his office that said, "THERE IS NO THEY," and then paid the mortgage of a woman's shelter from the news.
Jeff told the Empact crew, "There is no shame in life in making money. The shame is when you fail to use it to help others."
"Your company may not make the world a better place. But your life should. Entrepreneurship is the shovel that you use to dig the path to a brighter future."
He also told a story about his best friend, Michael Reardon, who passed the previous year. Michael lived his life by the motto "What if there is no Saturday?" encouraging Jeff not to postpone until "next week," to rock climb, deep-sea dive -- go out and explore the world with him. When Reardon lost his life to the sea, Jeff stopped his work to reflect and reanalyze his goals.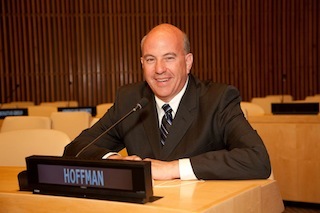 And I realized -- it was never about the work, it was about the people that I had done it with. If at my funeral, people said, 'man, that guy had a big house,' then my life would have been an epic fail. I do not want the ultimate measure of my life to be how many 'exits' I had. I want you to judge me by the number of people's lives that I made better.
Hoffman encouraged all attendees to consider the purpose of their endeavors.
After Jeff's speech, everyone moved to a large room in the United Nations Headquarters where hors d'oeuvres were served as we connected, establishing partnerships and discovering a collective goldmine of resources.
Here, I chatted with Ketan Rahangdale, a 20-year-old, two-time entrepreneur of Eartop Technologies, and now JOOX. Not long out of high school and with one successful exit under his belt, Ketan had a few things to say about starting fresh.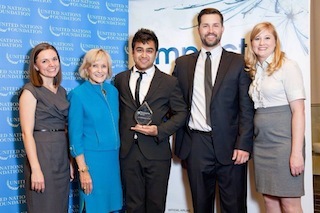 Ketan receiving his award.
Ketan began as a DJ, where he came up with the idea for Eartop's initial sound enhancing product. He was chatting to friends about the idea, and a bystander was captivated. This got him his first investor, and paved the way for what grew to a $500,000 first angel round. Interestingly, through a brief connection while being simultaneous reprimanded for taking photos inside the White House, Jeff Hoffman found a spot on Ketan's board.
When I asked for his secret sauce, Rahangdale attributed networking:
Network your ass off. Doesn't matter how you do it going to networking events, joining organizations and groups that may have niche industry professionals, or simply talking up the guy next to you on the plane. It doesn't matter what industry the person is in, or what they do. Just get to know them, because you never know where you could be going. Look at me now, a year ago I never thought I would've left EarTop. Now, I'm building a web-app with JOOX.
Ketan has been awarded Inc Magazine's "Coolest College Startup of 2012," Complex Magazine's "Top 12 College Dorm Room Startups Ever," received the White House's Empact100 Company Award, Empact Honoree, and became a Kairos 50 company.
For serial entrepreneurs like Ketan, the first, second, or third venture won't be the last, and it's imperative to build a network from which one can seek or provide resources.
Next, I found my old friends, NFTE graduates and two of the top world leaders in entrepreneurship education, Michael Simmons and Sheena Lindahl. As entrepreneurs themselves, they discovered a lack of networking space for successful owners, and resolved this by facilitating strategic partnerships and highlighting businesses with positive global impacts through Empact100.
The nonprofit brings together America's top entrepreneurs younger than 35 with revenues exceeding $100k. Collectively, the Empact crew provides 8,000+ jobs and generated more than $1 billion in annual revenue. To attend, they all must use their business to positively impact the world. Check out the powerful infographics the Empact team collected to describe their work: www.empactshowcase.com/infographics.
Later on at Empact, Chip Paucek spoke. He touched on the importance of human capital, introducing the concept through a lesson he'd learned from a stranger with a thick southern accent who had just survived a heart attack:
"Every day's a holiday, every meal's a feast."
Chip said that harnessing this mentality, equally in work and in one's personal life, leads to success. Company culture is everything, and an environment that motivates and appreciates will drive innovation and collaboration all the more.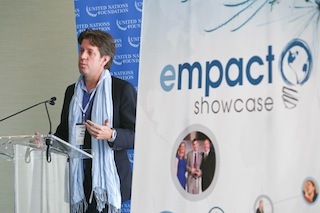 "Who are those people who brighten up the room? My advice to you as you go forward is to hire the people who brighten the room."
Paucek discovered the fundamental importance of culture, and people. Since business success and business failure are not mutually exclusive, and all entrepreneurs will go through ebbs and flows, it is imperative to have a strong, connected workforce that can push through all situations, together.
All in all, these brilliant minds shared personal stories, key tools, and most importantly, their networks. Through partnerships -- with human capital -- entrepreneurs can and will change the world.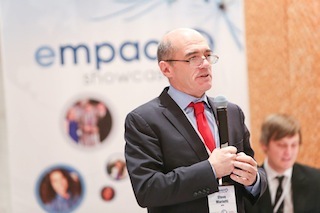 I was honored to attend this event, and cannot wait to see what is in store for 2014
Special thanks to Maya Horgan and to Lauren Bailey for research and editing assistance.
REAL LIFE. REAL NEWS. REAL VOICES.
Help us tell more of the stories that matter from voices that too often remain unheard.