I've been pretty open about my natural hair journey, however, it's taken over 10 years for me to get a grasp on the basics. From detecting scalp drying ingredients on product labels to detangling without pulling out balls of hair, I learn something new everyday about maintaining and styling my thick curls. But if you're ready to leave behind chemical relaxers and heat-styling tools to sport your natural hair, I've gathered professional advice that will save you time, money and stress.
What are the three most common hair care mistakes women make when styling their natural hair?
The first mistake is using too much product. When we change anything about our hair, we always panic, buy a ton of extra styling products and put it all on. Our hair ends up looking greasy or weighed down, so we end up washing our hair too frequently which just dries it out. Be extra judicious with products. You can always add a little more as you go.
Many people are fascinated, yet often frustrated, with the manageability challenges of their new growth and want to go back to relaxing. The first six to eight months of growth are not their true natural curl pattern or hair texture. Their scalp and follicles are still healing, so they need to do everything they can to make it through this "scab hair period" and into your true hair texture. Once they've made it through this patch, they'll have softer, more manageable and even curl patterns.
Curly hair is the driest hair type so no matter how you're wearing it, you need a really great leave-in moisturizer. Most women say they "know" about moisturizing, but stop with rinse-out conditioners, hair oils and treatment masks. You need a leave-in to ensure hair stays super hydrated.
Can you explain a few of the hair styling issues that generally occur when transitioning to or simply maintaining natural hair?
The further you get in the process, the more breakage you'll notice since you'll be continually applying more stress to your already weakened hair. You'll need to treat your hair with extra care and try techniques that put a lot less heat and stress on your strands. To get your hair straight: Try setting your hair in rollers and going under a hood dryer, but lower the heat and sit a little longer. Also, you can try a wrap foam and use the "Doobie" method, again sitting under a hood dryer or overnight. To wear your hair curly, use two-strand twists or Bantu knots, instead of curling irons.
Believe it or not, if your hair is about shoulder length, this is the period that it is most vulnerable to breakage. When your strands are constantly brushing against your shoulders, friction will do its nasty work and the clothes you are wearing, particularly cotton, will sap the moisture from your ends and make them more prone to breakage. Since you're aware of this problem, you have two really simple options: You can use extensions to have your hair lay past your shoulder or, the best option, try some fun updos where your hair is twisted, braided or pinned up in different styles that never let your hair fall into this problem.
What types of hair products and ingredients should women with natural hair look out for?
You need incredibly moisturizing products that strengthen hair. Olive oil, monoi oil, shea butter, cocoa butter are perfect for this purpose.
Any additional words of wisdom for natural hair beauties?
The first is actually before you transition. Do your research, read about the different ways you can go about this transformation and figure out which one is best for you. If you don't want to do the "Big Chop," that's fine, but maybe wearing hair extensions or braids feels more comfortable than doing two-strand twist or Bantu knot styles. You want to pick a path you feel most comfortable with so it'll be that much easier for you to stick to.
The second is that you need to experiment and be okay with it. You'll need to be ready, willing and able to start wearing you hair in styles you've never done before and playing with new hair accessories throughout the transitioning period. The more open to experimentation, the easier you'll be able to adapt to your new hair texture.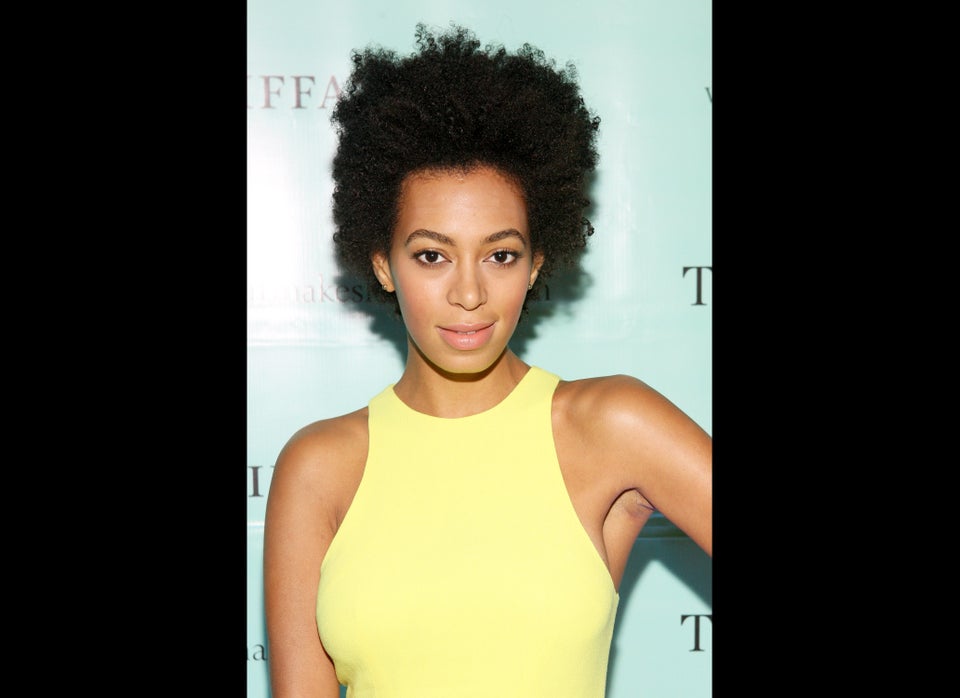 23 Stars Who Inspire With Their Natural Hair
Support HuffPost
A No-B.S. Guide To Life
Related
Popular in the Community