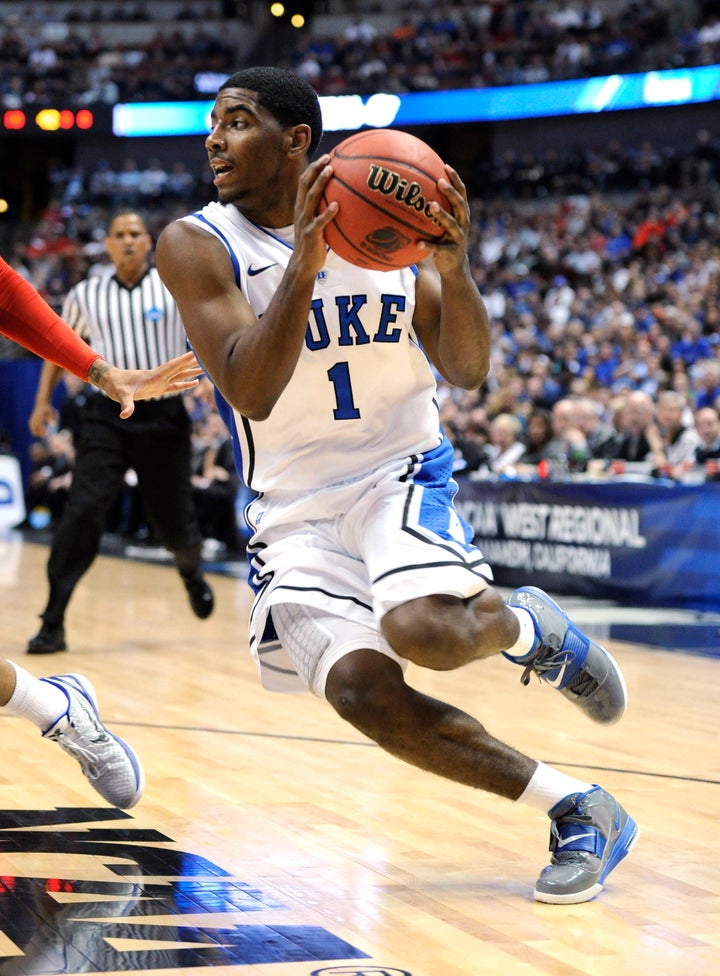 Listen to my most recent radio podcast with 1560 The Game in Houston, breaking down the entire NBA Draft.
READ my Mock Draft Version 4.0

READ my piece about the latest Risers and Sliders.
NBA Draft week is no doubt one of the most important times for any aspiring professional basketball player. Years and years of work culminate in one night of nerves, tension and -- hopefully -- ecstasy. HuffPost caught up with some of the premier prospects as they took in the sights of New York City for suit fittings at the 2nd annual Sean John Pre-Draft gifting suite.
Jan Vesely on what he's hearing about which team he's going to be picked by: "I don't know nothing about that."
Alec Burks: "That's a great situation for me, you know, if I land there," he said referring to the Milwaukee Bucks at the 10 spot or the Golden State Warriors at 11.
"I feel like my versatility is the reason I'm here at this draft," he added, comparing himself to the NBA's Brandon Roy.
In three to five years, Burks wants to be in "starting role, contributing, on my way to the All-Star level."
Kyrie Irving: "[The draft process] has been going really well," he told HuffPost.
"I've tried to quell the doubters by one, playing in the NCAA Tournament when I came back -- that was kind of the deciding factor for me. If I didn't play in the tournament, I'd be back at Duke my sophomore season. I think that kinda left all the questions behind me," Irving said.
Responding to questions about his durability, Irving said, "Honestly, my toe is fine, and I did all the physicals at the combine. If I was really worried about the health of my toe I wouldn't have done anything. I didn't do the drills specifically, I was going to do it for the team that really wanted me to come work out for them. I did it for Cleveland; it was all a plan all along. But the health of my toe -- I feel it shouldn't be a question anymore."
When asked about his 10 percent body fat, he said, "I mean you just have to be a lot stricter on your diet. Honestly, I don't even know where the 10 percent body fat is. I looked over my body after I saw it, but it was just a learning experience that I have to really take care of my diet and body."
When HuffPost asked Irving about his 6'1.5" height measurement, he was quick to point out that he's a quarter inch taller.
"Whoa, where are you getting this information? I think we're going to have to go to draftexpress.com or something for these measurements," he said. "I mean don't get fooled because I'm leaning against the wall."
Irving compared himself to current NBA players Chris Paul and Chauncey Billups for their game management skills, even though they're both a couple inches taller than him.
Derrick Williams: "This is the first time I've been in New York, and it's ironic that it's because of the draft," he said. "It's a great feeling."
"In the next 24 hours, I'll be in the NBA and call myself an NBA player. A lot of people say, 'Oh, you're gonna be in the NBA,'" Williams said. "No, I haven't made it yet, and not till they call my name."
"I'm just honored to have this opportunity. It's a small percentage of people that get drafted." Referring to his potential draft position, he said, "Either one, two, three -- honestly, it doesn't matter to me, because it's what you do in the next two or three years."
"I've seen a lot of clips of him," he said, referring to Minnesota's Ricky Rubio, Williams' potential teammate if he's picked by the Timberwolves at the two spot. "He's a pass-first point guard. Everybody wants to play with somebody that can make you better, and if that's the best fit, then so be it."
It was ironic that Williams compared himself to current NBA player Mike Beasley, because many people --myself included -- think GM David Kahn is trying to trade Beasley.
"Honestly, I think it's pretty hard to guard two people that play similar," Williams said of Beasley. "Not too many people have two of the same players that play the same spot or different spots."
When asked about the suit he would be wearing on draft night, he would only say, "It's a surprise."
Brandon Knight was also trying to keep his threads a secret. "Can't tell you that. Maybe a little bit of blue Kentucky -- some shade of blue maybe."
"Nothing crazy," he added. "It'll be a regular suit."
When asked about what type of guard he hoped to be in the NBA -- a combo or lead -- Knight said he was open to whatever. "I'm a point guard for sure, but if a team asks me to [play off the ball], I've been able to score the basketball. So I have that ability also."
Knight, a clutch performer in the NCAA Tournament, also played up his winning pedigree. "When a team drafts a player, they want to get a guy that's going to win no matter what, because that's how they keep their jobs, that's how you sell tickets, that's how you put the org on the map by winning. That's definitely important for the GMs and the owners that are drafting."
He had only good things to say about the Utah Jazz, who he recently visited for a workout. "It went great. Interview went great. [General Manager] Kevin O'Connor is a straight-forward type of guy, and that's the type of guy I am. I definitely had a good connection and good vibe with him."
He also compared himself to Chauncey Billups. "He can shoot it, he can create, and he's a leader," Knight said.
Kawhi Leonard: "Just workout hard every day and want to get better," he said when asked how being overlooked by USC and UCLA coming out of high school in Los Angeles had changed him. "I just go to the gym and work on my game."
Leonard refused to compare himself to any current NBA players. "I don't feel like nobody has my game. I'm trying to go in, make a name for myself."
And Leonard will do it in more than one position, if needed. "I don't feel awkward playing either the two or the three," he said.
Like the others, he stayed mum on his suit choice for the big night. "You'll see it when I walk across the stage."
Email me or ask me questions about anything NBA Draft-related at @206Child for my upcoming mailbag.
Plus, check out my brand new HuffPost sports blog, The Schultz Report, a fresh and daily outlook on all things sports.

Support HuffPost
The Stakes Have Never Been Higher
Related
Popular in the Community