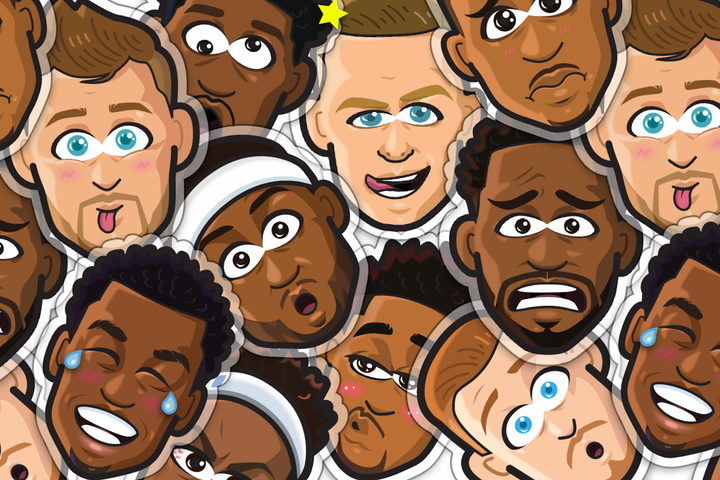 Working at Flatiron School, I had the unique opportunity to meet really smart people with really diverse backgrounds that decided to drop everything to start new careers in software engineering. Two of these really smart people included Brian Clouser and Rosario Tarabocchia. Brian and Rosario graduated from Flatiron School's iOS cohort in early 2016 at the top of their class and became quick friends in the process. Instead of becoming iOS developers at a tech company, they decided to partner and start their own digital agency called Hijinx.Today, they launch their first series of messaging apps called Small Stars, an emoji animation app featuring current NBA players—just in time for the All Star break this weekend. The stars they are currently launching with include a star-studded cast of:
Brian and Rosario are not only smart but they are ridiculously genuine guys. I got to catch up with Brian about the launch and what he and Rosario have been up to.
Brian Kil (BK): How did Hijinx come about?
Brian Clouser (BC): I started Hijinx with Rosario Tarabocchia in October 2016. We just released our first series of apps called Small Stars.
BK: What is the Small Stars App? Why would people want to pay for emojis when they have a free one on iMessage?
BC: Small Stars are a series of "Next Generation" emoji apps, released in conjunction with some of the best players in the NBA. Traditional emojis are static pictures, while Small Stars are mini-cartoons that interact on top of your existing messages.
Imagine a friend sends you a text that you don't like. Historically you might have responded with an angry face emoji. Now you can respond with a Kristaps Porzingis unicorn that walks on top of the message and poops on it. In other words, major upgrade.
BK: Why basketball players? What's your background in the sport?
BC: I spent two seasons as the Director of Analytics with the Charlotte Hornets after working as a Trader and Portfolio Manager at a large asset management firm my first eight years out of college.
I met my business partner Rosario Tarabocchia at Flatiron School, an iOS coding bootcamp we both attended last winter. At that point a few NBA players and many celebrities had already released their own branded emoji apps that we felt were lacking for a variety of reasons.
From a tech perspective, they were all developed in iOS as third party keyboard apps. To use them, you had to go through the whole charade of installing a new keyboard in settings which was a ten step process that culminated in the app asking for full access to everything you typed. If you agreed to that insanity and installed the keyboard, you had to copy and paste the emojis into your messages instead of just being able to tap on them. In reality these weren't emojis, just keyboard apps with pictures that users could copy and paste. Obviously this made for a very poor user experience.
Creatively, they were also missing the mark, sometimes badly. People use emojis to react and respond to messages in a fun way. Having an animation of a player dribbling or shooting (or holding a water bottle) may seem cool but it's not something people are really going to use in their everyday conversations.
When Apple announced this summer that they were opening up the iMessage platform to third party developers, we saw an opportunity to make a vastly improved product and we quickly got to work. Given some of my relationships with NBA agents through my Hornets employment, we were able to get in front of the right people and tell them about the opportunity as we saw it.
BK: You were able to get a lot of big name basketball players signed on. What did they get right away about your vision? What did they have trouble understanding?
BC: We've been fortunate to work with several agencies representing some of the best players in the NBA. Their biggest concern, much more than making money, was making a really high quality product that made their clients look good and gave the fans something really fun to play with. Once we showed them some sample Small Stars they were very excited and quickly got on board. Once everyone started using them during beta testing in all of their conversations, we knew we were on to something.
BK: What are next steps from here?
BC: In the short term, we're working with athletes, entertainers, sports teams, and other organizations on their own Small Stars apps.
In the intermediate and long term, we feel strongly that there is a huge opportunity at the intersection of celebrity, creativity, and technology and we want to grow our business in that space. A huge eye opener for us was a recent Forbes article about the 2016 earnings of all of the Kardashian women.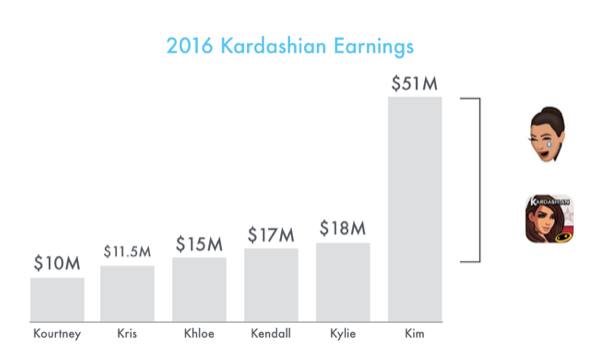 They all have their hands in many different businesses, but Kim still wildly out-earns the all of the others. The entire difference is from two products: The Kim Kardashian Hollywood app and the Kimoji app.
The conclusion for us was obvious: In terms of monetizing brands or celebrity, the mobile and digital space isn't just another cute channel that can add a few marginal dollars. If done well it can be by far the single biggest driver of revenue and is something everyone should be paying a lot more attention to.
Related
Popular in the Community