September might usher in the end of summer, but it's bringing new seasons of several beloved shows.
Netflix has announced more than 100 additions next month, including the next seasons of "Love Is Blind" (Season 5 out Sept. 22), "Sex Education" (Season 4 on Sept. 21) and "Virgin River" (Season 5 on Sept. 7).
Currently, TV and film writers and actors ― including many of those who worked on those shows ― are on strike over fair pay and working conditions in the streaming era.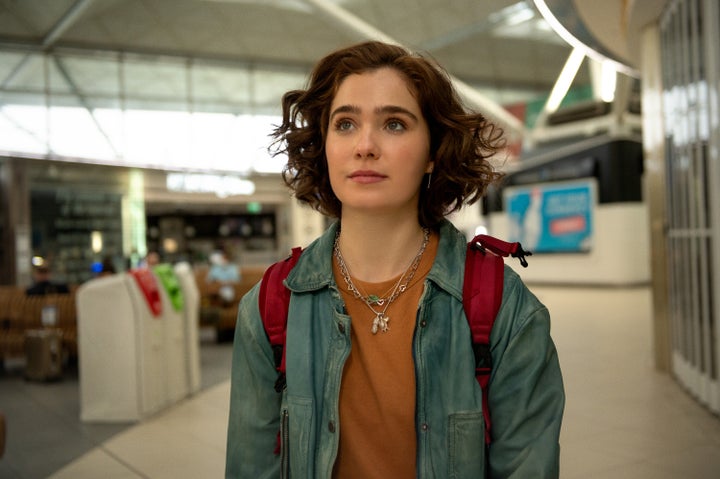 Eleven new documentaries are also slated to premiere next month. "Scout's Honor: The Secret Files of the Boy Scouts of America" (Sept. 6) details the decadeslong cover-up of the organization's sexual abuse cases, while "Who Killed Jill Dando?" (Sept. 26) dives into the unsolved 1999 murder of a British TV presenter.
On the scripted side of things, Netflix subscribers will be able to watch Academy Award-nominated director Pablo Larraín's "El Conde" and the new romance novel adaptation "Love at First Sight" starting Sept. 15. Wes Anderson's second Roald Dahl film, "The Wonderful Story of Henry Sugar," will also be released on the platform next month, though the exact date has yet to be announced.
Check out the full list of September movies and shows below.
And if you want to stay informed about everything joining Netflix every week, subscribe to the Streamline newsletter.

Sept. 1
"A Day and a Half" (Netflix Film)
"Disenchantment" (Part 5, Netflix Series)
"Friday Night Plan" (Netflix Film)
"Happy Ending" (Netflix Film)
"Love is Blind: After the Altar" (Season 4, Netflix Series)
"Fast Times at Ridgemont High"
"One Piece: Adventure of Nebulandia"
"One Piece: Episode of East Blue - Luffy and His Four Crewmates' Great Adventure"
"One Piece: Episode of Skypiea"
"One Piece: Heart of Gold"
"One Piece: 3D2Y - Overcome Ace's Death! Luffy's Vow to His Friends"
"Wallace & Gromit: The Curse of the Were-Rabbit"
Sept. 2
Sept. 3
"Is She the Wolf?" (Netflix Series)
Sept. 5
"Anchorman: The Legend of Ron Burgundy"
"Anchorman 2: The Legend Continues"
"Shane Gillis: Beautiful Dogs" (Netflix Comedy)
Sept. 6
"6ixtynin9 The Series" (Netflix Series)
"Infamy" (Netflix Series)
"Predators" (Netflix Documentary)
"Reporting For Duty" (Netflix Series)
"Scout's Honor: The Secret Files of the Boy Scouts of America" (Netflix Documentary)
"Tahir's House" (Netflix Series)
Sept. 7
"Dear Child" (Netflix Series)
"GAMERA -Rebirth" (Netflix Anime)
"Kung Fu Panda: The Dragon Knight" (Season 3, Netflix Family)
"Top Boy" (Season 3, Netflix Series)
"Virgin River" (Season 5, Netflix Series)
Sept. 8
"A Time Called You" (Netflix Series)
"Burning Body" (Netflix Series)
"Pokémon: To be a Pokémon Master: Ultimate Journeys: The Series" (Part 1, Netflix Family)
"Rosa Peral's Tapes" (Netflix Documentary)
"Selling The OC" (Season 2, Netflix Series)
"Spy Ops" (Netflix Documentary)
Sept. 12
"Glow Up" (Season 5, Netflix Series)
"Michelle Wolf: It's Great to Be Here" (Netflix Comedy)
"The Wolf of Wall Street"
Sept. 13
"Class Act" (Netflix Series)
"Freestyle" (Netflix Film)
"Wrestlers" (Netflix Documentary)
Sept. 14
"Barbie - A Touch of Magic" (Season 1)
"Ehrengard: The Art of Seduction" (Netflix Film)
"Once Upon a Crime" (Netflix Film)
"Thursday's Widows" (Netflix Series)
Sept. 15
"Ancient Aliens" (Seasons 6-7)
"The Club" (Part 2, Netflix Series)
"El Conde" (Netflix Film)
"Inside the World's Toughest Prisons" (Season 7, Netflix Documentary)
"Intervention" (Season 22)
"Love at First Sight" (Netflix Film)
"Miseducation" (Netflix Series)
"Surviving Summer" (Season 2, Netflix Series)
Sept. 16
"My Big Fat Greek Wedding 2"
Sept. 18
My Little Pony: Make Your Mark" (Chapter 5, Netflix Family)
Sept. 19
"Kountry Wayne: A Woman's Prayer" (Netflix Comedy)
"The Saint of Second Chances" (Netflix Documentary)
Sept. 20
"Hard Broken" (Netflix Series)
"New Amsterdam" (Season 5)
Sept. 21
"KENGAN ASHURA" (Season 2, Netflix Anime)
"Scissor Seven" (Season 4, Netflix Series)
"Sex Education" (Season 4, Netflix Series)
Sept. 22
"The Black Book" (Netflix Film)
"How To Deal With a Heartbreak" (Netflix Film)
"Love Is Blind" (Season 5, Netflix Series)
Sept. 23
"Spy Kids: Armageddon" (Netflix Family)
Sept. 25
"Little Baby Bum: Music Time" (Netflix Family)
Sept. 26
"Who Killed Jill Dando?" (Netflix Documentary)
Sept. 27
"Encounters" (Netflix Documentary)
"Overhaul" (Netflix Film)
"Street Flow 2" (Netflix Film)
Sept. 28
"Castlevania: Nocturne" (Netflix Series)
"Love is in the Air" (Netflix Film)
"The Darkness within La Luz del Mundo" (Netflix Documentary)
Sept. 29
"Choona" (Netflix Series)
"Do Not Disturb" (Netflix Film)
"Power Rangers Cosmic Fury" (Netflix Family)
Date TBA
"The Devil's Plan" (Netflix Series)
"Ice Cold: Murder, Coffee and Jessica Wongso" (Netflix Documentary)
"Song of the Bandits" (Netflix Series)
"Vasco Rossi: Living It" (Netflix Documentary)
"The Wonderful Story of Henry Sugar" (Netflix Film)