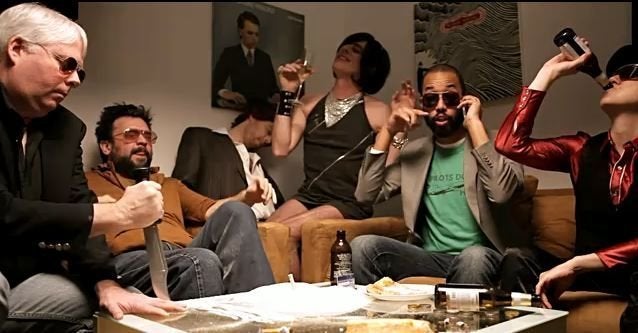 When the indie rock world and the comedy world cross paths, beautiful things often happen.
Such is the case with The New Pornographers latest video for their song "Moves,"
which was directed by cult-comedy hero Tom Scharpling (WFMU's "The Best Show", "Monk") and features a who's who of comedy luminaries, including Wyatt Cenac, Horatio Sanz, Todd Barry, Julie Klausner, John Hodgman, Bill Hader, Paul Rudd, Donald Glover and much more.
Scharpling spoke to HuffPost Comedy about the video this morning while standing outside of his local Starbucks, and he noted that the feedback has already been overwhelmingly positive. "Today is a pretty good day," he confessed.
Scharpling said the concept, a fake trailer for a documentary on the band, was born out of necessity. After being approached by The New Pornographers' management, who were fans of the Ted Leo video Scharpling directed last year, the main goal was to feature the band itself, because their previous videos hadn't. Unfortunately, scheduling conflicts prevented the band from being available for the shoot, which left Scharpling with a problem. "I tried to figure out a way that we could make the band not being in it an asset, not a liability. And then I thought, 'I'll just do a fake movie trailer for a bio pic for the band, and I'll just ask everybody I know to be in it.'"
After watching the video, we had to ask about "Expectant Dads," the mini-trailer with Paul Rudd and Bill Hader that starts the whole thing off. Scharpling said he wanted to introduce the world of the fake trailer with something more than the usual "coming soon" green screen.
"I thought, 'Let's start with the last 15 seconds of the previous trailer.'" He called Bill Hader who agreed to be in the spot, and then it was Hader who brought Rudd on board. "He asked, 'Is it ok if Paul Rudd is in it?'"
Clearly, it was more than ok. Prepare to geek out big time.
WATCH: