With imminent federal attacks, NY State Senators cannot wait any longer to protect reproductive health and rights.

Right now, as we continue to see unprecedented attacks on reproductive health care, state and city governments are passing dangerous legislation to restrict access to care – even forcing health centers to shut down. It has never been more critical for New York to move in the opposite direction.
Today, we're in Albany to deliver 50,000 petitions urging our Senators to pass the Reproductive Health Act (RHA) and Comprehensive Contraception Coverage Act (CCCA) – two bills that will improve reproductive health care for New Yorkers, despite federal threats.
Along with updating the state's antiquated abortion law to bring it in line with Roe v. Wade, the RHA will protect abortion providers and ensure that federal attacks on reproductive health care won't threaten access to safe and legal abortion in New York. The CCCA, another essential bill, will expand insurance coverage for contraception so that New Yorkers can access the birth control they need.
Today in Albany, patients and providers are meeting with Senators to urge them to pass the RHA and CCCA. Here are the #ReproHealthNY stories they're sharing:
"I was a sophomore in college at SUNY Albany when I got my abortion, in 1979. I never regretted my decision – because of it, I was able to finish my degree and go on to teach English for 32 years. It's terrible that abortion access is still not available to so many people. It's 2017 – it should not be hard for anyone to access the care they need." –Elissa, PPNYC Patient
"At Planned Parenthood of New York City (PPNYC), our doors are open to everyone regardless of race, gender, nationality, sexual orientation, or ability to pay. As a Registered Nurse at PPNYC, I am asking New York State to pass the RHA and stop closing the doors on patients who need abortion services the most. Abortion is health care and no one should be forced to leave our state or face barriers to getting the services they need." –Sunny, PPNYC Provider
"I've been very fortunate to have access to free birth control for most of my adult life. But it's important not to take that for granted. Right now, access to birth control is being specifically targeted by this administration. As New Yorkers we have the opportunity to protect ourselves by passing the CCCA. Our Senators must stand up for our rights and let this administration know that you can't mess with New Yorkers." –Sasha, PPNYC Patient
"In 2009, my mom was diagnosed with stage 3c fallopian tube cancer, a rare disease that came as a shock to everyone in my family. Her doctor's biggest worry for me was that my mom's cancer was hereditary and advised me to go on birth control pills as they were the only prevention to be found. At the time, I was a college student on and off my parent's health insurance plan, and my pharmacy wanted $130 a month for my pills. At Planned Parenthood, I was able to get the same medication for $20 a month. I was able to get affordable contraception, and so should everyone. We must pass the CCCA." –RoseAnn, PPNYC Patient
Because of Obamacare, millions of New Yorkers gained access to no-copay services, including birth control, STI screenings, and other life-changing services. Under Trumpcare, 24 million people could lose health insurance coverage, including access to free birth control. Just last week, the White House announced it will dismantle the ACA's birth control mandate, allowing religious employers to deny birth control coverage.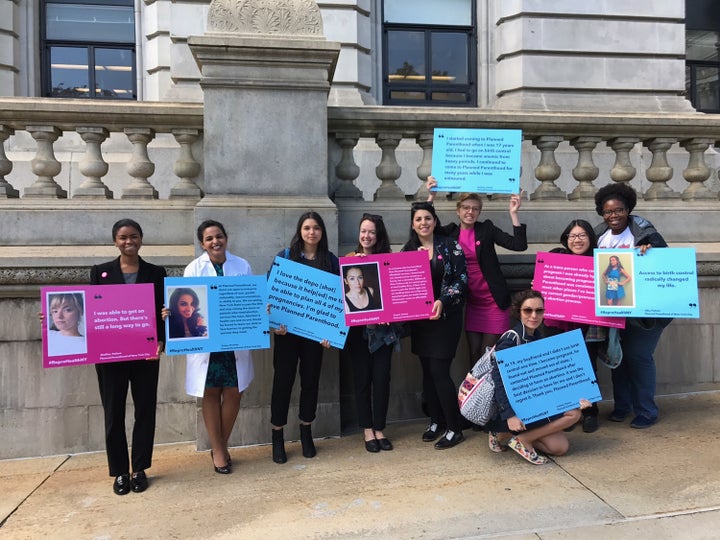 It's clear that we need more access to reproductive health care – not less. At PPNYC, we counsel people on all their reproductive health options, so they can make the decisions they need to lead safe and healthy lives. We need our Senators to support us in this mission – to provide all people with the full spectrum of reproductive and health care services, at affordable costs.
The Assembly already passed the CCCA and RHA on January 17th, and now, as we deliver 50,000 petitions from New Yorkers all over the state, we hope our Senators will protect the reproductive health gains we've fought so long and hard for.
Here in New York, we love our state for good reason: New York has long been considered one of the nation's beacons for progressive change. It is imperative that we continue to live up to this legacy. The time for New York to be a leader is now – it's time to pass the CCCA and RHA.
Follow us on Twitter @PPNYCAction to see us deliver the petitions today!
Related
Popular in the Community