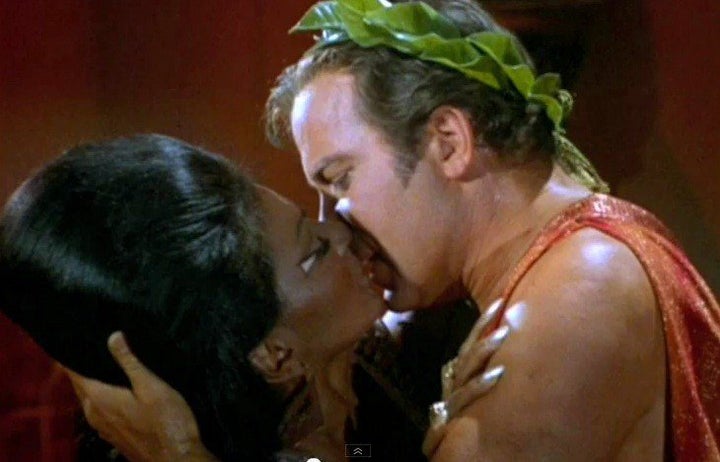 When television writer and producer Gene Roddenberry's "Star Trek" science fiction series debuted on NBC in 1966, the Civil Rights Movement -- under the leadership of Dr. Martin Luther King, Jr. -- was in high gear, fighting the injustices of racial segregation, black economic oppression and discrimination and racial violence against African Americans.
And when Nichols landed the role of communications officer Uhura on the Starship Enterprise (see dual image below of her then and now), she had no idea that this was a breakthrough role for black women. "It didn't hit me at the time until somebody told me," she told The Huffington Post. "I splashed onto the TV screen at a propitious historical moment. Black people were marching all over the South. Dr. King was leading people to freedom, and here I was, in the 23rd century, fourth in command of the Enterprise."
Nichols vividly recalls how America reacted when her Uhura character first hit the television airwaves.
"Oh, man, there were parts of the South that wouldn't show 'Star Trek' because this was an African American woman in a powerful position, and she wasn't a maid or tap dancer."
While shooting "Star Trek" episodes in the late 1960s, Nichols didn't feel any discrimination on the set, but felt it in other parts of the studio, especially where she wasn't allowed to enter the studio through a particular gate where the other actors could go through.
"That's right. There were instances where I was turned away from entering the studio at the walk-on gate, and I had to go all the way around to the front gate, sign-in and come back. A guard on the set told me I had no right being there -- that they had replaced a blue-eyed blonde with me," she remembered.
"I went through crap, man. Racism was alive and rampant there. Some people said I wasn't good enough, saying things like, 'I don't know how you got this role.' And they kept waiting for me to complain and raise hell about it, but I decided to ignore it. I never went to Gene [Roddenberry] about it."
She even said that the show photographer was a racist. "There are more pictures of me behind somebody where you can barely see me, but they also had to take pictures of me singularly."
View Nichelle Nichols Through The Years: (story continues below)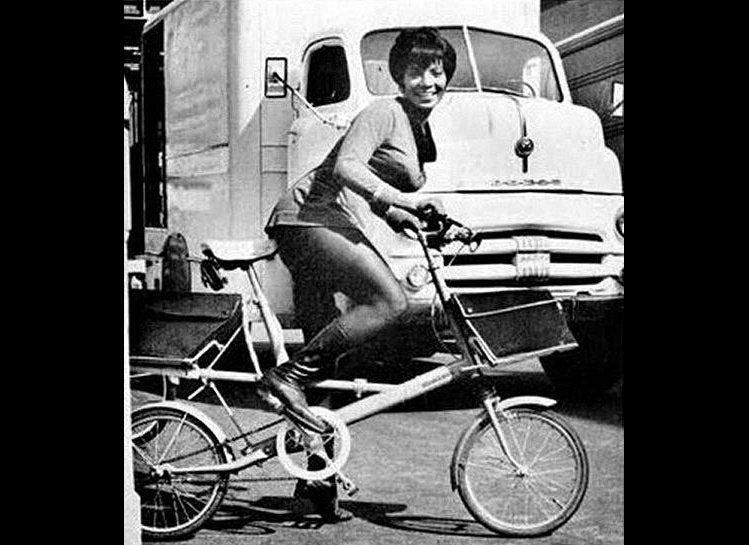 Nichelle Nichols
"When I turned around, I was looking into the face of Dr. Martin Luther King, walking toward me with a big smile on his face," she said about the civil rights leader, who confessed to being a "Trekkie" and her biggest fan.
When Nichols informed King that she was leaving "Star Trek," he adamantly urged her to stay. "He said, 'Don't you realize how important your presence, your character is? This is not a black role or a female role. You have the first nonstereotypical role on television. You have broken ground.'"
"He added, 'Here we are marching, and there you are projecting where we're going. You cannot leave [the show]. Don't you understand what you mean?' I told him that when I would go on hiatus from the show, I could come and march with him and he said, 'No! You're an image for us. We look on that screen and we know where we're going.' It was like he was saying, 'Free at last, free at last!'"
Nichols stayed with "Star Trek," and it's a good thing she did -- otherwise she may not have had a chance to make history again by being part of the very first televised interracial kiss, with Capt. Kirk, no less.
It happened during "Trek's" third season in an episode called "Plato's Stepchildren," where Kirk and Uhura were under the telekinetic control of some aliens.
While the script called for Kirk and Uhura to kiss, there were early concerns at NBC over whether or not such a thing should be shown on television in 1968.
WATCH: The First-Ever Interracial TV Kiss On 'Star Trek':
"It had been OK'ed, script-wise, and we went into production for that episode," Nichols recalled. "After the first take, the director yelled 'CUT!' and came over, saying, 'Bill, what are you doing? You actually kissed her!' And Bill said, 'Yeah, I can't get her to let me do it any other way except that it was written in the script. So, what's the problem?' And the director said, 'The South -- they'll kill us.'"
After it was decided that Nichols and Shatner would shoot the kissing scene two ways -- with and without the kiss -- they tried it half a dozen times, with Shatner always kissing Nichols at the end of the scene.
"Bill would say, 'Just once more. I feel there's an intensity that we're not getting because (the aliens) are causing us to do it with their telekinetic powers.'"
In the end, NBC executives decided to leave it in the episode, and thus was born the famous first interracial kiss on television.
Watch: Nichelle Nichols On TV's First Interracial Kiss:
But Nichols' impact on history didn't end there. Her trek to places where no woman has gone before continued into the 1970s where she became an important advocate for NASA when the space agency contracted her to recruit the first women and minority astronaut candidates for the space shuttle missions.
Her efforts in this capacity resulted in NASA's selection of five women, three black men and an Asian, including the first female astronaut, Sally Ride; first black woman in space, Mae Jemison; first black man in space, Guion Bluford; and also Judith Resnik and Ronald McNair. Another notable Nichols NASA recruit was its current administrator, Charles Bolden.
"Nichelle played an instrumental role during the buildup of the shuttle program in recruiting minority and women astronauts and was very successful," said David McBride, director of NASA's Dryden Flight Research Center at Edwards Air Force Base in Edwards, Calif.
"When you look at the overall list of astronauts and mission specialists [recruited by Nichols], it's extremely diverse, and that improved the success of the whole program," McBride told The Huffington Post shortly after he gave Nichols a personal tour of NASA's Dryden facility in January.
"I've run into Nichelle over the years many times at NASA events, and she's been a powerful advocate for space and exploration and the 'going where no man can go' part of NASA," he added.
Nichols, 79, is currently working on a new movie project, "Omaha Street," which she'll star in as well as executive produce. But she'll always feel the deep impact that "Star Trek" had on her and the world.
"It not only changed the face of television, but it changed the way people thought of each other. It was a bigger contributor to uniting the races on this planet as anything."
CORRECTION: A previous version of this article and slideshow stated that the Dryden Flight Research Center is in Palmdale, Calif.; it is in Edwards, Calif.
Popular in the Community