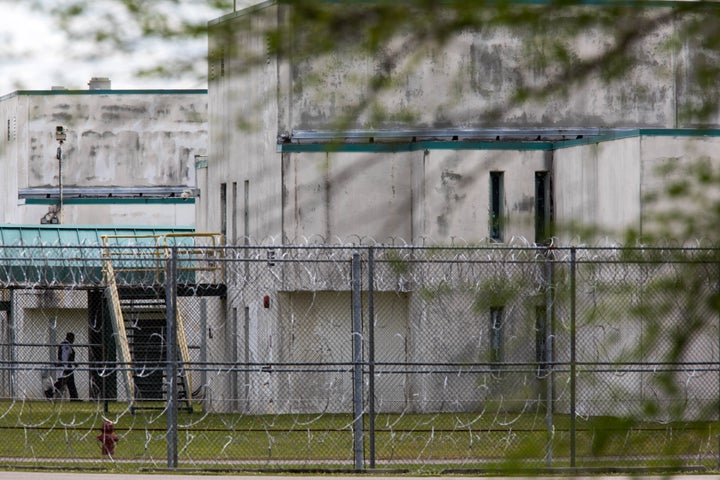 WASHINGTON ― The violence that left seven inmates dead and a score more injured in a South Carolina prison this week was inevitable, Henry McMaster, the state's Republican governor, suggested Monday. "It's not a surprise when we have violent events take place inside the prison, any prison in the country," he said.
In fact, a night of unchecked prison violence that ends in more than a half-dozen deaths is extremely unusual. States have a responsibility to protect inmates and prison staff—and well-funded, properly staffed prisons can and do prevent widespread inmate violence or stop it swiftly when it occurs, prison experts say.
Lee Correctional Institution, the high-security prison where inmate fights broke out on April 15, houses violent offenders with longer sentences, as well as people with behavioral issues. The incidents started around 7:15 p.m., but a large emergency response team didn't enter the first of three dorms until 11:30 p.m., officials said. The team entered the last dorm hours later.
CBS News obtained leaked video (not independently verified) that shows what McMaster apparently finds unsurprising: An eerie dystopia featuring an inmate smearing blood against a white wall and another roaming shirtless with a weapon that resembles a kitchen knife.
This is not a typical prison scene. As far as the death toll goes, the most recent comparable event was an 11-day riot—in which inmates took multiple hostages—that left nine inmates and one officer dead in an Ohio prison way back in 1993.
Prison violence "shouldn't be an expectation," said Robert Ayers, who worked at California's San Quentin State Prison from 1968 to 1987 and went on to serve as the warden at four California prisons. "It's almost, 'well, seven people died, but they were just inmates, and these are violent guys anyway ... so it's no big loss to society.' That's extrapolating a lot, but I think there's an undercurrent out there that believes that."
People need to be asking questions of the governor's office and the legislature, said Anthony Newland, a former warden of California State Prison Solano and former chief compliance officer for that state prison system. "It's no surprise that this kind of problem can happen — when there isn't enough money to run the system," Newland argued. "These things are preventable in prisons," he added.
Prisons need to have enough staff to keep inmates and officers safe
Lee Correctional Institution has an understaffing problem. Security staff numbers continued to "lag behind the authorized strength [like officers]," according to a FY2017 South Carolina Department of Corrections report. On April 1, 2017, there were 90 vacancies for frontline security positions at Lee — approximately half the facility's authorized positions, a state DOC spokesman told HuffPost. Those numbers have improved due to recruitment and retention efforts—the number of vacancies was down to 52 as of April 1, 2018.
But a former Lee employee, who worked there from 2004 to 2012 and declined to be named due to pending litigation, said he still found those staffing numbers concerning. "You have to have a certain number of bodies in a certain number of places or you can't operate normally," the former employee said.
Crises are the result of an inadequately funded prison system, one Democratic lawmaker argued. "Yes, stuff happens — stuff happens because you neglect things, you underfund them, and you put people in danger," said state Rep. Todd Rutherford (D). He said that he doesn't blame the current DOC director, who's been "sounding the alarm bells about how understaffed and underfunded he is, how bad the prisons are, how hard his correctional officers are working."
South Carolina has had a large number of violent inmate deaths in recent years compared to other states. When there aren't enough officers—or people like mental health professionals and maintenance staff—staff may fear for their safety, and that in turn can allow violence to flourish. "I don't blame the officers for what happened," the mother of a Lee inmate told the Anderson Independent Mail. "My son says the gang members do what they want to. That they will pull out shanks right in front of the guards."
It's impossible to talk about understaffing without mentioning the nationwide push to reform mandatory minimum sentences and end mass incarceration in the U.S., issues that contribute to spiraling, problematic prison systems that disproportionately impact people of color.
McMaster's office did not respond to HuffPost requests for comment. But "the governor is committed to continuing to fund raises at the agency and will continue to do that as long as the agency is in need," a spokesman for the governor told NBC News. (South Carolina's average starting salary for officers this year was $33,289, according to NBC.)
Small indignities add up, yet some officials feign surprise when those treated inhumanely behave in inhumane ways.

Issac Bailey for the Charlotte Observer
Cellphones: Potentially a symptom of a bigger problem
Officials have blamed the violence on gang conflicts over territory and contraband, particularly cellphones, which can be used to coordinate illegal activity. Officials are using the incident to push for signal-jamming at prisons.
But contraband is not a new issue, nor unique to South Carolina. And cellphones can be a symptom of wider security problems, prison experts say. (A prison can be fully staffed and still have security problems, though substantial understaffing makes things worse.) When staff can't adequately sweep for forbidden items, an economy can spring up that includes weapons. Some inmates may also feel like they need gang protection because they don't feel safe in the facility.  
"Cellphones did not stab people," said Justin Bamberg, a state representative and attorney who represents the family of an inmate killed in a different state prison on New Year's Eve. "What did were some of those [multi]-inch blades."
When there's severe understaffing, you're "not going to enforce simple rules and regulations, much less more serious stuff," the former Lee employee said. "You're going to stay somewhere it's safe, which is like a staff area in the middle of the unit, where you don't see and you don't hear. And who can blame them?"
Staff "routinely" search correctional institutions for contraband, the South Carolina DOC spokesman told HuffPost, though he declined to provide more information about routines, citing security. The agency is installing netting at certain facilities to thwart people from throwing over contraband, he said.
This photo shows a man covered in blood sitting against a wall as another man approaches him during the prison riot.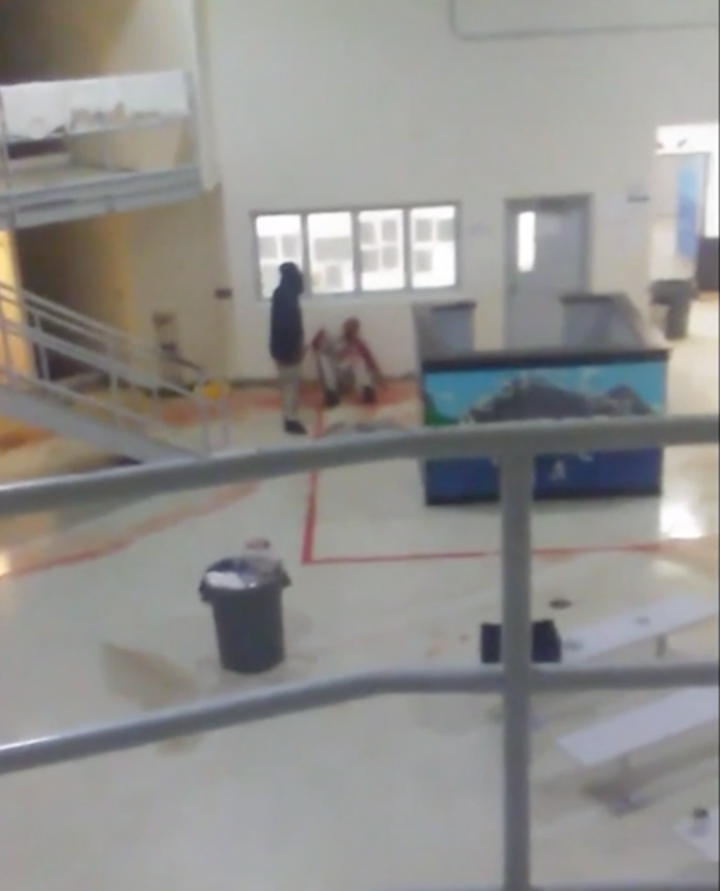 Why did it take hours to get control of the dorms?
Lee conducts monthly emergency training, the DOC spokesman said, and there are three teams with specialized training that assisted in responding to the violence. Lee is located in a rural area, about an hour from Columbia, which may have increased the time it took to gather sufficient numbers of staff to respond to the crisis.
But experts have wondered how the violence was able to spread unchecked to multiple dorms, rather than the facility being swiftly secured. It's also concerning how long it reportedly took an emergency team to re-enter and take control of the areas under siege, Jeffrey Schwartz, a consultant who has worked with correctional agencies and law enforcement for more than 30 years, told HuffPost. "Whether it's staff or inmates," he said, "your commitment to saving life has to be the same."
And that's why prison reform advocates find the governor's statement so troubling— it suggests prison is supposed to be a violent place.
The incident is "more than just a tragedy," a group of state Democratic lawmakers wrote to McMaster on Thursday. "We are concerned it is indicative of much bigger problems within correctional facilities in South Carolina."
"I was hurt. I wept. Because these were lives that were snuffed out," James Murray, a former inmate who now is a chaplain for South Carolina prisoners, told local news station ABC Columbia.
"We've been tough on crime," he added. "But actually, we've been tough on people." 
One inmate's brother reflected on the violence at  Lee in an op-ed for the Charlotte Observer. "Small indignities add up," Issac Bailey wrote. "Yet some officials feign surprise when those treated inhumanely behave in inhumane ways."
REAL LIFE. REAL NEWS. REAL VOICES.
Help us tell more of the stories that matter from voices that too often remain unheard.