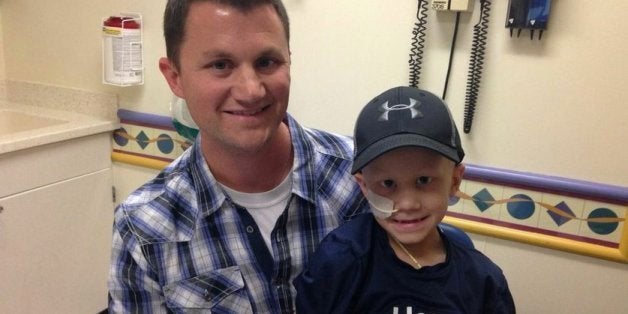 During a Kansas City Royals game, a man named Scott Wilson posted a video of his son, 6-year-old Noah Wilson, in his hospital bed. Noah was clad in Royals blue and announcing his favorite team's opening line up. A clenched hand played the role of the microphone, hospital bracelets dangling beneath it.
"Batting second, he's hit singles, he's hit triples, he's hit doubles, his name is Aoki Nori!" the little boy dramatically emceed.
Ryan Zimmerman, a fellow Olathe, Kansas parent, saw the video of Noah, who was in the hospital receiving chemo for a cancerous tumor in his spine, and knew he had to do something. He began raising money online for Noah and his family to see the Royals at bat in the World Series this week, and ended up with not just one invite, but two.
Story continues below.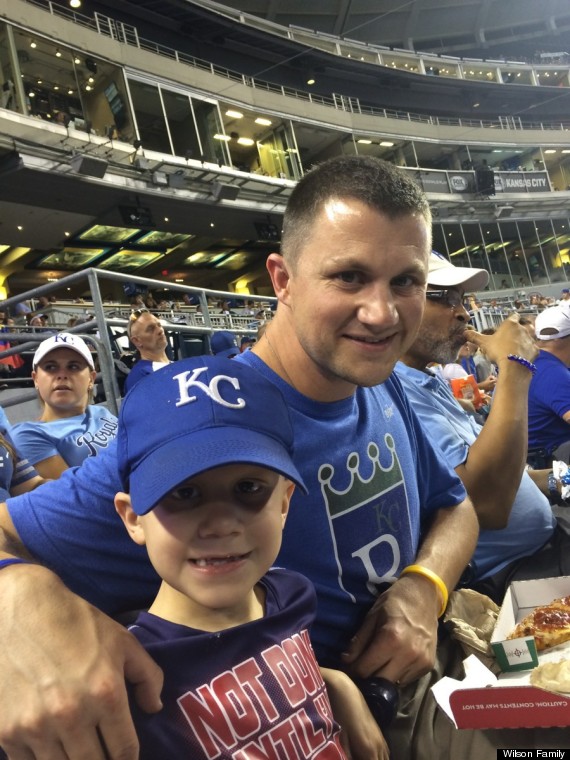 Noah and his dad at an earlier game.
Both ticket-buying site StubHub and Joe Torre, Major League Baseball's Executive Vice President of Baseball Operations, offered to donate World Series tickets to Noah. It was a little boy's dream come true.
"He was speechless (we all were)!" Scott told The Huffington Post of the moment he told Noah that he was going to be Major League Baseball's special guest on Oct. 22. "He is really excited and it is giving him something to look forward to, and will be a memory that will last a lifetime."
"I took it as my mission to make this happen," Zimmerman told The Huffingotn Post in an email. "I set up the GoFundMe campaign and tweeted like crazy to get some momentum. I shared on several Facebook groups including the 'Team Noah' page and within a day the donations had grown to over $8k."
Zimmerman's hard work has clearly paid off. The money raised by the GoFundMe page he originally set up to help purchase the Wilsons' tickets is now going towards bring other families of kids with cancer to the game so that they can make some memories too. The page has raised $10,000 so far.
Noah, who was diagnosed in late April with Ewing sarcoma, is about halfway through his treatment, according to his dad. And when when the Royals go up against the San Francisco Giants this Wednesday, it sounds like they'll have some solid inspiration in the audience to draw their strength from.
"He fights hard every day, and never gives up. He has never lost his smile, despite all the treatments and sickness that come with the meds. He is a warrior." Scott said.
Related
Before You Go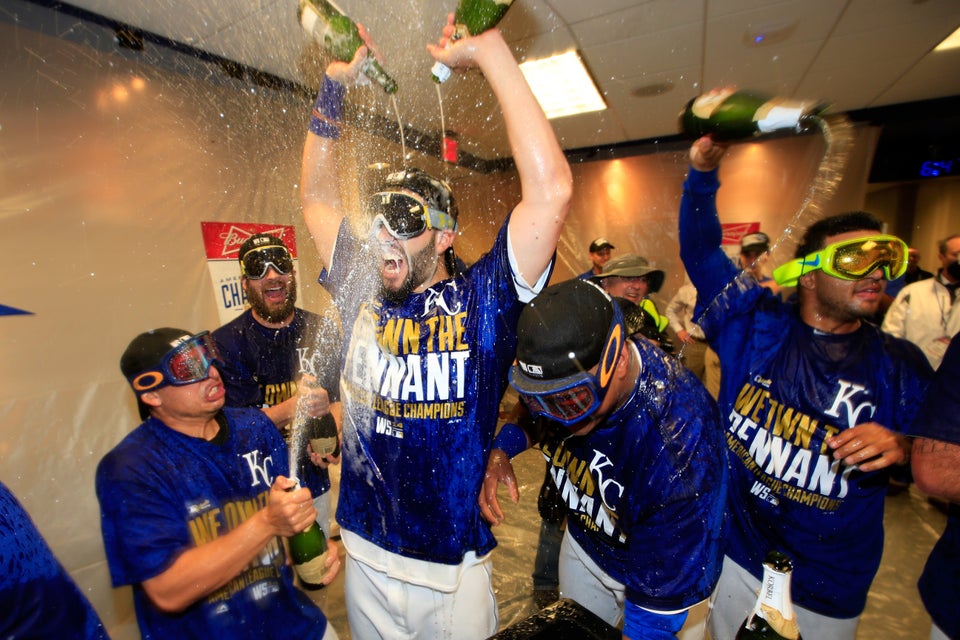 PHOTOS: Royals Make It To The World Series
Popular in the Community