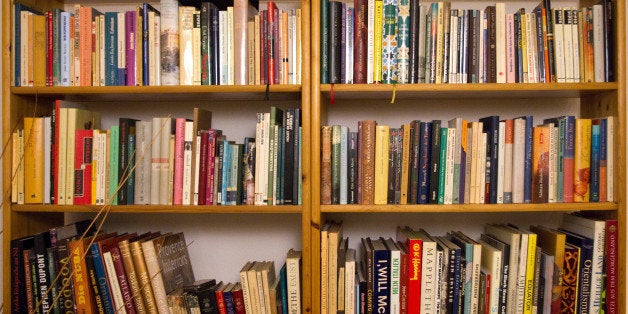 Does everyone have sub-genres within genres for which they hold an unusual fondness?
I can't resist a good infidelity story (really, can anything beat Presumed Innocent by Scott Turow?) I can rarely refuse the intricacies of inter-racial love (Meeting of the Waters by Kim Mclarin,) or a memoir about substance abuse (Drinking: A Love Story by Caroline Knapp. I treasure reading about the layers of an unknown (to me) culture (A Fine Balance by Rohintin Mistry) or the heartbreak of emigrants navigating new worlds (The Headmaster's Wagerby Vincent Lam) but for a real roll in schadenfreude reading, I pick up a juicy novel about novelists.
Grub by Elise Blackwell: I ate up this Shakespearean 'all's well that ends well' satire, described as a "a long overdue retelling of New Grub Street -- George Gissing's classic satire of the Victorian literary marketplace -- Grub chronicles the triumphs and humiliations of a group of young novelists living in and around New York City." This book reminds writers to watch the hubris and check literary-attitudes at the door; but it does it with tender love and great humor.
Breakable Youby Brian Morton: All of Morton's novels reveal the writer in his/her quirks, foibles, and often-unattractive hunger -- though never callously. It's hard for me to pick just one of this author's books, but I found it most memorable for the story of just how far a writer might go to gain glory, and what it life might be as the wife, daughter, or friend of such a writer.
How I Became a Famous Novelist by Steve Hely: This broad satire of Pete Tarslow, a lost soul who sets out to write a novel to impress the woman who dumped him, somehow meets what seem like disparate goals by portraying a character who is a naïf attempting to be Machiavellian. Hely skewers self-importance with a broad gun. This is a fast and funny read. Treat yourself after the holidays: spend New Year's Day reading this.
Misery by Stephen King: Page-whipping layered with psychological insight, this is a book that will not be put down. Publisher's Weekly said: "a writer held hostage by his self-proclaimed "number-one fan, is unadulterated terrifying. Paul Sheldon, a writer of historical romances, is in a car accident; rescued by nurse Annie Wilkes, he slowly realizes that salvation can be worse than death."
The Bestseller by Olivia Goldsmith: This fun and gobble-it-down tale for authors is described thusly by Publisher's Weekly: "It's is an old adage that books about publishing do not sell, because those likely to be most interested will beg, borrow or steal them rather than buy. In the case of the latest by Goldsmith (The First Wives Club) that would be a pity, because it is a highly entertaining tale with a good share of romance and drama, considerable humor and some cynical fun at the expense of the book business; there are many recognizable characters, and a number of real-life walk-ons. (There's even an index so book people can look themselves up, but be warned: it is not what it seems.) Goldsmith's busy plot which makes publishing seem as glamorous and crazy as fashion or the movies (settings for two of her previous books)? offers four women with novels being considered by high-powered New York publisher Davis & Dash.
There is an elderly romance queen with a fading readership; a proud mother trying to get someone to read a magnum opus by her dead daughter; a cool young Englishwoman who has penned a quirkily charming book about a busload of American tourists in Tuscany; and a desperate young woman whose devious husband is trying to steal all the credit for her true-crime roman a clef. Throw in a corrupt publisher doctoring the books to try to make his own sales look bigger, a nymphomaniac and alcoholic editor-in-chief, a staunch young editor and her lesbian agent friend, and you have the makings of a spicy literary stew."
Fun, huh? Can you see why I had to include almost the entire review? Sadly, the book is out of print, though it is available as an ebook (the author, Olivia Goldsmith died six years ago) but it's well worth getting from the library or ordering second-hand.
Related
Popular in the Community