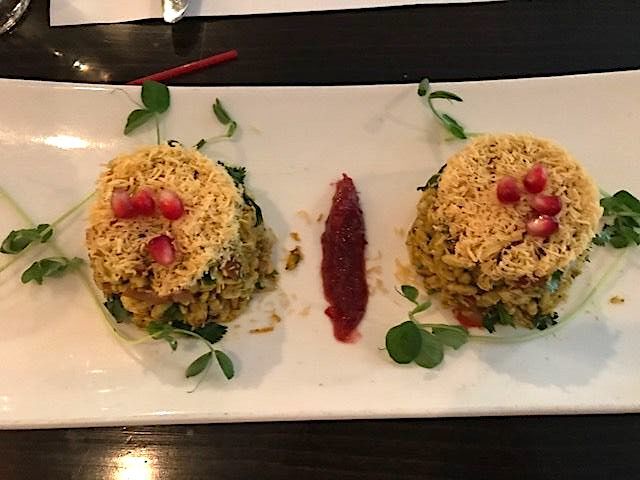 NYC is not rife with elegantly appointed Indian restaurants, but it teems with more modest ones offering both high quality and very good value. Indeed, Indian cuisine is one of those that most people assume will always cost less than others, like Italian restaurants charging $30 for pastas and Mexican restaurants charging $125 for wagyu fajitas.
For a while now Benares has occupied a space in the Theater District (with a newer branch in TriBeCa) on a Restaurant Row that includes two other Indian restaurants along with the venerable Italian-American Patsy's two doors down. Owner Inda Singh (formerly at Devi), Exec Chef Peter Beck and Chef Qutub Singh Negi are featuring northern Indian food, but, like so many competitors' the Benares menu is very, very long with standard regional dishes that range from Goan lamb vindaloo to Kozhi Varutha curry.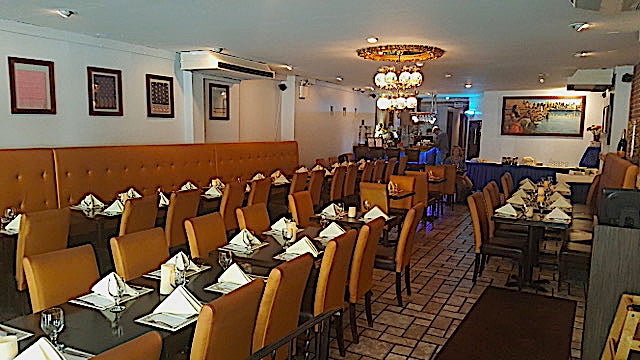 Benares (also called Vanarsi) is said to be the oldest continually occupied city in the world, or, as Mark Twain quipped, "Benares is older than history, older than tradition, older even than legend, and looks twice as old as all of them put together." As a pilgrimage city, it naturally drew the culinary influences of other countries to it, as evidenced on the Benares menu that a dozen appetizers, vegetarian dishes, seafood, goat and lamb. The food here tends to be a little lighter than at some Indian restaurants around town, which makes it a good choice in hot, muggy weather.
Our party of four chose from all over the menu, beginning with classic samosa ($8), triangle turnovers stuffed with potatoes, cumin coriander, ginger and mango powder; the pastry was fine and crispy and the seasonings provided layers of flavor. Bhel puri ($8) are puffy rice crisps with chopped onions, potatoes, the interesting addition of avocado and corn kernels, all tossed with sweet sour chutney. Lahsooni gobi ($9) shows a Chinese influence in a dish of cauliflower marinated in tomato, garlic and green chili sauce, while chicken tikka as a starter ($12) were tender grilled morsels of chicken richly marinated in yogurt and spices. You may also have chicken tikka masala ($16) as a main course, simmered in fenugreek-scented plum tomato sauce.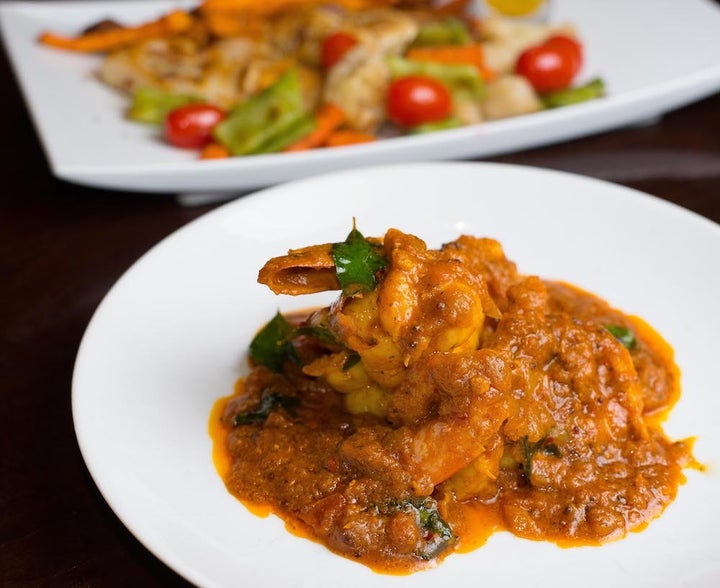 Among the main courses I certainly recommend the aamiya jhinga jumbo prawns ($22) marinated in mango, chili, rice vinegar, and ginger then plucked out after mere seconds in the tandoori oven, sizzling and smoky but very moist, too. Rare is the Indian restaurant that doesn't serve lamb vindaloo, though so often it is cooked into gray shards of tasteless meat; at Benares it comes juicy and suffused with vinegar, hot chilies and spices ($17)—hot but not incendiary on the palate.
Whether or not you are a vegetarian, you will find a dish of baby eggplant simmered in coconut, peanut, curry leaves and' topped with stuffed peppers a dish named baingan mirch ka salan ($13) riddled with contrasts of flavor and texture. Paneer-style dishes, made with Indian cottage cheese, are extremely popular in Benares, here cooked with spinach and tempered with cumin, ginger and garlic ($14). You'll need to order a rice dish because none of the entrees come with rice, and I loved the jeera basmati version so aromatic with cumin ($7).
The breads are always a stand-out in Northern India, so the garlic naan ($4) is irresistible, and the balloon-like poori ($4), often oily, is greaseless and crisp to the touch, deflating dramatically and releasing wonderful yeasty perfume into the air.
Desserts run from the traditional rasmali ($5) cottage cheese dumplings in rich coconut milk to the rarely seen shahi dawat ($6), a creamy carrot pudding served on saffron bread and topped with raspberry and a nut-rich rabri sauce.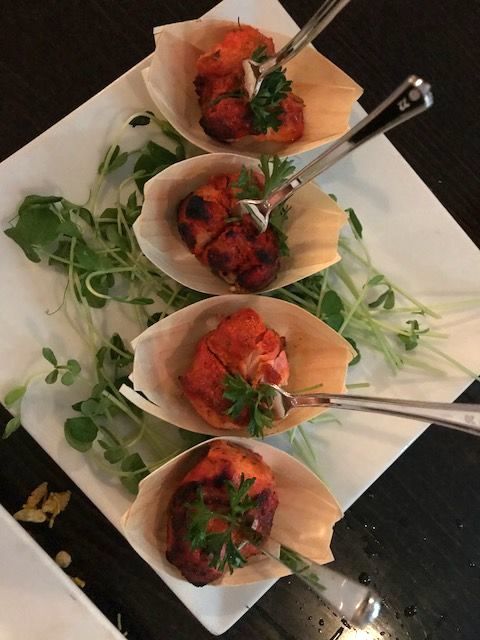 The midtown Benares is comfortable if not particularly impressive in its décor (the downtown branch is more modern), with copies of paintings of Indian from London's Victoria and Albert Museum printed on aluminum.
The extremely affable manager Ranbir Bhatia runs a tight ship, so that the timing of the courses' arrival is down pat. There is a wine list and the usual Indian beers, but he cocktails are clumsily made and not worth the effort to wait for them.
Frankly, I have not tried the other Indian restaurants along 56th Street, but in the future Benares will be my standard by which to judge them.
Benares is open daily for lunch and dinner.
BENARES is located at 240 West 56th Street, NYC, NY. 212-397-0707
Related
Popular in the Community