With just two years left in office, President Barack Obama might be starting to think about what he's going to do in the next phase of his career. On Monday night, he got to try out one potential gig: host of a fake conservative news show.
Obama visited "The Colbert Report," and before sitting down for an interview, he booted Stephen Colbert from the anchor chair and took control of a nightly monologue usually called "The Word."
"Let's make this a little more presidential," Obama said, changing it to "The Decree."
Then, he proceeded to deliver a Colbert-esque rant against himself.
"Nation, as you know, I -- Stephen Colbert -- have never cared for our president," Obama said. "The guy is so arrogant, I'll bet he talks about himself in the third person."
In the spirit of the "Word" segment, phrases popped up alongside the president as he spoke.
When Obama said he wanted to talk about things people from both parties like about Obamacare, the phrase "Everything but the 'Obama'" appeared on the screen.
Obama also wondered how the president could reach young people to get them to sign up for healthcare.
"Young people don't watch real news shows like this one," he said.
"Or fake ones like Fox" the message in the sidebar read.
"They watch comedy shows, and I just don't see the president going on one of those," Obama said. "They're beneath his dignity."
"But above his approval ratings" the sidebar snarked back.
Once "The Decree" was over, however, Obama sat down for an interview in the more traditional format, speaking with Colbert about the Keystone XL pipeline, young voters, the economy and more.
See their discussion of immigration, above. And check back later as this post will be updated with more video clips when they become available.
Before You Go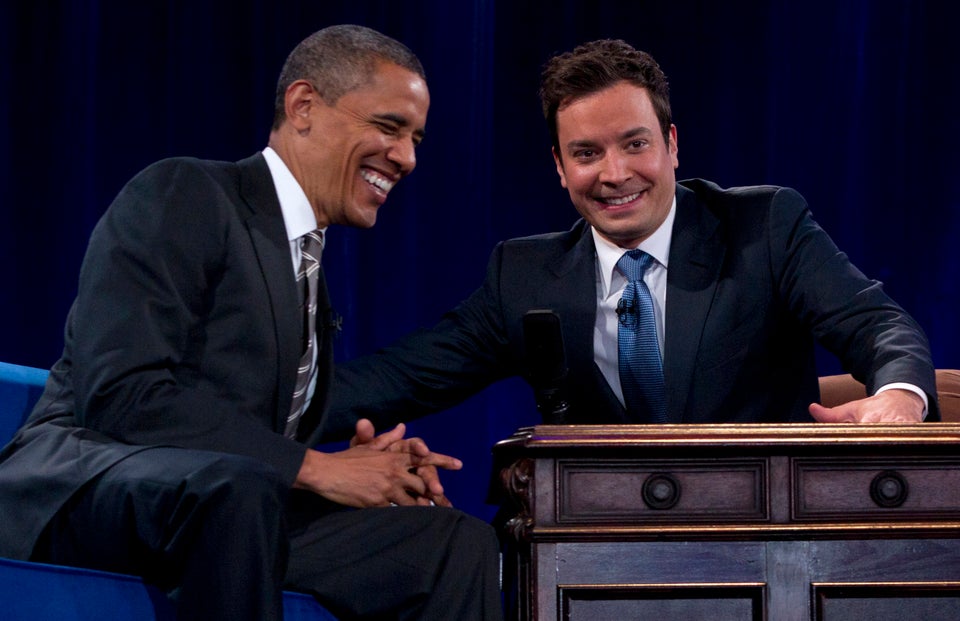 Obama On Late-Night TV
Popular in the Community