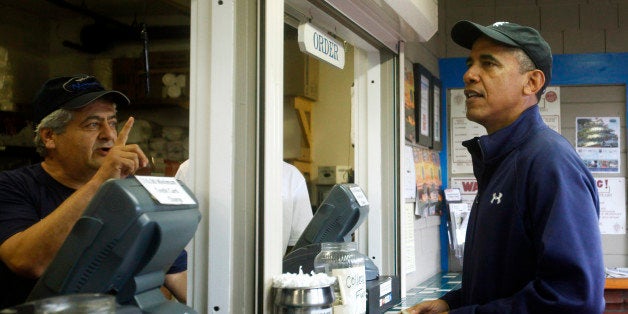 We all have our favorite local haunts that we just have to visit when we're on vacation in a familiar, beloved place. For the first family, Nancy's Restaurant is one of those places.
President Barack Obama and his gang are frequent fliers at the restaurant in Oak Bluffs, Mass. -- they've been seen making stops there on a number of past trips. A local favorite, Nancy's is a snack bar and restaurant, with a take-out window that sees a lot of traffic. The fare is mostly seafood, with plenty of fried options to keep all the beach-goers happy.
The Obamas arrived in Martha's Vineyard Saturday, though they have stayed relatively under the radar since their arrival (Malia and Sasha reportedly arrive later this week). Obama was seen, though, playing his go-to vacation sport, golf, Sunday at Farm Neck Golf Club.
Weathering Tuesday's rain, POTUS ventured to his old favorite for lunch and greeted a crowd of excited bystanders.
According to the pool report:
He shook hands and greeted around 40 people who had gathered on decking outside the restaurant, saying "good to see you" and adding that it was "great to be here." Dozens more people crowded to the windows of the upstairs restaurant, taking photographs with their smartphones and waving as the President went to pick up his order of fried seafood.

Obama told staff at the counter: "Good to see you man, thanks for feeding us." (The pool report confirms that Obama ordered fried shrimp, fried oysters, onion rings and French fries. Sounds good to us!) He then stepped inside to take photographs with Nancy's staff before returning to his car.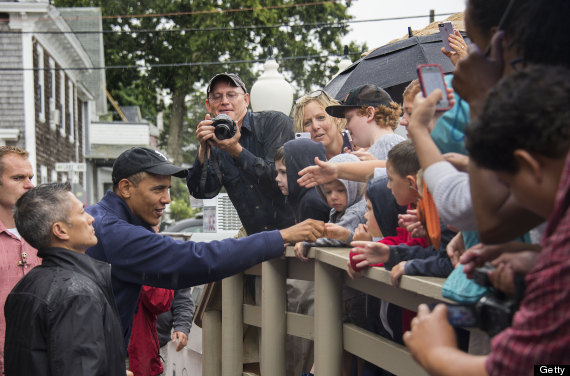 On the 2009 Vineyard venture, the Obamas grabbed take-out from Nancy's. Their order? Two bags of fried seafood, which they waited for patiently at a picnic table.
In 2010, the Obamas made their yearly appearance at the restaurant, this time greeting and shaking hands with a crowd of locals.
The next year, Obama, the first lady and Malia showed up at Nancy's to grab their favorite fried seafood to-go.

Related