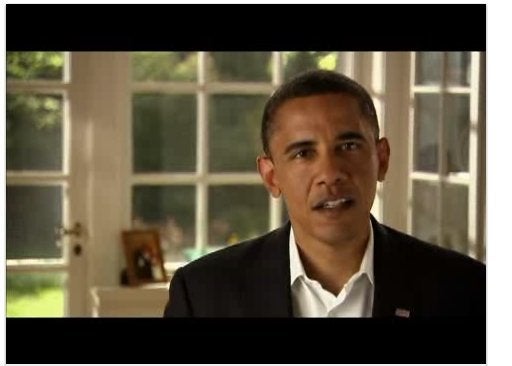 "The Obama campaign today announced the release of its first television advertisement for the general election," an Obama camp press release states. "The sixty second ad, entitled "Country I Love," will begin airing in eighteen states across the country tomorrow to highlight how our shared values have shaped Senator Obama's life."
In the spot, Senator Obama speaks to voters about the core values this nation was founded on and how they have guided him to work hard for his education, to bypass jobs on Wall Street to work as a community organizer, and to lead the fight for America's families and veterans as an Illinois and United States Senator.

The ad presents Senator Obama's record of passing laws to reform welfare, to cut taxes for working families, and to ensure America's veterans have the health care they deserve.

The ad will air in Alaska, Colorado, Florida, Georgia, Iowa, Indiana, Michigan, Missouri, Montana, Nevada, New Hampshire, New Mexico, North Carolina, North Dakota, Ohio, Pennsylvania, Wisconsin, and Virginia.

Watch the ad:
Washington Post's Chris Cillizza notes:
It's clear from this ad that the Obama campaign recognizes that it must educate voters about his background in order to counter the slew of negative information being moved via whisper campaigns and email chains already in this race.

This ad's message is simple: Barack Obama is just like you. He knows what it's like to start with little and work your way up, he loves his country, he loves his family.

It's a powerful opening salvo -- aided by a candidate who looks natural delivering the message. It's also an important sign of the work still facing the Obama campaign in the coming weeks and months.

Many voters know little of Obama and are hungry for more information. Do they get that information from the candidate or from other sources that are far less favorably inclined to the Illinois senator? It's a key question heading into the fall.

Popular in the Community