Every summer, my family makes a trip out to the beautiful beaches of Nantucket Island. I simply love being here at the ocean, many miles out to sea. It restores me, and it reminds me that the work Ocean Conservancy is doing to protect it is so important.
As the 4th of July holiday weekend approaches, I know this beach will become more crowded -- with people, and sadly, with trash.
Ocean trash is the summer's real beach traffic. Food wrappers, beverage containers, and cups, plates and cutlery are always among the top ten items removed from our beaches in Ocean Conservancy's International Coastal Cleanup, the world's largest volunteer effort for ocean health.
Summer is also full of celebrations. Unfortunately, balloons, so light and buoyant, can travel many miles in the air and in the water. Marine animals, like endangered sea turtles, that mistake balloons for food can choke or develop often-fatal digestive problems.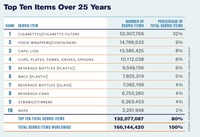 Cleanup participants have found enough cups, plates, forks, knives and spoons over the last 25 years to host a picnic for 2 million people. And they've picked up enough glass and plastic bottles to provide every resident of New York City, Los Angeles, Chicago and Houston a cold beverage on a hot summer day.
That may sound refreshing, but the truth is that ocean trash is no picnic.
When we choke the ocean with our trash, we threaten our own health, the survival of wildlife and the health of coastal economies. Our ocean trash problem is pervasive -- it's almost impossible to find a stretch of ocean in the world that doesn't have signs of trash. When it falls from our hands to the sea, it could be there for generations to come.
That's why Ocean Conservancy is doing more than just cleaning up our beaches; we're collecting data that can help show us where to focus strategies to prevent ocean trash.
Our Cleanup volunteers log each item they find on a standardized data card, available in nine languages to accommodate the Cleanups happening in more than 100 countries. They tally 43 items commonly found -- like the picnic trash and fishing gear -- and can write in "weird finds" like suitcases and chandeliers.
Ocean Conservancy collects that data and publishes it every year in our Ocean Trash Index, the only item-by-item, location-by-location accounting of what's trashing our ocean. So no matter where you are collecting and counting trash, you are connected to a global movement to protect the health of our ocean planet.
The 166 million pieces of trash recorded during Cleanups have given us an invaluable snapshot of ocean trash, from Argentina to Vietnam. The long-term, global nature of the data makes it effective for educating the public, business, industry and governments about the sources and types of trash impacting ocean health.
The beach is not an ashtray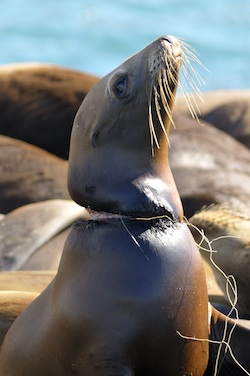 By far the most common pieces of beach litter we find are cigarettes and cigarette filters. Over the last 25 years, these have accounted for more than 30 percent of all items found. Volunteers have collected nearly 53 million of them -- enough to fill 100 Olympic-sized swimming pools.
What I find most troubling about this statistic is that cigarette butts are one of the trash items that animals can mistake for food. Plastic bags, bottle caps and cigarette lighters fall into this category as well and can cause wildlife to choke, become ill or even starve to death because they feel artificially full and stop eating.
Birds, fish, marine mammals and sea turtles can also become entangled in ocean trash, preventing them from feeding, swimming and reproducing. Humans are at risk, too: Many items, like syringes and disposable diapers, pose health hazards, and no one wants to go barefoot on a beach littered with sharp pieces of metal and glass.
Our vision -- and I hope yours, too -- is for trash free seas. This problem is preventable, and keeping our ocean free from trash is one of the easiest ways we can make the ocean more resilient.
I'm excited about Senator Inouye's recent introduction of the Trash Free Seas Act, a bill that calls for research, assessment, reduction and prevention of ocean trash. A similar bill is also being debated in the House.
But policymakers aren't the only ones with a responsibility to deal with the issue; we all have a role to play in keeping our ocean clean and free of trash. When visiting the beach this summer, bring your picnic in reusable containers, make sure any trash you do throw out ends up in a trash can with a lid, and if you smoke, use an ashtray so that your cigarette butts don't end up as a sea turtle's dinner.
When it comes to the way we deal with our trash, we have a responsibility to reduce, remove and reinvent all year long. But you can make a big difference on September 17 by participating in this year's International Coastal Cleanup. Visit oceanconservancy.org/cleanup to learn more and sign up today. Cleanups are happening on waterways all over the world -- not just along our coasts.
It doesn't take a trip to the beach to understand the importance of trash free seas. The ocean is our life-support system; it provides us food, water and oxygen. It drives our climate and fuels economies. When we trash our ocean, we are trashing our own health and well-being. Join me in supporting trash free seas.
Photo credit: Jim Patterson

Related
Popular in the Community