Santa Claus certainly has a presents at Christmas, but what does he do the rest of the year?
"Being a total Santa skeptic in my younger years, I wanted to capture the real stories of the men behind the fuzzy white beards and sleek velvety duds," she told The Huffington Post.
So, Koeth set out to create a series of stunning photos that offer glimpses into the lives of off-season Santas. Here are their answers, as told to Koeth.
Santa Joe waves goodbye to frigid winters and heads to a condo in Florida.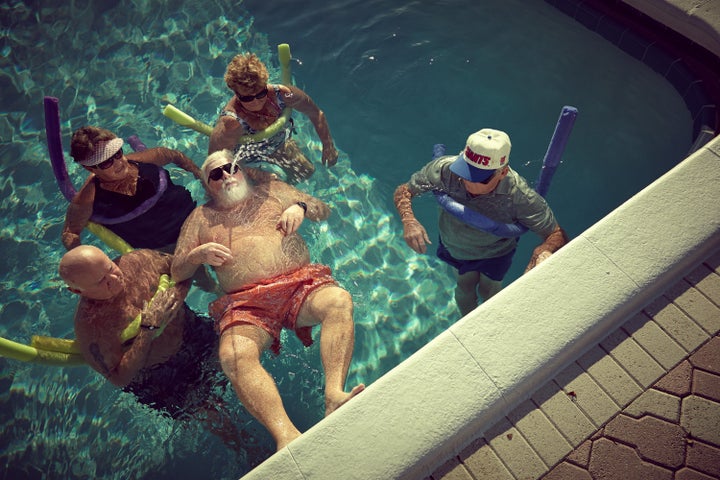 Joe Corcoran, also known as Santa Joe, is an Irish Catholic from the Bronx and is also the New York City Bloomingdales Santa. Several years back, Corcoran and his wife bought a condo in Oriole Gardens Retirement Community in Margate, Florida. Eighty of the units in the community are filled with his family and friends from back in the Bronx. He told Koeth: "We all grew up with each other and want to grow old together."


Santa Roy works at an investigative firm and picks up the banjo.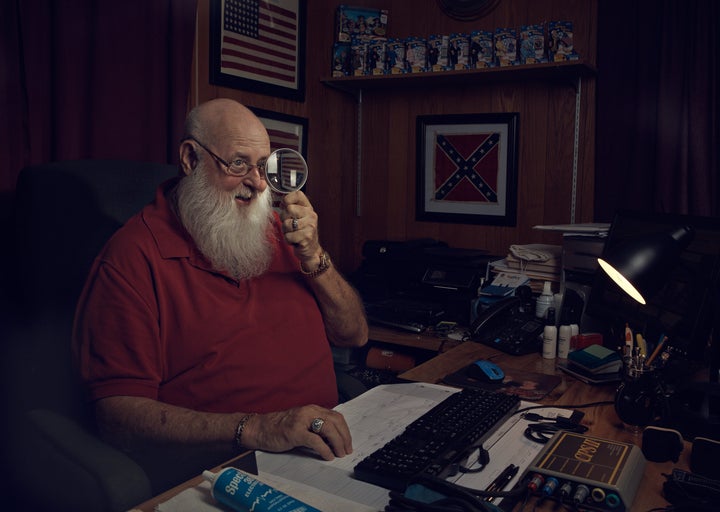 Roy Strohacker is a retired police officer. In 1984, he was named one of the top 10 law enforcement officers in the state of Florida. He currently operates his own investigative agency and has more than 40 years in the law enforcement and investigative field. In his spare time, Strohacker plays banjo with his son and sings with the Great American Dixie Band. He also collects American political memorabilia like old flags and Japanese swords and reads and translates Japanese.
Santa Lance rocks out in a band to beat the summertime blues.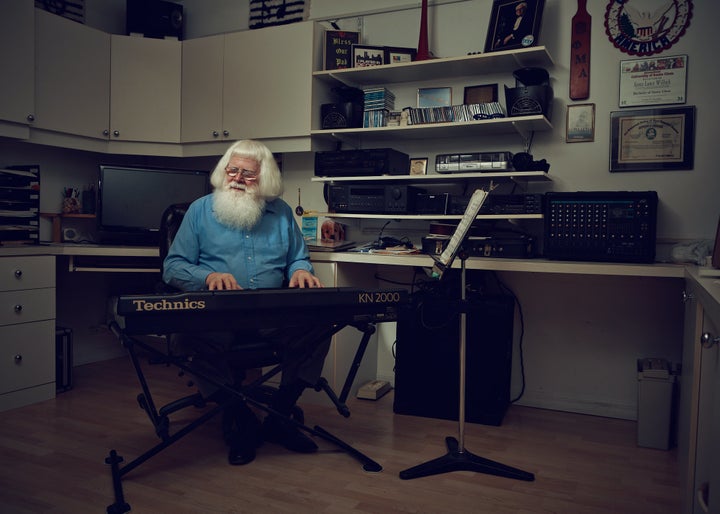 Lance Willock, 77, is a former salesman from Peoria, Illinois. Music has always been his passion. He would run home from work on Fridays, dapper up, and meet with his band to entertain at one of the many local hotspots.
"I met my wife, Rosemary, while playing in a club. She never knew it was going to end up like this ... in fact, she'd probably run the other way if she thought about it," he told Koeth. Willock and Rosemary live in a retirement community in Stuart, Florida.
Santa John runs a Mensa chapter.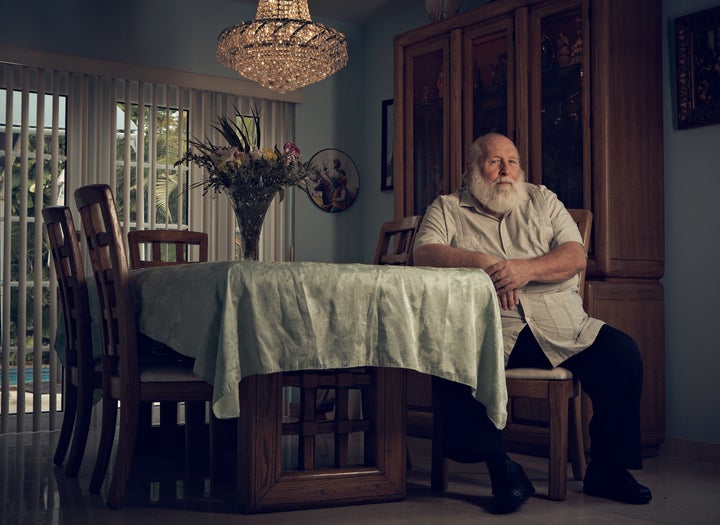 John Snyder, 67, is a Vietnam vet with a purple heart and was born and raised in Queens, New York.
"When I got out of the army, I wanted to be a playboy for a while before I settled down — to sow my wild oats so to speak. Well, I met my wife, fell for her and married her right away, so I had to give that all up," he told Koeth.
John served as the president of Mensa, the largest and oldest high IQ society, for several years in South Florida. Snyder and his wife Theresa are both active members of the Church of Jesus Christ of Latter-Day Saints and currently reside in Kendall, Florida.
Santa Gregg does woodwork ― and also reminisces about his days as a former stripper (you read that right).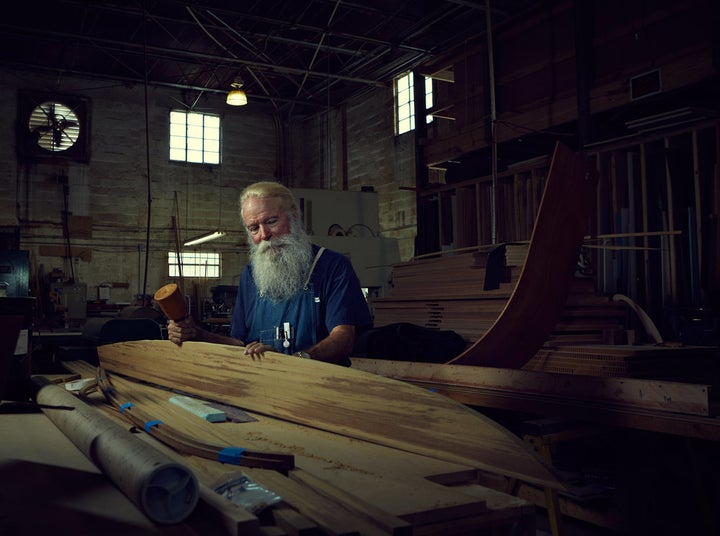 Gregg Henry is a carpenter at Michael Rybovich & Sons Boat Works in Palm Beach Gardens, Florida.
"I make big, expensive toys for very wealthy boys and girls," he told Koeth.. His career in woodworking started 40 years ago.
"The only thing I haven't done is coffin making. I don't really have much interest in that," he said. Many years ago, following a painful divorce, Henry spent two years being a male exotic dancer.
"My stage name was Grizzly Gregg because I had the beard and everything back then. I found that taking off your shoes is really hard to do when you're standing up," Henry said.
Santa Ernie just chills out in the summer with his partner of 23 years.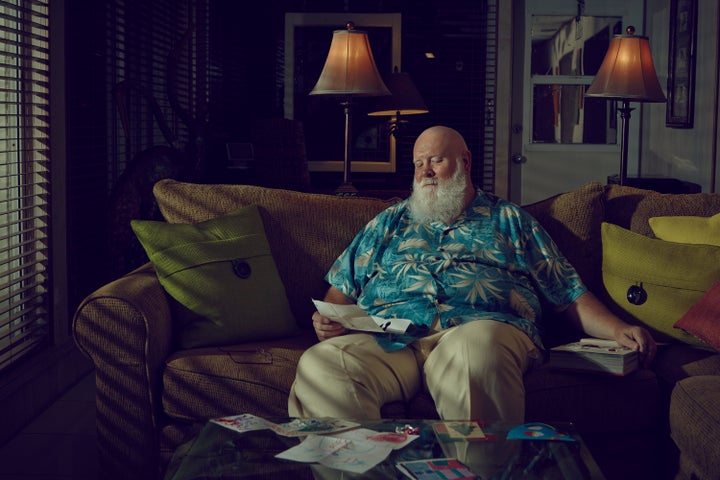 Ernie Tedrow is originally from Baltimore, Maryland. After his mother passed away, he moved to Orlando and started in the hotel business where he worked his way up to director of sales and marketing.
"One week a month I would travel. I'd fly to Chicago in the morning, pick up the client in a limousine, take them to Oprah's restaurant for lunch, sign a half million dollar contract, take them back to the office, fly back and be home for dinner. I absolutely loved it," he told Koeth..
Tedrow now lives in Tamarac, Florida with Everett, his partner of twenty-three years. He is a community association manager for condos and homeowner association in South Florida. "I figured, I'm fat, old, and bald ... and I have a career!"
Support HuffPost
The Stakes Have Never Been Higher
Related
Before You Go

Exercising Santas
Popular in the Community