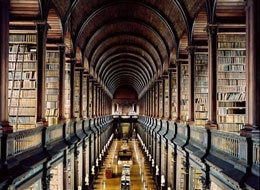 Welcome to the Shelf Talker, a weekly rundown of news, gossip and recommendations from and about authors on tour. We'll focus on writers, readers, booksellers and the wondrous ridiculous things that happen when thrown in a room together. Send tibits, endorsements, scandal and dead fish to TST@booktour.com.
Christopher Moore is an author we're afraid to admit we haven't read since a) We hear the guy's a laugh riot and b) Our role here dissuades us from owning up to such shortcomings in a public forum (oops). However, Mr. Moore author photo has him wearing a Santa hat (in February) and looking as though he just inhaled sealing wax. We then ask forgiveness for our transgressions as we heartily endorse his.
Moore's twelfth novel Fool, landed two weeks ago and concerns a reimagining of King Lear with the court jester at the narrative controls. There's more than a few bits about spanking too, which has our expectations about what may pop off at Mr. Moore's author events undoubtedly raised. Paddlers? Ticklers? All in. Call us disappointed if we depart less than foolishly flushed.
Moore got a quick swing down the east coast this week (NY on Wed. , D.C. Fri.) with a landing back home in Northern California next month. Sources tell us he packs 'em in so show up early and wear a funny hat in solidarity. Or Mr. Moore's has the Shelf Talker's full permission to wack ya one.
Left coast alert: T.C Boyle's coming your way this week, stops in L.A., Santa Barbara and Tempe, AZ. His new novel The Woman is an all-undergarments-on-the-floor look at Frank Lloyd Wright's history with the ladies. We feel downright prudish not knowing that Mr. Wright was both a genius and a giant ho-bag (The "laying pipe" and "hoisting I-beam jokes wasted! (h)o the humanity!) but we'd rather have writer of Boyle's skill tell us than have to read about in, say, our local AIA newsletter. That rag.

Boyle's a favorite around these parts ever since Mother-of-TST gave him The Tortilla Curtain as a birthday present. In addition to a greater rooster of A- and above novels than just about anyone writing today, Mr Boyle has perhaps the best posture of any author of his generation. Forget hunching over a podium or leaning forward to hear your question. By our recall, he hasn't broken at the wasit in the decade we've been showing up for his readings. Instead he stands resplendent as a totem pole, letting his magnificent prose swirl about him like dancing galaxies.
Defies physics yes, but we dig it. Now would you, gentle readers, kindly let us know (tst@booktour.com) if you spot the man in a deep knee bend? We just want to know he can.
Baltimore-based mystery writer Laura Lippman, a favorite of TST since our joint days at that city's major daily paper, will be making somewhere on the order of eleventy-thousand tour stops this spring in support of her new novel, Life Sentences. This one ain't a mystery but that shouldn't stop you from paying Ms. Lippman a visit if you reside in Boston, D.C. Fort Lauderdale, Houston, or pretty much anywhere in Maryland. Her books, deft as a pirouette, still go down like the mug of chocolate we swallowed just before completing this sentence. She's also funny, charming, and doesn't have a single anecdote about how Norman Mailer once pinched her on the behind. To which we sigh in relief.
TST is about 3 volumes from caught up on the Lippman bibliography, which leaves us with some work to do. And you, dear reader, to get started. As we once said about Sly and The Family Stone: "If you can't groove with it, the fault does not lie with them."
....in a staff breakroom at a library in Virginia: A hand-lettered sign bearing the admonishment "Will the night staff kindly refrain from having sex in periodicals?"
...A touring novelist reporting he no longer picks up babies during signings since one infant yakked all over him after a hoist at an event in Northern California. He now sticks to shaking his keys and saying, "Thanks for coming by!"
...in the greenroom of a sadly-shuttered independent bookstore: A list of customers no longer welcome and their reason for banishment. Subject #3's crime? "Attempting to assault Bell Hooks."
...On a shelf talker in Chicago: "Read this book or our comics buyer will kick your ass."

Overlooked:

Kathleen Rooney and her book Live Nude Girl: My Life as an Object. In a forest of somber literary magazines and grad students at the Associated Writing Programs conference in Chicago, it stopped us cold.
LNG is a memoir of Rooney's career as an art model that wrestles with the headier issues of the naked form as inspiration, objectification for the sake of art, and the role of a muse throughout history. Since Rooney has 3 other books (including a cultural study of Oprah's Book Club) to her credit, we felt sure that her latest effort wasn't of the "I'm hot and wrote about it" efforts we've been seeing too much of lately.
Like many authors who get that there's a 21st century going on, Rooney is rolling out Live Nude Girl on a long carpet of sass. The second half of her 25 city "traveling literary circus" rolls through Arkansas, Memphis, Campaign, IL and Ann Arbor over the next few weeks with guest appearances by a cabal of young writertly talent.
Given the subject, we shudder to imagine what flavor of loon and goofball will show up. Sadly, not us as Ms. Rooney's closest west coast gig is an imposing 5 hours south of TST HQ. But we'll be watching as Ms. Rooney seems as compelling a talent in her future off the pedestal as on.
Kevin Smokler is the Co-founder of BookTour.com, the world's largest directory of author and literary events. Send tips, comments, and innuendo to tst@booktour.com.
Related
Popular in the Community