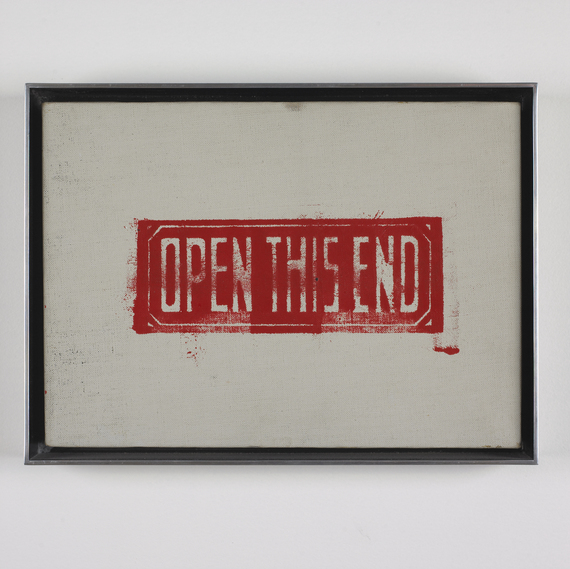 Andy Warhol, Open This End, 1962, Acrylic on canvas, 8 x 11 in. (20.3 x 27.9 cm). The Museum of Contemporary Art, Los Angeles partial and promised gift of Blake Byrne. © 2015 The Andy Warhol Foundation for the Visual Arts, Inc./Artists Rights Society (ARS), New York.
The final leg in the two-year journey of "Open This End: Contemporary Art from the Blake Byrne Collection" exhibition continues at the Ronna and Eric Hoffman Gallery of Contemporary Art, Lewis & Clark College, in Portland, Oregon. This amazing show's travels began in 2015 at the Nasher Museum of Art, Duke University, which coincided with Blake's 80th birthday celebration, and then toured to The Ohio State University Urban Arts Space and Miriam and Ira D. Wallach Art Gallery, Columbia University. "Open This End" assembles both iconic and lesser-known selected works from Byrne's remarkable and distinguished collection, which features more than 1,200 pieces, narrowed down to about seventy-five for this exhibition.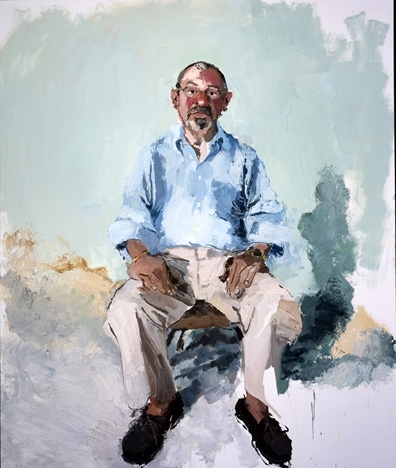 John Sonsini, Blake, 2005, Oil on canvas, 72 x 60 in. Collection of Blake Byrne. Photo by Alan Shaffer.
This delightful presentation is a virtual window into a serious collector's personal vision through an art historical context, highlighting some of the most influential artists of the last fifty years, carefully and skillfully tracing a number of intertwined narratives in the progression of contemporary art from the 1960s to the present. Organized over the last five years by Barbara Schwan, Executive Director of The Skylark Foundation, this is a simply remarkable exhibition on so many levels, and supporting her efforts to produce a scholarly and impressive hardcover catalog were Richard J. Powell, Kris Paulsen, Kimerly Rorschach and Bruce Kogut. The title comes from a small 1962 silkscreen painting by Andy Warhol, the earliest work in the show, which suggests an invitation for the viewer to explore this soon-to-be "unpacked" display, which, like a gift being unwrapped, always brings with it an element of surprise, anticipation and delight.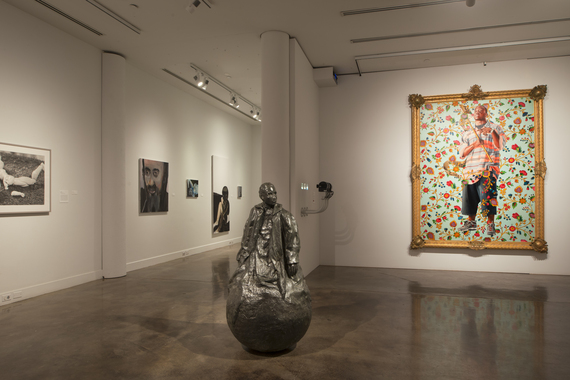 Installation, "Open This End: Contemporary Art from the Blake Byrne Collection," Ronna and Eric Hoffman Gallery of Contemporary Art, Lewis & Clark College, Portland, Oregon.
Joseph Wolin, the curator of the exhibition elaborates: "By extension it also suggests that contemporary art may comprise a sometimes puzzling package that we can unlock for both pleasure and edification. In a more humorous vein, the title implies that there exists a certain way to approach contemporary art and its history, a particular end from which to open the box (in this case, a crate!), an implication belied by contemporary art itself, and by the multiple, parallel, interconnected, open-ended, and at times contradictory artistic and historical threads the exhibition gathers together." For any number of reasons, the title seems to fit rather cleverly and appropriately, but the irony is that from the get-go Byrne was not interested in building a collection to impress others with brand names like Warhol, but rather with very little guidance early on, used his intuition to seek out works that would provoke an emotional response, regardless of how obscure the artist was initially, it obviously was a chance that Byrne felt worth taking. I'm reminded of Evel Knievel's own fifteen minutes of Warholian fame, which came with a personal observation just after one of his well-known and dangerous motorcycle jumps: "No risk, no reward."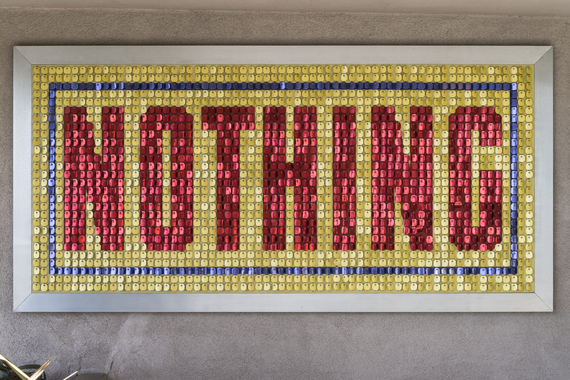 Jack Pierson, Nothing (Yellow, Blue, Red), 1992, Mixed media, 54 x 112 x 1 in. (137.2 x 284.5 x 2.5 cm). Collection of Blake Byrne. © Jack Pierson; courtesy of Regen Projects, Los Angeles. Photo by Alan Shaffer.
In fact, risk is related to reward and achievement for most of the artists represented in this memorable exhibition, especially for Warhol, as it is for most great private collections of contemporary art. This is an era when some noted art collectors around the planet have built huge museums for their own collections, including François Pinault in Paris, Jorge Pérez in Miami, Eli and Edythe Broad in Los Angeles, Dutchman Joop van Caldenborgh and Budi Tek in China, among others. Blake Byrne's goal was not to construct an art fortress to protect his artworks, but to choose to live with his most treasured pieces, rarely "de-acquisitioning" any of them, and eventually passing on portions to other institutions. Byrne graciously does this from time to time; his promised gift to MOCA LA of 123 works, for example, remains the largest and most generous donation in the museum's history, in fact, over half of the works included in "Open This End" are from the promised gifts to MOCA LA, as well as a good selection that has been promised to Duke University's Nasher Museum.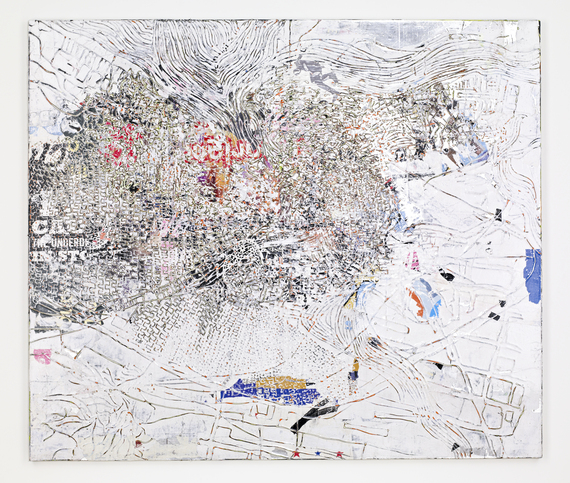 Mark Bradford, Spinning Man, 2007, Mixed media collage on canvas, 72 x 84 in. (182.9 x 213.4 cm). Collection of Blake Byrne. Courtesy of the artist and Hauser & Wirth. Photo by Luciano Fileti.
The story of Blake Byrne is unique, and is encouraging news for young collectors that have an interest in contemporary art, but at first have little background in art appreciation and a sense of where to begin. Byrne first started accumulating modest pictures during his honeymoon in Paris, and after several moves in between, he landed in Providence, a significant art city and home to thousands of artists as well as the Rhode Island School of Design (RISD), one of the world's best art schools, and then to Fort Worth, where he and his family regularly visited the Kimbell Art Museum and the Amon Carter Museum of American Art for inspiration. He eventually moved back to Manhattan in 1988, taking up residence at 58th Street and 7th Avenue, so naturally he would visit the 57th Street art galleries in his neighborhood, which strengthened his perspectives on art.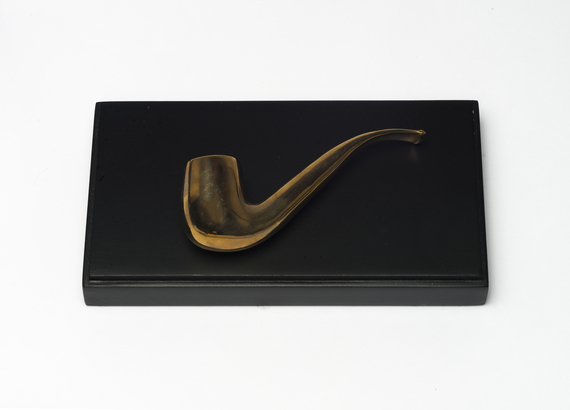 Sherrie Levine, Une Pipe: 1, 2001, Cast bronze, 2 ½ x 5 ¼ x 1 ½ in. (6.4 x 13.3 x 3.8 cm), Edition of 12. Collection of Blake Byrne. © Sherrie Levine; courtesy of Paula Cooper Gallery, New York. Photo Alan Shaffer.
I first met Blake and his family on the day they moved into the Victorian house next door to mine on the historic east side of Providence, Rhode Island. He was in the business of managing TV stations, and his magic touch made them profitable. He also had all the makings of a great collector: inquisitive, instinctual, studious, intelligent, adventuresome, open-minded, enthusiastic, an astute eye and a warm heart, along with a willingness and the resources to invest in works of art with which he also wanted to enjoy living. As our friendship developed, I introduced him to the campus of RISD, and as I recall, he began acquiring a few works here and there of local artists, such as Bill Drew and several very early works of mine. Mr. Byrne was a proud workaholic, and was especially adept at analyzing TV station data reports every evening when he finally arrived home. Surely it was this experience and training that later he applied to buying art, after he retired as a broadcast executive and began collecting in earnest in 1988. On the advice of Jack Tilton, his long-time friend and mentor and highly respected Manhattan gallerist, Byrne went to Art Basel with Tilton in 1988 and made his first cutting-edge art purchases, including works by Juan Muñoz, Cristina Iglesias and Richard Tuttle, among others. Not bad for the first date! And, fortuitously, he started collecting Marlene Dumas at bargain prices the following year, a wise decision, as her works have since shot up greatly in value. From this jumping off point, he assembled an impressive collection that is both expansive and focused, maintaining strong commitments to certain artists that he has accumulated en masse.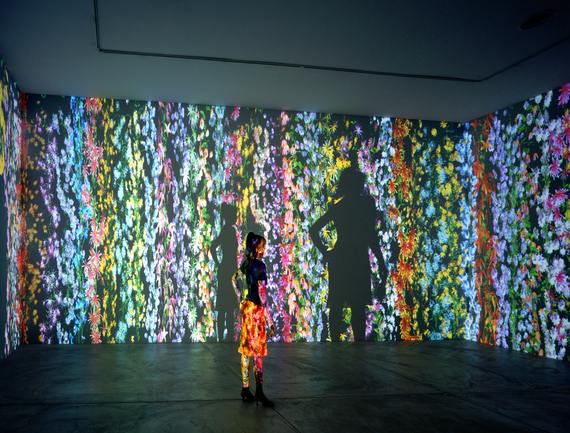 Jennifer Steinkamp, Jimmy Carter, 2002, DVD animated painting, dimensions variable. Collection of Blake Byrne. Courtesy of the artist, Metro Pictures, New York, and Acme, Los Angeles. Photo by Alan Shaffer.
"Open This End" does not try to track a single theme or storyline, but takes advantage of the significant strengths of Byrne's collection that offers a unique and personal overview of contemporary art. With the size, breadth and complexity of this memorable show, it's not possible here to examine select works in detail, but suffice it to say that the following alphabetical sampling of "Open This End's" line-up will give you a clear perspective on what constitutes a wonderfully revealing and dramatic presentation: Vito Acconci, John Baldessari, Mark Bradford, Marlene Dumas (11 works), Robert Gober, Felix Gonzalez-Torres, Douglas Gordon, David Hammons, Bruce Helander, Thomas Houseago, Mike Kelley, Martin Kersels, Martin Kippenberger, Louise Lawler, Sherrie Levine, Glenn Ligon, Agnes Martin, Rita McBride, Paul McCarthy, Steve McQueen, Matthew Monahan, Juan Muñoz, Wangechi Mutu, Bruce Nauman, Albert Oehlen, Paul Pfeiffer, Jack Pierson, Sigmar Polke, Gerhard Richter, Ed Ruscha, Cindy Sherman, Tony Smith, Jennifer Steinkamp, Luc Tuymans, Andy Warhol, Kehinde Wiley and Christopher Williams. It should be noted that this list signifies only about 10% of Byrne's entire collection, which continues to grow. As a whole, this distinguished assortment of human creativity provides an astute summary of most of the important trends in contemporary art since the 1960s. Kimerly Rorschach proposes a striking summation in her insightful catalog essay, "Blakean Vision," which is appropriate to repeat here: "Through collecting, the collector can engage with and consider the great issues: love and loss, birth and death, the fate of our planet, our identity and culture, both collective and individual--in short, our humanity."
Happy Birthday Blake Byrne!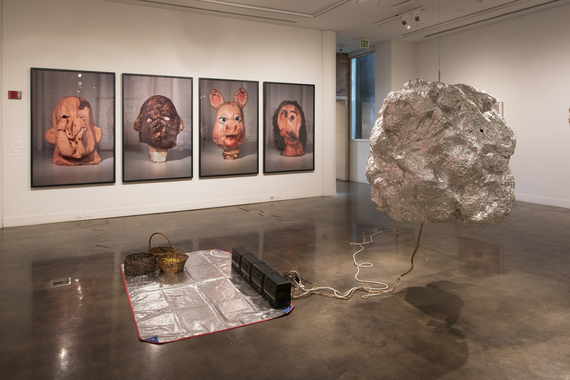 Installation, "Open This End: Contemporary Art from the Blake Byrne Collection," Ronna and Eric Hoffman Gallery of Contemporary Art, Lewis & Clark College, Portland, Oregon.
For additional information and a complete list of works included in the exhibition, go to: http://theskylarkfoundation.org. The exhibition continues at the Ronna and Eric Hoffman Gallery of Contemporary Art, Lewis & Clark College, in Portland, Oregon through December 11, 2016.
Calling all HuffPost superfans!
Sign up for membership to become a founding member and help shape HuffPost's next chapter