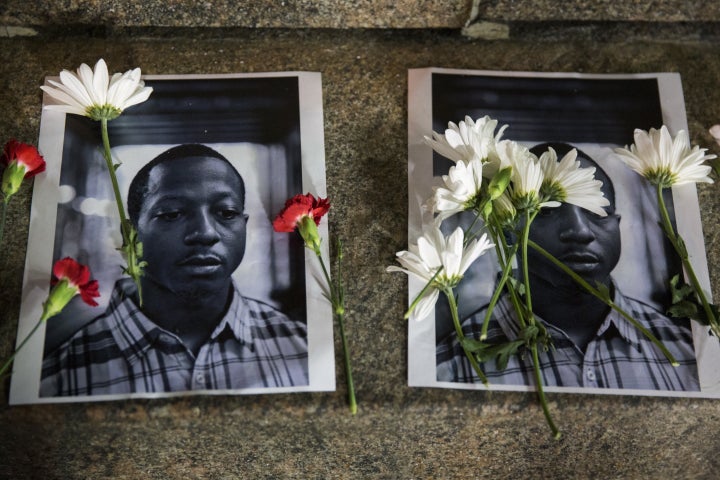 New York Mayor Bill de Blasio and the New York City Council announced an agreement earlier this month to move forward with replacing Rikers Island jails with four smaller facilities located in Manhattan, Brooklyn, the Bronx and Queens. The news came just a month after New York Gov. Andrew Cuomo proposed to end cash bail for people charged with certain crimes, and reflects a bigger trend of efforts to reform the criminal justice system in both the city and state.
While reading the governor's announcement, I was reminded of that October day in 2016 when my wife and I were told that we needed to post $2,500 bail or our middle son would go to Rikers Island. He had been arrested for unauthorized operation of a motor vehicle and possession of a controlled substance. While my wife went to the bank to secure the bail funds, I sat in the courtroom and watched person after person, mostly young black men, cuffed and shipped to jail because they didn't have the cash to secure their freedom.
Mass incarceration, racial disparities and the economic injustice in our criminal legal system are rooted in the cash-for-freedom bail system. But there should not be a price tag on justice.
Thousands of people are living a similar reality, which is fueled by profiteering, fear-mongering and institutional racism. In a four-block radius around the Bronx courthouse where my son's bail was set, you can find no less than seven bail bonds offices, each sitting and waiting for their next victim. Moms, dads and girlfriends lined up to pay exorbitant fees to secure bail for their loved ones.
When a person goes to court after being arrested, the bail determination lies solely at the discretion of the judge, who makes this decision after significant prodding by the prosecutor. In this decision-making process, the judge is guided not just by the defendant's likelihood to return to court, but also by their own biases, career aspirations, political expediency and mood. These influences, coupled with prosecutors who know that people held on bail are under great pressure to enter a plea bargain, are not a recipe for justice. Instead, the result is 40 percent of the people in New York City jails being there because they can't afford bail. Eight out of 10 people in city jails are of color, and there is an alarming rate of guilty pleas from those who are likely innocent.
"This movement needs the participation of thousands of ordinary people who are willing to stand up and say no to a legal system that offers freedom only to those who can afford to pay for it."
Closing Rikers Island is a step in the right direction. But simply moving people to "smaller, safer" jails across the city is relocating the problem, not solving it. If New Yorkers are serious about addressing this problem, they will take steps not just to close Rikers but to also change the systems that funnel people into jails in the first place.
In New York and nationally, there is a large and growing movement to end cash bail. To be successful, this effort requires the participation of thousands of ordinary people who are willing to stand up and say no to a legal system that offers freedom only to those who can afford to pay for it.
Coupled with the movement pushing to abolish cash bail, reform advocates have established community bail funds in order to help those who cannot afford their freedom. We are also calling on our legislators to advance bills that remove the price tag for freedom, and advocating for more informed and less biased judges and prosecutors. And we are asking for the public's help to monitor bail hearings, speak out against these systemic injustices and challenge the profiteering of the bail bonds industry.
Cuomo's proposal is an important step in the right direction. But it needs legislative support in order to become a reality. We need lawmakers in Albany to fully support the effort to end cash bail, and to take on the whole spectrum of policies and practices that keep Rikers and other jails across the state full.
In a more just system, I would not have had to buy my son's freedom. And Kalief Browder and thousands of others would not have to sit in jail for months or years when they could not afford to pay for theirs. Abolishing bail would mean the population on Rikers Island could be cut in half ― not by simply moving the sites of incarceration, but by addressing a deep injustice in our legal system.
Popular in the Community