Activision Blizzard's purchase of mobile games developer King Mobile made headlines around the world last week, demonstrating once again that video games are big business. These splashy headlines and eye-popping numbers are impressive, but equally important - and indicative of our industry's growth - are the people behind the news: the tens of thousands of artists and innovators for whom video games are a rewarding and fulfilling career.
Our industry already employs more than 150,000 people, and according to new research from the Entertainment Software Association, these career opportunities grow by the day. Today, more than 1,600 U.S. video game development studios and publishing companies operate nearly 1,900 facilities in 46 states.
As these companies create new jobs in their communities, colleges and universities are responding to their demand for highly educated employees. More than 400 schools - operating in all 50 states and Washington, D.C. - offer professional certificates and undergraduate or graduate degrees in game design and development.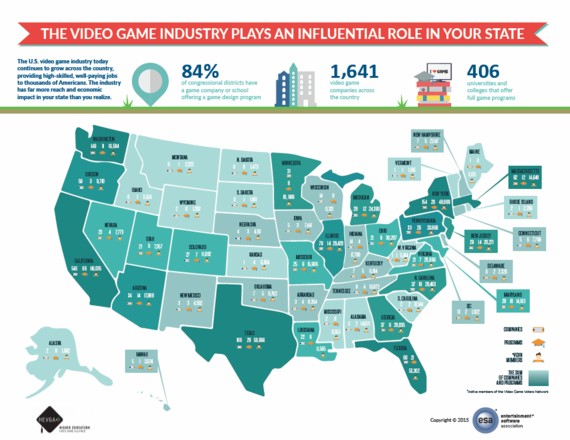 To commemorate these new findings and celebrate the growth of the industry, ESA and the Higher Education Video Game Alliance (HEVGA), a consortium of more than 80 colleges and universities that offer video game design programs, recently hosted an event and panel discussion at the U.S. Capitol. Representatives from our industry, higher education and state government discussed how video games are improving local economies around the country and preparing students for high-tech, high-skill jobs of the future.
"The video game industry is helping fuel the American economy. From outstanding video game design programs that prepare future leaders with critical skills necessary to succeed to outstanding studios that create immersive world-leading entertainment, this is a snapshot of the American creative tech engine," said Michael D. Gallagher, president and CEO of ESA. "Our industry thrives anywhere there is talent and an environment conducive to growth. This data reflects the truly national impact of our industry."
Many of these leading companies and schools are in once struggling cities, offering them a much needed economic boost from the creative economy. "As a steel town, Pittsburgh was written off 30 years ago as dead," ESA Senior Vice President for Government Affairs Eric Huey remarked. "Now, it's the epicenter for movie making and video game making."
A vibrant and growing video game industry and the educational opportunities it creates can also help shrink the technology sector's gender and diversity gap. "It turns out that when you combine video games with other subjects like STEM/STEAM, you attract double the amount of women to the program and have an 88 percent retention rate in the program," HEVGA President Constance Steinkuehler remarked. Watch a recap of the event online here.
These programs also open doors to high-paying and fulfilling careers. As a recent HEVGA report found, 93 percent of game program alumni are gainfully employed one year after graduating; they earn an average salary of $76,200, compared to the national average of $52,200. They also love their jobs: nine in 10 respondents classified as "thriving" in their workplace on the Cantril scale, a well-being assessment measure widely used by researchers.
Game degree programs also open doors for students in areas beyond programming and game design. They develop hard skills, such as coding and 3D modelling, that are becoming must-haves for careers in public service, education and business.
At the same time, students learn project management, team building and other skills and intangibles necessary to start, manage and lead their own companies or entire industries. In fact, HEVGA reports that 44 percent of graduates contribute to other vital industries including education, software development and government.
"This idea that we're taking tech skills and employing them in these different ways, that's what employers come back for, that's what they look for," Rochester Institute of Technology MAGIC Center Director Andrew Phelps remarked. "You can see they're at the driving wheel; schools are working with companies and companies are working with schools to drive the economy."
Equipped with critical skillsets and a solid foundation of knowledge, these students are poised to become our future leaders and innovators, visionaries who will transform nearly every aspect of society and pull the U.S. economy into the 21st century along with them.
"The big takeaway from this study is that this can happen anywhere, not just in Washington or New York," Vicarious Visions President Guha Bala remarked. "We're building bridges to the things we use every day that will profoundly change the way we do things."
REAL LIFE. REAL NEWS. REAL VOICES.
Help us tell more of the stories that matter from voices that too often remain unheard.