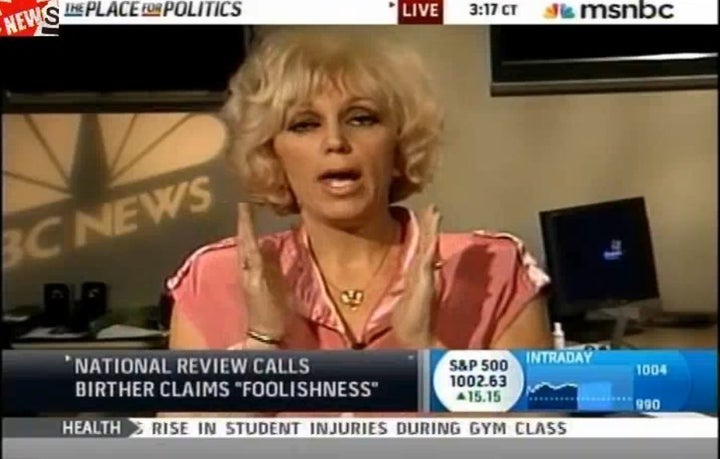 Birther queen Orly Taitz suffered yet another legal defeat on Thursday when U.S. District Judge Royce Lamberth declined her request for the court to reconsider an earlier ruling against a challenge she made to President Obama's citizenship.
In other words: Taitz lost her initial claim, asked for it to be reconsidered, lost that, asked for the reconsideration to be reconsidered, and then lost that. For a flavor of Taitz's claims, consider her assertion that the president is using a stolen Social Security number to disguise his true identity. She further says she has evidence that Obama has used "an additional last name."
Ultra-conservative website WorldNetDaily claims that it has succeeded in receiving confirmation from legislators in at least four states that bills concerning Obama's birthplace and birth certificate will be considered in the upcoming legislative session, a development that pleases so-called "Birther queen" Orly Taitz.
...

"Birther queen" Orly Taitz has unsurprisingly showed her support for the latest murmurs of action on the issue. She's since copied and pasted the WND story on her blog, with an enthusiastic title, "MORE STATES ARE EMBRACING THE ELIGIBILITY ISSUE."
Taitz more recently took to her website to update her followers on one of the latest supporters to join her on her eligibility crusade:
AS THE QUEEN OF THE BIRTHERS I AM DELIGHTED TO ANNOUNCE A NEW CITIZEN IN MY KINGDOM: A MAJOR LEAGUE BASEBALL PLAYER, LUKE SCOTT FROM BALTIMORE OREOS. PLEASE, CALL EVERY MEMBERS OF THAT TEAM AND URGE THEM TO COME TO NEARBY FORT MEADE ON DEC 14-15 AND SUPPORT AMERICAN HERO LTC LAKIN, FIGHTING CORRUPT AND ILLEGITIMATE REGIME AND A CORRUPT JUDICIARY
Calling all HuffPost superfans!
Sign up for membership to become a founding member and help shape HuffPost's next chapter