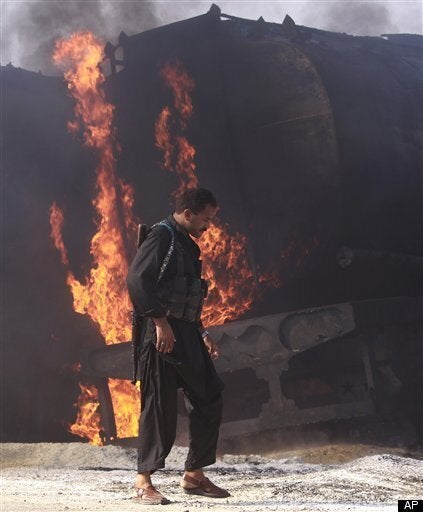 Pakistan has recently witnessed two terror indictments of its citizens in the United States. Faisal Shahzad, the person who almost succeeded in bombing the Times Square, will most likely receive a life sentence at the Manhattan Federal Court today. Aafia Siddiqui has already been sentenced to 86 years in prison on September 23.
While Shahzad is technically not a citizen of Pakistan -- he acquired American citizenship months before the bombing plot -- he is still considered a compatriot by many Pakistanis. Siddiqui's sentencing created a major stir in Pakistan as her alleged disappearance in 2003 made many Pakistanis believe that she was picked up by the Americans. And now, they have trumped up false charges against her to save face.
Beliefs about Aafia's innocence are pervasive. That's not so true about Shahzad. This is mainly attributed to the hype around Aafia's case. There is hardly any report in the Pakistani media about the Times Square bomber. He appears very American to common Pakistanis, distant and emotionally inaccessible.
Aafia's sentence sparked massive protests in Pakistan, and the increased attacks on NATO convoys can also be attributed to the public anger -- notwithstanding the involvement of militants and the 'agencies'.
This brings us to the dissection of the attacks. It is a combination of three factors that could have resulted in the increased frequency of attacks.
The first factor is obviously related to the involvement of the militants. They were attacking the convoys sporadically and may have increased the ratio amid rising Drone strikes in the tribal areas of Pakistan. The second factor is the involvement of the Pakistani establishment in these attacks. Its relationship with NATO have strained over the last months. And what could be a better way of teaching them a lesson than blocking their supplies?
The third factor is a combination of genuine public anger with the US and the manipulation of that anger by a few others for profit. The latter loot and plunder and then sell the items in local markets. There is also a possibility of involvement of a mafia -- possibly more than one -- that greatly benefits from the convoy burnings.
What it all boils down to is the same old deficit of trust and double dealing. And that's the real tragedy of the Afpak region.
Calling all HuffPost superfans!
Sign up for membership to become a founding member and help shape HuffPost's next chapter