As RuPaul's Drag Race readies for its ninth season, the hit series will move to a new broadcast night and channel. As an all-new bevy of beauties will vie to become "America's Next Drag Superstar," series veteran Pandora Boxx offers a singular piece of sage, post-show advice to her new sisters: "Don't be an asshole."
Easy enough, right? Not always, the Season 2 favorite suggests, especially in the flurry of popularity that immediately follows the show.
"It's hard when people are tugging at you and pulling at you," Boxx told Party Foul Radio with Pollo & Pearl, "I certainly know I haven't been friendly in probably every situation – never intentionally unfriendly – but I know it's happened."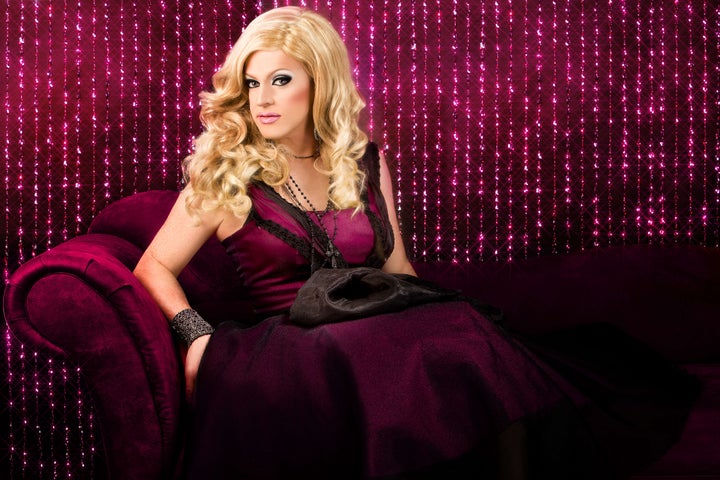 When Drag Race returns, airing Fridays on VH1 after years of anchoring Mondays on LOGO, a dozen or more new faces will join the reality competition's "herstory." Boxx, the audience favorite on the show's hit second season and later cast on RuPaul's All-Stars Drag Race 1, surely knows exactly what's ahead for the new class.
Since Drag Race – followed as "MVP" on two seasons of spin-off RuPaul's Drag U – the Rochester, NY, native has toured consistently, released music videos, performed as part of the Drag Queens of Comedy series and developed her own one-woman show. Such a "grueling" schedule and newfound fame can get to some, she suggests.
"You're on a TV show. Be thankful you're on the TV show. You're a drag queen. Be a good drag queen," she stated. "Do a good show. Be nice to people. Be on time. Don't be a diva."
"The thing is, everyone talks," she went on to tell Podomatic's No. 1 LGBT Podcast. "Drag queens talk. Promoters talk. Clubs talk. They know each other. You don't know who knows each other, so don't come in and be an asshole.
A beloved personality in the annals of Drag Race, Boxx admits learning a bit about the subject the hard way. Voted "Miss Congeniality" on her season, RuPaul's All-Stars Drag Race 1 showed a side of the performer even she found uncomfortable to watch.
"There were so many emotions in there, so many heartbreaks for me," said Boxx of her All-Stars experience.
Though she did remarkably well on her season, Boxx returned to TV with "something to prove" – primarily that she had grown since Season 2 criticisms of her costumes and persona. Like many on All-Stars 1, she felt slightly "duped" when forced to compete in teams of two, paired with Season 3 alum Mimi Imfurst. The unexpected arrangement upset Boxx's plans, bringing out the worst in even the most likable.
"To see myself be that bitchy and come across that bitchy was just very, very hard," she shared. "I would never be able to watch it now, because I would just be disappointed with myself. I wish I'd gone in with a different mindset – and, while I was there, I wish I could have gotten out of that mindset [of having to prove myself]."
While some were disheartened, Boxx's following remains fervent. She has remained a highly sought-after performer around the world and last fall participated in the European Battle of the Seasons Tour. Upon returning to the U.S., Boxx joined fellow Drag Race alum Kelly Mantle in a Los Angeles staging of Psycho The Musical.
"It was kind of crazy with people's schedules," said Boxx of the musical parody's October 2016 run at West Hollywood's Macha Theatre, "Rehearsal schedules were kind of tight, but it turned out really great. It sold out, and people seemed to really love it."
Written by John Youmans and featuring all original music, the comedic send-up of Alfred Hitchcock's horror classic has been revived by director Chris Carver. As the show eyes a possible jump to New York City for an off-Broadway run – "It's really exciting!" Boxx gushed -- it moves to San Francisco for a three night engagement March 2-4 at Oasis Nightclub.

In the L.A. run, calendar conflicts relegated Boxx to two, more cameo-style parts (one in, one out of drag). In San Francisco, she tackles the role of Lila Crane – "the sister of ill-fated Marion Crane" (that's Marion in the infamous shower scene!).
"I'm really excited to play Lila, because it's a fun character," Boxx said of her expanded participation, "I'm a little ditzy, a little slutty, just kind of having fun with it. It's meant to be fun; it's meant to be campy and funny."
"Even if you don't know Psycho or the movie that well, people will still like it," she continued about the spoof. "I don't know the movie completely, from start to finish, but it's funny to me. I get all the references."
For Boxx, a long-time theatre fan, productions such as Psycho The Musical offer a chance to expand her horizons as a performer. Plus, now that she has relocated to the West Coast from her home in Upstate New York, she says it's just part of life in L.A.
"I've got a real sense that's what entertainment really is: It's a hustle!" she said of constantly seeking new opportunities. "You're constantly hustling. Even well-known actors are hustling for their next gig and what they're doing."
According to Boxx, being cast in a show like this is something she and many of her Drag Race sisters are beginning to look toward. It's a natural evolution from appearing in bars night-after-night.
"I think they're definitely a trend, because you can only do the club gigs for so long," she said. "You get tired of them, especially if you do a couple in a row.
"As you get older – as 'women of a certain age' – finishing at 2am, then flying out to do another…" Boxx drifts off for a moment, then begins laughing. "Uhm…yeah."
LISTEN: Pandora Boxx on Party Foul Radio
Popular in the Community